The following LIMR-developed IP and technologies are available for licensing. To learn more, please contact LIMR at 484.476.8000 or email info@limr.org.
Cancer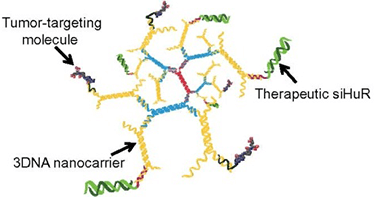 Principal investigator: Janet Sawicki, PhD
Taking a new precision medicine approach, LIMR researchers have developed a safe and effective nanocarrier-based therapy that specifically targets ovarian tumor cells and blocks a central mechanism of drug resistance (siHuR-3DNA). Preclinical proof of concept suggests that targeting this mechanism via this nanocarrier agent may offer safe and effective treatment of a variety of solid tumors exhibiting drug resistance.
Principal investigator: Susan Gilmour, PhD
Recent work by two leaders in the field, including LIMR Deputy Director Susan Gilmour, PhD, has led to the discovery of drug-based strategies to target the upregulated polyamine-transport system in tumors. In preclinical studies, these strategies safely and effectively kill tumor cells, either directly, with polyamine-conjugated cytotoxic drugs, or indirectly, by reversing local tumoral immunosuppression and activating effective anti-tumor immunity.
Principal investigator: Alexander Muller, PhD
LIMR's technology encompasses new uses of IDO inhibitors to enhance the activity of anti-angiogenic or antimetabolic drugs used to treat cancer or in other disease settings where ablation of a pathogenic blood vasculature is desired.
Principal investigator: U. Margaretha Wallon, PhD
Nausea after chemotherapy is a much-feared side effect. Yet not all patients experience it to the same degree, or even at all. Dr. Wallon developed a blood-based assay that can predict which patients will experience post-chemotherapy nausea. With that information, physicians can prescribe the right dosage of antiemetics to the right patients at the right time for a truly precision-medicine approach to patient treatment.
Principal investigator: Alexander J. Muller, PhD and George C. Prendergast, PhD
LIMR's collaborative team has created the first pro-drug class of small molecule inhibitors that can be tuned to inhibit various subsets of the known IDO/TDO enzymes, representing new structure of matter for clinical development.
---
Autoimmune disease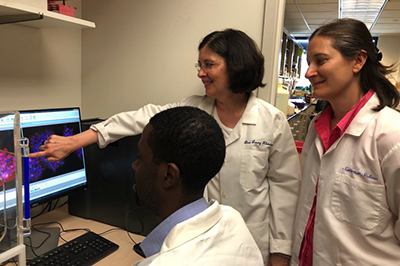 Principal investigators: Lisa Laury-Kleintop, PhD and Laura-Mandik-Nayak, PhD
Building on long-standing studies of the disease-promoting small GTPase RhoB, including in selectively driving production of autoantibodies, LIMR scientists have developed a cell-permeable anti-RhoB antibody that exhibits therapeutic efficacy in preclinical models of rheumatoid arthritis, lupus and diabetes. In principle, this invention affords a general strategy for treating autoimmune disorders driven by autoantibody production as a single class by administering a single biologic agent directed against a nodal signal transduction modifier. LIMR's innovative approach incorporates the leading edge in targeting intracellular antigens generally considered inaccessible to antibody-based therapies.
Principal investigator: Sunil Thomas, PhD
Building on their expertise in tissue barrier functions of the gastrointestinal tract, LIMR scientists have now developed an antibody-based therapy that inactivates a molecule that facilitates gut inflammation in the setting of IBD.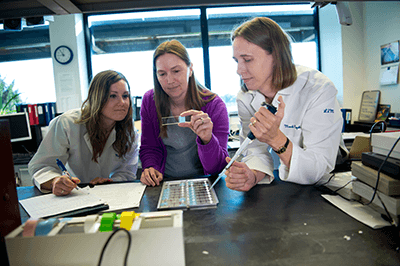 Principal investigator: Laura Mandik-Nayak, PhD and Lisa Laury-Kleintop, PhD
The immunomodulatory enzyme IDO2, discovered by LIMR scientists, has been identified as an essential mediator of autoimmune disease. In preclinical models of rheumatoid arthritis (RA), systemic administration with a cell-permeable monoclonal antibody developed at LIMR that specifically binds IDO2 in B cells reduced the level of autoreactive T and B cell activation and alleviated pathogenic symptoms. LIMR's investigators have defined a pathway that allows for effective targeting of intracellular antigens previously considered inaccessible to antibody-based therapies.
---
Gastrointestinal
Principal investigator: Thomas Stamato, PhD
With no well-established standards to accurately diagnose IBD, there is a need for biomarkers that are cost-effective, rapid and provide insight into individual disease complexity and biology. In addressing the need for a non-invasive assessment of IBD in patients presenting with IBS, LIMR scientists have developed a blood test that may make this determination as an aid to improving personalized care.
---
Infectious diseases
Lead investigator: Scott Dessain, PhD, MD
LIMR cloned six human monoclonal antibodies (huMabs) from individuals infected with rabies, and in preclinical studies efficiently cleared the infection. These huMabs offer an opportunity for a novel passive vaccine to clear the rabies virus in infected patients.
Lead investigator: Sunil Thomas, PhD
Researchers have synthesized peptides corresponding to the epitopes of the antigenic proteins of Borrelia burgdorferi, the bacterial species responsible for Lyme disease. These peptides could be used in diagnostics and vaccines to protect against Lyme disease.
Principal investigators: George C. Prendergast, PhD, and Melvin Reichman, PhD
Building on concepts developed at LIMR to treat cancer by relieving immunosuppression in the local tumor microenvironment, our researchers have designed an antimicrobial formulation to treat infections by relieving immune barriers imposed by the local microbial ecology in which the infectious agent is embedded.
Lead investigator: Scott Dessain, PhD, MD
LIMR has generated a unique patient-derived human monoclonal antibody (huMab) that recognizes a universal structural feature present in all amyloid proteins in nature. This huMab could offer a way to prevent and clear any strain of drug-resistant bacteria found on clinical tubing or device surfaces.
---
Monoclonal antibody cloning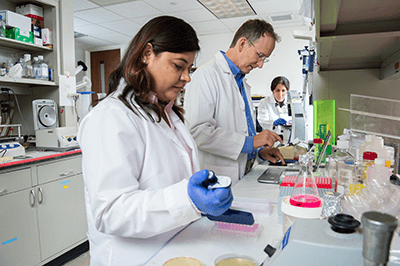 Principal investigator: Scott Dessain, MD, PhD
The Center for Human Antibody Technology (CHAT) is a facility at LIMR that uses a powerful human antibody cloning platform technology developed by Dr. Scott Dessain. CHAT uses this platform along with a state-of-the-art, high throughput antibody production and screening facility to produce human antibodies cloned from patients to diagnose, prognose or treat infectious disease, cancer or neurological illnesses. LIMR's technology makes development of human monoclonal antibodies by biotechnology companies easier and more efficient.
---
Neurological disorders
Lead investigator: Scott Dessain, PhD, MD
Medical advances paralleling aging demographics in developed countries have created an unprecedented need for strategies to prevent and treat dementia, especially late-onset Alzheimer's disease (AD). The role of amyloid deposition is well established in AD etiology. The amyloid protein Aß is a therapeutic target for immunological clearance in AD.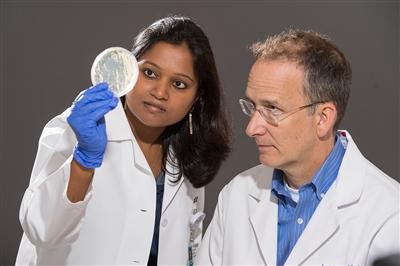 Lead investigator: Scott Dessain, PhD, MD
LIMR's human monoclonal antibody can detect membrane-bound forms of the NMDA receptor, thus enabling clinicians to reliably diagnose the autoimmune disease anti-NMDA receptor encephalitis, a serious psychiatric disorder.
---
Ocular diseases
Lead investigators: Lisa Laury-Kleintop, PhD, and Alexander J. Muller, PhD
LIMR researchers have defined new medicinal uses for two classes of drugs that could treat ocular diseases such as wet macular degeneration, diabetic retinopathy, macular edema, diabetic macular edema, and myopic choroidal neovascularization.
---
Reagents
Principal investigator: Iraimoudi S. Ayene, PhD
A rapid laboratory test to accurately measure relative cell numbers in tissue culture has been developed that is superior to other common tests. It is highly linear to the highest cell densities achievable, but does not compromise cell viability itself, enabling longitudinal measurements from large bioreactor cell cultures.
Principal investigators: Iraimoudi S. Ayene, PhD; U. Margaretha Wallon, PhD
LIMR researchers developed a rapid laboratory test to measure the thiol antioxidant capacity of cells and tissues, which helps correct oxidative damage caused by noxious chemicals, radiation, ischemia/reperfusion and other tissue insults. In humans, there is significant natural variation in local and systemic thiol antioxidant capacity, but a simple metabolic test to rapidly monitor overall thiol redox status has not yet been available. LIMR's test addresses this need.