The following LIMR-developed IP and technologies are available for licensing. To learn more, please contact LIMR at 484.476.8000 or email info@limr.org.
Download the LIMR inventions and innovations booklet (PDF)
Cancer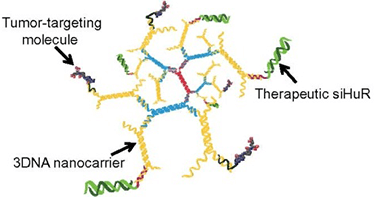 Lead investigator: Janet Sawicki, PhD
Taking a new precision medicine approach, LIMR researchers developed a safe and effective nanocarrier-based therapy that specifically targets ovarian tumor cells and blocks a central mechanism of drug resistance (siHuR-3DNA). Preclinical proof of concept suggests that targeting this mechanism via this nanocarrier agent may offer safe and effective treatment of a variety of solid tumors exhibiting drug resistance.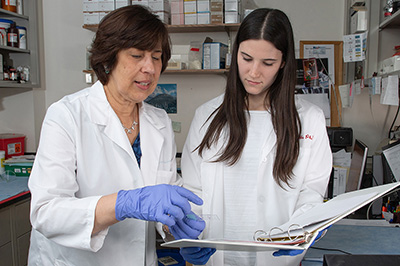 Lead investigator: Susan Gilmour, PhD
Work by two leaders in the field, including LIMR Deputy Director Susan Gilmour, PhD, led to the discovery of drug-based strategies to target the upregulated polyamine-transport system in tumors. In preclinical studies, these strategies safely and effectively kill tumor cells, either directly, with polyamine-conjugated cytotoxic drugs, or indirectly, by reversing local tumoral immunosuppression and activating effective anti-tumor immunity.
Lead investigator: Alexander Muller, PhD
Dr. Alexander Muller and his team defined a new use for IDO1 inhibitors to ablate tumor vasculature, including in combination with other anti-angiogenic drugs or other anti-cancer modalities where leveraging anti-angiogenesis is beneficial.
Lead investigator: U. Margaretha Wallon, PhD
LIMR's blood-based assay, termed the MyNauseaRisk test, reliably predicts which cancer patients will experience delayed-onset nausea after chemotherapy, even before the chemotherapy is administered.
Lead investigators: Alexander J. Muller, PhD and George C. Prendergast, PhD
LIMR scientists synthesized second-generation "combi" or "pan" inhibitors that block the catalytic activity of the IDO1, IDO2 and/or TDO2 enzymes.
---
Autoimmune disease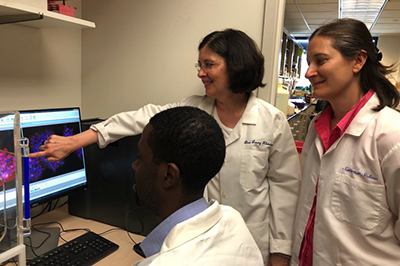 Lead investigators: Lisa Laury-Kleintop, PhD and Laura-Mandik-Nayak, PhD
Building on long-standing studies of the disease-promoting small GTPase RhoB, including in selectively driving production of autoantibodies, LIMR scientists developed a cell-permeable anti-RhoB antibody that exhibits therapeutic efficacy in preclinical models of rheumatoid arthritis, lupus and diabetes.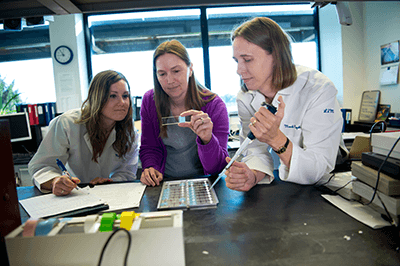 Lead investigator: Laura Mandik-Nayak, PhD and Lisa Laury-Kleintop, PhD
The immunomodulatory enzyme IDO2, discovered by LIMR scientists, has been identified as an essential mediator of autoimmune disease.
---
Kidney Disease
Lead inventors: Lisa Laury-Kleintop, PhD, George Prendergast, PhD
LIMR inventors developed a methodology for diagnosing kidney disorders in a urine sample. This methodology may be used as the basis for a lateral strip-type test, commonly used in the doctor's office or at home.
---
Gastrointestinal
Lead investigator: Thomas Stamato, PhD
With no well-established standards to accurately diagnose IBD, there is a need for biomarkers that are cost-effective, rapid and provide insight into individual disease complexity and biology. In addressing the need for a non-invasive assessment of IBD in patients presenting with IBS, LIMR scientists have developed a blood test that may make this determination as an aid to improving personalized care.
Lead investigator: Sunil Thomas, PhD
Building on their expertise in tissue barrier functions of the GI tract, LIMR scientists developed an antibody-based therapy that inactivates Bin1, a molecule that facilitates gut inflammation in the setting of IBD.
---
Infectious diseases
Lead investigator: Scott Dessain, PhD, MD
LIMR cloned six human monoclonal antibodies (huMabs) from individuals infected with rabies, and in preclinical studies efficiently cleared the infection. These huMabs offer an opportunity for a novel passive vaccine to clear the rabies virus in infected patients.
Lead investigator: Sunil Thomas, PhD
Researchers synthesized peptides corresponding to the epitopes of the antigenic proteins of Borrelia burgdorferi, the bacterial species responsible for Lyme disease. These peptides could be used in diagnostics and vaccines to protect against Lyme disease.
Lead investigators: George C. Prendergast, PhD, and Melvin Reichman, PhD
Building on concepts developed at LIMR to treat cancer by relieving immunosuppression in the local tumor microenvironment, our researchers have designed an antimicrobial formulation to treat infections by relieving immune barriers imposed by the local microbial ecology in which the infectious agent is embedded.
Lead investigator: Scott Dessain, PhD, MD
LIMR generated a unique patient-derived huMab that recognizes a universal structural feature present in all amyloid proteins in nature. This finding offers a route for prevention and clearance of drug-resistant bacteria on clinical tubing or device surfaces.
---
Monoclonal antibody cloning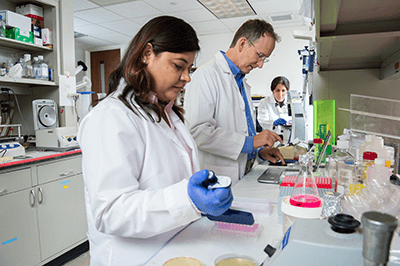 Lead investigator: Scott Dessain, MD, PhD
The Center for Human Antibody Technology (CHAT) is a facility at LIMR that uses a powerful human antibody cloning platform technology developed by Dr. Scott Dessain. The On-Cell Monoclonal Antibody Display System provides biotechnology companies with the ability to clone the broadest array of medicinal candidates from patients with a desired clinical experience.
---
Neurological disorders
Lead investigator: Scott Dessain, PhD, MD
LIMR scientists generated a unique patient-derived human monoclonal antibody (huMab) that recognizes a common structural feature of all mammalian and bacterial amyloid proteins.
Lead investigators: Sunil Thomas, PhD, James Mullin, PhD, and George C. Prendergast, PhD
A cell-permeable anti-Bin1 antibody, developed by LIMR scientists as a strategy to blunt Bin1's pathogenic function in inflammatory bowel disease, was found to exert anti-tau effects in cell culture and animals. Anti-Bin1 may offer a novel tractable target to limit the development or progression of Alzheimer's disease pathophysiology in patients.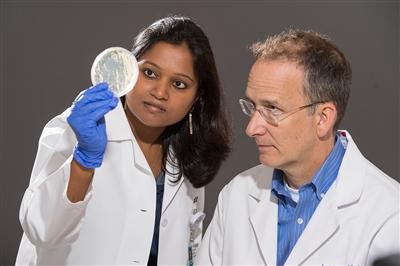 Lead investigator: Scott Dessain, PhD, MD
LIMR's human monoclonal antibody can detect membrane-bound forms of the NMDA receptor, thus enabling clinicians to reliably diagnose the autoimmune disease anti-NMDA receptor encephalitis, a serious psychiatric disorder.
---
Ocular diseases
Lead investigators: Lisa Laury-Kleintop, PhD, and Alexander J. Muller, PhD
LIMR scientists defined a new use for IDO inhibitors to treat retinopathies that are driven by formation of pathogenic blood vessels. This new use expands clinical applications for IDO inhibitors as medicines in ophthalmology.
Lead investigators: Lisa Laury-Kleintop, PhD, and Alexander Muller, PhD
LIMR's anti-RhoB technology addresses resistance to anti-VEGF modalities and targets only pathogenic neovascularization, while sparing normal retinal revascularization.
---
Reagents
Lead investigator: Iraimoudi S. Ayene, PhD
CellCountEZ, a rapid laboratory test to accurately measure relative cell numbers in tissue culture, is superior to other common tests. It is highly linear to the greatest cell densities achievable, but does not compromise cell viability itself, enabling longitudinal measurements from large bioreactor cell cultures.
Lead investigators: Iraimoudi S. Ayene, PhD, and U. Margaretha Wallon, PhD
LIMR's ThiOX test addresses the need for a rapid test to monitor thiol oxidative stress in live cells and tissues.
---
Clinical technologies
Lead investigator: Jeshahnton Essex, FACHE, Regional Vice President, Administration, Main Line Health
A need exists for a device that allows for patients to be supervised in the bathroom while also maintaining their privacy. The Essex privacy screen, developed by a Main Line Health administrator, achieves both.
Lead investigator: Boris Aronzon, MD
Designed by a Main Line Health physician, the nerve injury prevention device is a tube/case constructed for the purpose of housing intravenous and other medical lines safely while reducing pressure on the patient's skin. The tube is designed to be opened or closed by multiple methods, and medical lines can be seamlessly placed so they are encased within the protective tubing. 
Lead inventor: Barbara Wadsworth, DNP, RN, FAAN
This ingenious device, designed by a senior administrator of nursing, detects, protects and prevents injury in patients in the health care setting. It has a sensor capable of detecting when an individual is in a fall condition and a compact airbag/cushion-deployment device that can be mounted in at-risk areas in and around a bathroom or positioned in a movable device on the floor.
Lead inventor: Colleen Rogers, RN
This support, invented by a nurse, is height- and position-adjustable for any limb to be supported in a wide range of positions.
Lead inventor: Michelle Gray, BSN, RN
This software, developed by a clinical informatics specialist, is an add-on component to electronic medical records systems and allows relevant data from multiple patients to be shared in a single chart or graphic user interface. It is ideal for use when the care of two patients (e.g., mother and newborn) is interrelated.