The following LIMR-developed IP and technologies are available for licensing. To learn more, please contact LIMR at 484.476.8000 or email info@limr.org.
Cancer
Targeted nano-carrier therapeutics for precision medicine
Principal Investigator: Janet Sawicki, PhD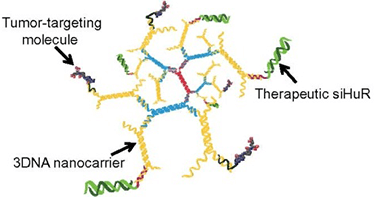 3-DNA technology has been developed to deliver cancer therapeutics directly to tumors, while avoiding delivery to normal cells. HuR, a protein found in elevated amounts in ovarian tumor cells, is associated with proliferation and drug resistance. It has been shown that 3-DNA-siRNA agents that inhibit the production of HuR greatly reduced ovarian tumor growth rates in mice, without accompanying toxicity to normal cells. This technology enables an unparalleled degree of precision medicine.
Therapeutics that block polyamine action, suppress tumor growth
Principal Investigator: Susan Gilmour, PhD
Polyamines are ubiquitous, small molecules that are essential for all cell growth and proliferation. Tumors maintain dramatically elevated levels of polyamines to support their growth and survival. A novel class of proprietary polyamine-transport inhibitors has been shown by Dr. Gilmour to suppress tumor growth in preclinical studies. These inhibitors not only deprive tumor cells of polyamines, they also relieve polyamine-mediated immunosuppression in the tumor microenvironment.
Combination therapy that starves tumors of nutrients, oxygen
Principal Investigator: Alex Muller, PhD
Neovascularization of tumors is characterized by excessive and disorganized growth of blood vessels. It has been found that normalizing the pathologic tumor vasculature enhances the efficacy of chemo- and radiation therapies. Dr. Muller's lab has developed a combination therapy that involves an inhibitor of the enzyme IDO1 and an anti-vasculogenic/anti-angiogenic agent and/or therapeutic agent that imposes on a tumor cell starvation of its nutrients and oxygen.
Test for likelihood of chemotherapy-induced nausea
Principal Investigator: U. Margaretha Wallon, PhD
Nausea after chemotherapy is a much-feared side effect. Yet not all patients experience it to the same degree, or even at all. Dr. Wallon developed a blood-based assay that can predict which patients will experience post-chemotherapy nausea. With that information, physicians can prescribe the right dosage of antiemetics to the right patients at the right time for a truly precision-medicine approach to patient treatment.
---
Autoimmune disease
Antibody that blocks RhoB's action in autoimmune disorders
Principal Investigator: Lisa Laury-Kleintop, PhD
RhoB is a small GTPase that has been found to regulate the production of autoantibodies in several autoimmune diseases. Dr. Laury-Kleintop has shown that a monoclonal antibody specific for RhoB has "proof of concept" therapeutic efficacy in an established model of rheumatoid arthritis. This discovery affords a general strategy in principle to treat a number of autoimmune diseases using a single monoclonal antibody-based drug.
Antibody to Bin1's action in ulcerative colitis and Crohn's disease
Principal Investigator: Sunil Thomas, PhD
Bin1 is a cellular adapter protein that modifies inflammation and immunity in inflammatory bowel disease. Dr. Thomas' administration of anti-Bin1 antibody has been shown in preclinical studies of IBD/colitis to restore barrier function, reduce inflammation and minimize T cell attack. These studies point to a novel mechanism of action for the potential treatment of ulcerative colitis and Crohn's disease.
Antibody to thwart IDO2's actions in autoimmune diseases
Principal Investigator: Laura Mandik-Nayak, PhD
The immunomodulatory enzyme IDO2, discovered by LIMR scientists, has been identified as an essential mediator of autoimmune disease. In multiple preclinical arthritis models, treatment with an IDO2-specific monoclonal antibody reduced auto-reactive T and B cell activation. Dr. Mandik-Nayak's investigations have defined a pathway that allows for effective targeting of intracellular antigens previously considered inaccessible to antibody-based therapies.
---
Monoclonal antibody cloning
Mammalian antibody display technology
Principal Investigator: Scott Dessain, MD, PhD
The Center for Human Antibody Technology (CHAT) is a facility at LIMR that uses a powerful human antibody cloning platform technology developed by Dr. Dessain. CHAT uses this platform along with a state-of-the-art, high throughput antibody production and screening facility to produce human antibodies for use in the treatment of infectious disease, cancer and neurological illnesses. CHAT can help academic investigators create their own human antibody therapeutics.