When George Prendergast, PhD, was hired as President and CEO of the Lankenau Institute for Medical Research (LIMR) in 2004, he set out on the biggest experiment of his life: going against nonprofit research norms by seeking to link academic pursuits to a culture of invention. He even coined a term for the approach—acapreneurial™—to represent this academic/entrepreneurial hybrid.
The fruits of the journey are evident today. LIMR is patenting experimental tests and treatments at an increasing rate for cancer, diabetes, infectious diseases and other medical conditions, in addition to patenting clinical devices aimed at improving care in the hospital setting. Meanwhile, its scientists are also publishing more academic research papers than at any point in the Institute's history.
Aca-pre-neur-i-al™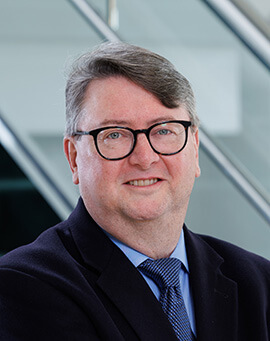 Before Dr. Prendergast arrived, LIMR conducted biomedical research adhering to the traditional academic model followed by virtually every other nonprofit institution: seeking knowledge to advance medical science regardless of whether it might deliver tangible benefits to patients in the foreseeable future.
That approach, however, represented a disconnect.
Those in the philanthropic world are motivated by the promise of new knowledge that can be converted into useful inventions and treatments in a reasonable amount of time to improve human health and wellbeing.
Academic scientists themselves find that without patent protection, their new knowledge and concepts are often difficult to advance to creating practical societal impact.
With the support of the LIMR Board and Main Line Health, Dr. Prendergast began to infuse the ACAPRENEURIALTM culture into the Institute to try to grow its effectiveness and impact.
The model focuses on invention, intellectual property and new company development, with a secondary goal of the traditional academic pursuit of new knowledge and its validation.
The results have been to transform LIMR into an organization that has increased in productivity relative to its peers without significant changes in the overall support for its budget from its main funders: the Lankenau Medical Center Foundation and the Main Line Health system.
Acapreneurial™ milestones
2004—LIMR President George Prendergast coins acapreneurial™ to describe new hybrid organizational model (academic/entrepreneurial) for nonprofit research institutions
2006—CureDM Inc. trades shares for space and services at LIMR, becoming first of many to do so. Becomes LIMR's first "spin-in" company
2007—LIMR Development Inc. becomes LIMR's first fully owned spinoff
2011—Wharton School of Business hosts first presentation of acapreneurial model by Dr. Prendergast. Pennsylvania Biotechnology Center, Feinstein Institutes for Medical Research and California Institute of Technology later host lectures as well
2012—NewLink Genetics Corp. goes public, having acquired LIMR's first startup company (OncoRx)
2019—L2C Partners retained as manager of LIMR's intellectual property portfolio to support technology transfer and commercialization
2020—Immunome becomes LIMR's second spinoff to go public
2021— "Acapreneurial" trademarked
2021—Lankenau Ventures created by LIMR, L2C Partners and Early Charm Ventures for clinical acapreneurialism: development and commercialization of clinical devices invented by Main Line Health frontline healthcare workers for use in hospital settings
Meanwhile, its academic pursuits have accelerated. In 2021, LIMR researchers published 140 papers in biomedical research journals, more than ever before in a history dating to 1927.
Meeting the 'bench to bedside' challenge
The "bench to bedside" concept refers to moving discoveries from the laboratory into use in the hospital setting. Acapreneurialism targets that goal directly by focusing on inventions that can be moved swiftly into use to improve patient care. In essence, acapreneurialism recognizes that "bench to bedside moves through biotech."
What does it mean to move through the biotechnology and pharmaceutical industries, and why is it necessary? New drug and test discovery entail years of preclinical and clinical testing and the involvement of thousands of patients before applying for FDA approval to go to market. Hundreds of millions of dollars are required to navigate this path, and it is fraught with complex regulatory issues, making corporate investment indispensable. That's where patents come into play. Licensing inventions that have been patented—meaning the intellectual property is protected—is generally viewed by potential funders as a prerequisite before they will consider investment.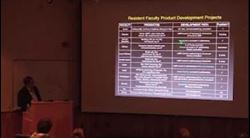 Watch: LIMR President George Prendergast delivers a lecture on the acapreneurialTM model at MDI Biological Laboratory in Bar Harbor, Maine.
LIMR's hybrid design is better at meeting this challenge. In fact, LIMR is a hybrid not only in its culture but its physical existence. In one facility, it fuses academic, entrepreneurial, clinical and population health elements that typically exist separately in academic and for-profit institutions.
LIMR also serves as a business incubator. Biotechnology start-up companies are literally located side by side with the laboratories of researchers and those performing clinical research. The mixture is a powerful engine for new knowledge and product development.
The success stories of acapreneurialism have grown substantially:
OncoRx Corp., the first company incubated at LIMR, licensed the Institute's IDO drug technology for cancer immunotherapy and was acquired by NewLink Genetics. In 2012, NewLink Genetics went public.
In 2007, LIMR's Scott Dessain, MD, PhD, started

Immunome Inc.

, to develop his powerful human antibody cloning technology. The company went public in 2020.
CD Diagnostics Inc. was started by Lankenau orthopedic surgeon

Carl Deirmengian, MD

, to develop his point-of-care infection detection device used during joint replacement surgery. The company was

acquired by Zimmer Bionet in 2016. The company's paradigm-shifting product, Synovasure®, received FDA approval in 2019.
Acapreneurialism by the numbers
40+: U.S. and international patents
25+:

Technologies and products licensed

10+:

Companies spun off or incubated, including Immunome going public
The 4 pillars of acapreneurialism
To achieve its goals, LIMR has aligned its activities to a structure now demonstrated to be successful. It has four pillars: patent-based philosophy, hybrid management style, co-invention, and trading space and services for equity.
Patent-based philosophy
LIMR biomedical researchers must invent and then seek to patent and license their inventions to a company for development. To get there requires following what Dr. Prendergast calls the "three Ps of innovation"—preclinical proof of concept, patent application and peer-reviewed publication. In other words, LIMR has reoriented itself from the traditional approach focused on grant funding to pursue new biomedical knowledge to one that focuses on investments in new inventions and patent licenses.
Hybrid management style
LIMR navigates a path between two traditional approaches: the independence of the tenured academic investigator versus the top-down direction of the corporate researcher. LIMR regularly holds internal meetings to dynamically shift management based on the practical application of the research, building mutual trust among faculty and other program leaders in the institutional mission to invent and advance experimental products from new knowledge and discoveries.
Co-invention
Faculty are encouraged to participate as advisers or science officers in start-up companies, within the guidelines of patent and start-up policies approved by the LIMR and Main Line Health Boards. New mechanisms of financial support are enabled by such relationships to help speed lab-based discoveries to clinical testing.
Trading space and services for equity
The incubation model includes the trading of institutional space and services for equity positions in companies ("spin-ins") that advance LIMR's mission. For the most attractive inventions made by Main Line Health physicians and LIMR scientists, the Institute has also made capital investments from its endowment holdings. This pillar seeks financial return on the success of the Institute's inventors to enable future financial sustainability for making new discoveries.
The next phase: clinical acapreneurialism
In 2019, Dr. Prendergast saw that medical devices and software represented an untapped pathway for invention—and that frontline healthcare workers were the natural source of ideas to directly benefit patients. LIMR retained L2C Partners of Wynnewood, Pennsylvania, to manage its burgeoning portfolio of intellectual property to support technology transfer and commercialization—the types of expertise needed to pursue the new direction.
Then, in 2021, Lankenau Ventures was created to accelerate the development and commercialization of clinical devices invented by Main Line Health nurses and other healthcare professionals for use in various hospital settings, such as patient and operating rooms. It is a joint venture of LIMR, L2C Partners, and Early Charm Ventures of Baltimore, which specializes in bringing such devices to market.