Population Health Dashboard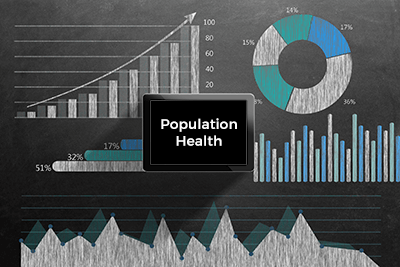 The health care paradigm continues to shift from episodic care to improving and maintaining the health and well-being of patient populations, impacting care delivery and financial models.
In response to the changing landscape, Main Line Health Center for Population Health Research (CPHR) at the Lankenau Institute for Medical Research identifies and explores the underlying social, economic and physical determinants of population health in the community by collaborating with Main Line Health stakeholders to establish data collection and evaluation processes for quality improvement, care delivery or care coordination efforts already underway.
Building on the wealth of population health information obtained through Main Line Health's extensive Community Health Needs Assessments, the Population Health Dashboard aims to:
Aggregate available data on the social, economic and demographic factors that determine health in a readily available format, and engage practitioners, researchers and the Main Line Health and local community at large in discussions of population health through the use of hyperlocal data
Enable the systematic and cross-disciplinary identification of research opportunities and challenges for the timely and adequate provision of health care to the populations that Main Line Health serves
Support the design, implementation and evaluation of evidence-based strategies that are the most appropriate for the specific populations that Main Line Health serves
Connect and energize population health at Main Line Health and the broader region
Objectives
Several factors can contribute to the development of disease, including age, gender, unhealthy habits and/or medical history. Understanding socio-economic factors and population health is critical to provide better health services and prevent or cure diseases.
Our goals are to:
Build a decision tool to inform on population health using medical data and sociodemographic and economic factors of health
Expand Philadelphia Community Explorer to the four counties surrounding Main Line Health—Bucks, Chester, Delaware and Montgomery counties—as well as to West Philadelphia
Infographics
Demographic data about the patients who present in the emergency department with chest pain can help clinicians expertly administer care.
Aggregated data on patient populations battling substance use disorders can help emergency department administrators better plan for and deliver quality patient care.
Martin Luther King, Jr. once said: "An individual has not started living until he can rise above the narrow confines of his individualistic concerns to the broader concerns of all humanity."
That's why we focus our attention on health disparities—that is, the significant differences seen in the health status of groups of people in the five-county area of Southeast Pennsylvania. A better understanding of those disparities and how they impact population health can help advance the effort to attain Dr. King's vision of a broader sense of community and shared values.