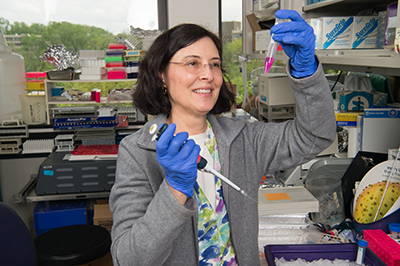 LIMR's resident faculty members are engaged in:
Basic research of biological pathways that determine disease severity
Preclinical and translational research, including at LIMR-based start-up companies, to develop new tests and drugs based on these pathway principles
Clinical research, in collaboration with our affiliate clinical faculty at Lankenau Medical Center and other Main Line Health hospitals, to advance new diagnostics and medicines from bench through biotech to bedside
At LIMR, we initiated a unique hybrid mix of knowledge-based academic culture with invention-based entrepreneurialism. We call it an "acapreneurial" strategy, and it is unique in the United States because it tightly integrates non-profit basic research and clinical activities in the same facility as for-profit biotechnology companies. Indeed, several successful biomedical start-up companies have incubated in LIMR side-by-side with our research laboratories.
Our collaborative environment for high-caliber physicians, scientists, biotech CEOs and CSOs supports a translational conduit to convert preclinical discoveries into clinical investigations and vice versa. The robust environment at LIMR has led to multiple "bench-to-bedside" success stories.