A closer look at David N. Horwich, MD, MBA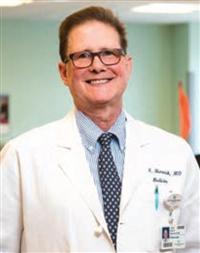 As a philosophy major at Colorado College, David Horwich, MD, MBA, focused on psychoanalytic philosophy and the interface of mind and brain function. To apply his interests in a humanistic way, he decided to go to medical school to study psychiatry and neurology. After completing the Columbia University post-baccalaureate pre-med program, he pursued his medical degree at Hahnemann University School of Medicine, and found that internal medicine provided the best fit and was most encompassing of his interests and inclination.
Upon completing his residency at Temple University Hospital, Dr. Horwich was recruited to join the medical staff at Bryn Mawr Rehab Hospital. In the mid-1990s, with the advent of shorter lengths of stay in acute care settings and changing payment systems, Dr. Horwich was drawn to the compelling work of helping to stabilize the environment for the medically complex patients admitted to Bryn Mawr Rehab.
Today, with an MBA from Johns Hopkins, Dr. Horwich serves Bryn Mawr Rehab as vice president of medical affairs (VPMA). In addition to being a respected physician, he has particularly enjoyed his work as VPMA, which requires a focus on helping to integrate Bryn Mawr Rehab with the other Main Line Health campuses in order to create and maximize opportunities for standardization across the system.
"It's exciting to be part of Main Line Health's transformation," he stated.
"I couldn't ask for a better opportunity to share with others all the wonderful programs and superior care that Bryn Mawr Rehab has to offer to our patients."
A member of the Benjamin Rush Society, Dr. Horwich has supported Bryn Mawr Rehab steadily over the years, contributing to the Brain Injury Fund, Project SEARCH, and the Art Ability Endowment Campaign, to name a few. "I deeply believe in the mission of Bryn Mawr Rehab and take great pleasure in supporting all of its foundation programs," he said.
What particularly resonates for him is the Art Ability program—"a celebration of artists transcending the boundaries of their disabilities." In addition to contributing to its endowment, Dr. Horwich and his wife, Paula Hian, have purchased a piece of artwork from the annual Art Ability exhibit every year since its inception more than 20 years ago, and donated it to the permanent collection. Dr. and Mrs. Horwich enjoy seeing the collection grow, beautify the hospital environment, and provide an opportunity for therapeutic interaction with patients and visitors every day.
Noting that philanthropy can be a gift of time, money or expertise, Dr. Horwich finds that, as a physician, he's "wired" for all three, and his hope is that other physicians at Main Line Health are as well.