Whether you're a multi-hospital system or an independent practice, the health of your organization depends on ensuring that costs don't overtake revenue—and that costs are cut while ensuring the highest standards of safety and quality.
"Because costs of providing care are higher (and increasing faster) than Medicare reimbursement, health care providers like Main Line Health need to reduce operating expenses to below what Medicare pays us for the services we provide, so we can ensure the sustainability of the organization," said Mike Buongiorno, Main Line Health executive vice president and chief financial officer. "Through our Performance Excellence 2020 initiative, Main Line Health physicians, administrators and departmental staff are working together to identify inefficiencies and create opportunities to reduce costs while improving quality and safety."
Hospitals nationwide could reduce their supply expenses by an average of 17.8 percent while improving safety and quality.
While labor costs have long been the largest expense bucket for most organizations, right behind—and closing fast—is the supply spend. The supply chain represents close to a third of the average hospital's overall operating expense, and it's predicted to surpass labor as a hospital's greatest expense by 2020.
Opportunities exist for all organizations, even top performers, to improve supply chain efficiencies while continuing to offer the highest levels of care to the community.
According to a recent study by Navigant, Main Line Health's consulting partner for performance excellence, hospitals nationwide could reduce their supply expenses by an average of 17.8 percent while improving safety and quality.
Accomplishing this requires a focus on evidence-based protocols and data analytics to reduce variation in pricing, product use, and clinical outcomes. With this information, supply departments are better equipped to:
Reduce the number of suppliers and contracts for similar items, particularly with products needed for routine procedures
Optimize the type and frequency of products used, based on specific patient circumstances and cases
Engage physicians to standardize use of implantable devices proven to produce clinically equivalent outcomes at a lower cost
Automate requisitions, purchase orders, invoices, and other manual supply chain processes that otherwise could lead to documentation errors
At Main Line Health, a clinical resource management program, now in place, is creating a standardized decision-making process to review new products, services and technology, in order to optimize patient outcomes and standardize care, while reducing unnecessary utilization.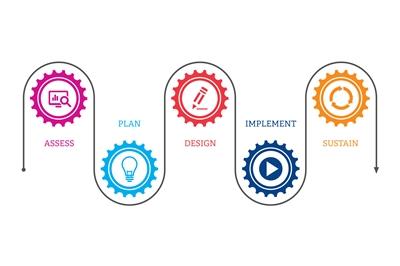 The program is a systemized approach, guided by the National Academy of Medicine's STEEEP principles: safe, timely, effective, efficient, equitable and patient-centered care. Our patients should always be at the center of discussions related to products, services and technology.
The key to the program's success is a clinician engagement process that emphasizes open communication, transparent cost data, and shared responsibility for the total value of care. Actionable data and proven best practices help determine the optimal types of products to use (and associated contracts), based on a combination of cost and clinical outcomes.
One example: antibiotic bone cement, which is commonly used in orthopaedic procedures such as hip and knee replacements. After analyzing clinical evidence supporting limited use of antibiotic cement based on surgery type, Main Line Health's supply chain and executive leadership and their physician partners worked together to standardize appropriate utilization across the system. The result was an 80 percent reduction in antibiotic bone cement use, leading to 45 percent savings—all with clinically equivalent patient outcomes.
We are embarking upon the difficult journey of "bending the cost curve," looking at variations in care, outcomes, and a more holistic approach to delivering high-quality care to our patients. Providing superior care for the community involves much more, of course, than managing supplies, but our hope is that this work will result in a sustainable model that reduces variation in care, focuses on utilization and waste, and shows reduction in the total cost of care—in other words, sustaining a healthy organization that can sustain a healthy community.
Chris Torres is vice president of supply chain management at Main Line Health.
Wait, there's more!
In addition to the systemwide clinical resource management program and process, some other steps already taken through Main Line Health's Performance Excellence 2020 initiative are benefiting patients as well as the clinical and administrative areas of Main Line Health:
Surgical services transformation, including our new block scheduling utilization in the OR, creates a more timely experience for patients and staff.
Upstaffing and downstaffing policy, in effect since August 2017, ensures that we are appropriately staffing in response to changes in volume and workload.
Care progression rounding has launched across the system to standardize discharge planning and reduce the length of stay.