A closer look at Henry S. Mayer, MD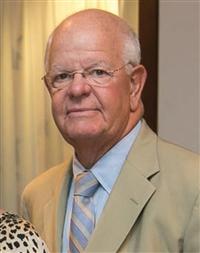 Henry S. Mayer, MD, has been known by many titles during his decades of practice at Bryn Mawr Hospital. Physician, cardiologist, board member, vice president of medical affairs, president of the medical staff and chief of medicine, just to name a few. But one in particular stands out from the rest: philanthropist.
As a member of both the 1893 Society—composed of individuals who have provided loyal support through annual gifts to Bryn Mawr Hospital for 20 consecutive years or more—and the Bryn Mawr Legacy Society, which recognizes those who include the hospital in their estate plans, Dr. Mayer has seen firsthand the impact that charitable giving has on the community in which he has lived and worked.
Dr. Mayer began his career at the University of Michigan, where he also attended medical school. A native of the East Coast, he knew he wanted to return with his family and continue practicing medicine among familiar faces. His accolades at Bryn Mawr Hospital include opening, and expanding, the echocardiography lab; initiating a cardiac rehabilitation program; and advancing access to continuing medical education. But of all the roles he has played over the course of his distinguished career, it's clear that Dr. Mayer feels that the one of practicing cardiologist ranks first: "I just loved interfacing with my patients."
When asked what prompts his charitable support, Dr. Mayer observed: "The hospital and this community have always been very good to me, and it means a lot to have the ability to return the favor. The For Every Generation capital campaign presented the perfect opportunity for me to make a significant gift that benefits Bryn Mawr, my patients and future generations."
While the options for planned gifts are numerous, Dr. Mayer chose to transfer ownership of a life insurance policy to Bryn Mawr Hospital. The gift was used as payment towards his campaign pledge and, because life insurance transfers are not part of the estate process, does not impact existing plans for his heirs. Other types of gifts that enable philanthropic individuals to make larger contributions than they may otherwise be able include charitable trusts, designation of retirement assets, and gifts from one's will. Many types of planned gifts also feature favorable tax treatment.
His advice to his fellow physicians who want to follow in his philanthropic footsteps: "Look at your estate plans and contact your financial advisor. Be creative; there is more than one way to make a planned gift." For more information on making a planned gift to one of our Main Line Health hospitals, please contact Pam Magidson, Development Office, at 484.580.4183.