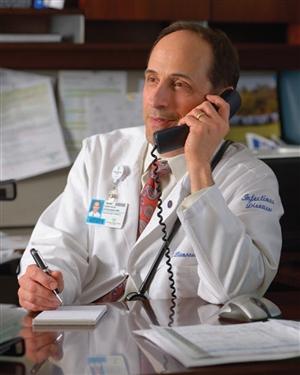 Using today's technology, teenagers are able to share their every thought with the world. However, it often seems that—when it comes to communicating with each other—primary care physicians, specialists and their patients have been ushered into separate lifeboats, given a big push, and wished good luck as they float off.
Too often, a patient is referred by a PCP to a specialist who has received only vague advance information on why the patient is there. "What seems to be the problem?" may often be the first question a specialist must ask a new patient. Following that visit, the patient's PCP may not be informed which tests were ordered by the specialist, or if a problem was ever resolved.
These situations put patients in the frustrating position of being non-clinical links in a very clinical communication chain. Patients' expectations for a smooth, timely and thorough flow of information between their providers, as well as for appropriate testing, are even higher these days as they realize more of the health care bill is coming from their pocket.
Patients' expectations for a smooth, timely and thorough flow of information between their providers are even higher these days…
By recognizing the need to work more closely, establish better processes and apply available technology, PCPs and specialists take an important step toward better care as well as greater patient satisfaction. Main Line Health and Main Line Health Physician Partners (MLHPP), our clinically integrated network, are taking several steps to encourage better communication between physicians, including establishing criteria for communication between specialists and PCPs within MLHPP.
For example, PCPs are required to provide information about patients prior to their appointment with specialists. Specialists, in turn, are required to report back to a patient's PCP in a timely manner following an appointment. We also highly recommend that specialists not sequentially refer to other specialists, but rather consult with a patient's PCP on where to send the patient if further expertise is required.
The implementation of Epic throughout Main Line Health in 2018 is expected to improve communication even further. With Epic, we will be able to achieve smoother hand-offs, allowing us to focus more on the questions that need answering while automating the transfer of information. Integrated patient records can keep the PCP alert to multiple prescribers. Messages will be integrated into our daily work flows, facilitating provider-to-provider communication of status updates, comments, concerns and questions.
Medicine today is far too complex for us to operate in a vacuum and not to talk to each other. Collaborative mindsets and processes on top of new technology make it easier than ever for physicians to keep each other informed in a HIPAA-compliant way about a patient's status. The outcome: more satisfied patients (and physicians), streamlined patient workups, fewer unnecessary office visits, and elimination of excess testing.
Working together, we can eliminate those life rafts and make the system work better for everyone.
At Main Line Health, Lawrence Livornese, MD, is chair of the department of medicine, and Ernest Gillan, MD, is chair of the department of family medicine and chair of Main Line Health Physician Partners.
Communicating "on line": (top) Dr. Livornese, infection prevention specialist, and (bottom) Dr. Gillan, family practice physician.