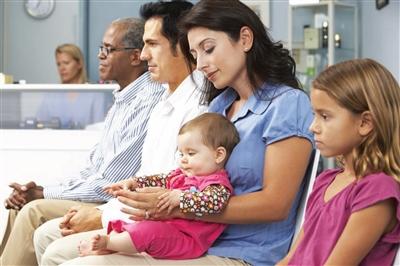 Every provider knows that, in the exam room, medical care is ultimately about the patient, not political agendas or the practice's business needs. It's about what's "right" for the individual person, which is dynamic and can be elusive. Therefore, a good patient experience depends on effective interpersonal relationships. Nearly everyone recognizes a positive environment when they experience it: they feel welcome and comfortable expressing themselves. Yet, most providers recognize the challenges in listening effectively, and applying what they've learned in a way that's amenable and valuable to the patient.
Many patients only schedule appointments when they're concerned that something's wrong, or could be. Whether they actually have a health problem, have reason to suspect one or are suffering from stress, depression or an anxiety disorder, there's usually uncertainty, fear or pain. When people visit our offices—no matter what their health status or the acuity of their needs —their experiences can influence not just their stated health problem, but how they feel about themselves and their future. Waiting room magazines and videos may offer distraction while they wait, but they can't reassure or heal them.
What can help is a friendly smile, concern expressed in an unhurried manner, and a physical environment that provides safety, privacy and comfort. These conditions help demonstrate that the patient is the most important person while we're with them. We can enhance our patients' experience by optimizing their general office experience, being mindful of our behaviors, nurturing our relationships with them, and remaining vigilant to understanding their perceived needs.
Have you put yourself in your patients' shoes? Try walking through a hypothetical office visit to "experience the process," and then "process the experience." How easy is it to get someone on the phone when calling? Are appointments readily available? Are the exam rooms patient-centered, with hooks to hang clothes and seats that accommodate people of all sizes and physical needs? Is the bathroom neat and clean? Are there relevant handouts to help patients take action steps?
Of course, patients feel "heard" when they see that we're listening. We all mean to have compassionate conversations with patients. We're usually busy, and sometimes our body language, tone and words belie our intention to impact people in a positive way. Simple phrases can help. For example, asking patients "What would you like to discuss today?" or "What questions do you have?" communicates concern about what's important to them. While it may not be on the patient's agenda, advance care planning can be a powerful step in clarifying patients' wishes—particularly for seniors with chronic conditions. Advance care planning is most effective when it's initiated to guide ongoing health care transactions between patients and trusted providers, well before life-threatening health crises occur.
Many patients have difficulty coordinating or navigating health care and social service resources. Some patients, particularly seniors, face a multitude of health challenges including chronic conditions and functional limitations. PCPs who participate in the Delaware Valley Accountable Care Organization work with care coordinators who can guide patients and notify their office when patients transition between sites of care. Main Line Health promotes the use of a clinical hand-off form by our skilled nursing facility partners when returning patients to their PCPs. In addition to these efforts to help "connect the dots" and smooth the transitions of care for senior patients, Main Line Health's Senior Care Line (484.580.1234) is staffed by a licensed clinical social worker who can provide specific guidance to patients and their families.
We can enhance our patients' experience by optimizing their general office experience, being mindful of our behaviors, nurturing our relationships with them, and remaining vigilant to understanding their perceived needs.
Main Line Health's current electronic health record (EHR) systems also integrate patient information across multiple care settings, facilitating our informed conversations with patients. Next spring, the PIVOT project to install the Epic EHR will further promote seamless transitions between providers. We'll get a clearer picture of patients' needs, so office visits can be even more effective. Also, the adoption of the Internet-based patient portals built into these EHR systems can make information and health care more readily accessible to patients.
This brings us full circle to the doctor/patient relationship and one final piece of advice. We all want the best for our patients. However, we don't know what our patients want unless we ask them. Similarly, our patients won't know we want to be helpful unless we show them through our environments, workflows and words. Making sure they know this can make any encounter a meaningful, positive experience.
Seth Rubin, MD, MSCP, is medical director for primary care, Main Line HealthCare, and associate medical director, Main Line Health Physician Partners. Thomas Lawrence, MD, is system medical director of geriatric medicine and long term care, Main Line Health.