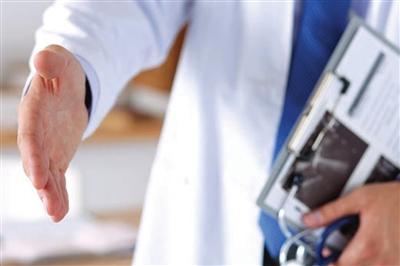 The "I am the Patient Experience" medical staff course is an information-rich, one-hour session designed by physicians for all physicians—from primary care to surgeons and hospitalists. The session highlights the most relevant content from the more comprehensive training module presented to Main Line Health employees. Using real-life scenarios, it helps identify the adjustments that can enhance physicians' communication skills.
Led by a physician and a facilitator, the course includes a self-assessment exercise, addresses the challenges of team interactions, and highlights the importance of the transition of care.
Essential parts of the program familiarize attendees with how two acronyms—AIDET and REACT—can remind us of what patient interactions in two different circumstances should look like.
AIDET stands for the key steps to be used in every personal interaction, creating a positive energy that is the basis of a healing environment:
Acknowledge the person by name (if known) with eye contact, a smile, and a warm greeting.
Introduce yourself and the service you're providing, with your name badge facing forward.
Duration of the service/test/procedure—and time until results—should be explained.
Explain what you're doing and how the patient can get assistance.
Thank the patient for choosing Main Line Health and ask what more you can do.
REACT serves as a reminder for how to provide service recovery when missteps occur.
Recognize that the patient has a concern.
Empathize—and actively listen—as the patient explains the problem.
Apologize using the "blameless apology" technique.
Correct or manage the problem through to resolution, with frequent updates.
Thank the patient for being patient with us and for working with us to address the problem.
While these small adjustments to our words and actions may seem insignificant, they are of vast importance to our patients, and can make a world of difference in patients' choice of providers and how their experiences are reflected in our HCAHPS scores.
To date, 500 Main Line Health physicians have completed the "I Am the Patient" medical staff course, and report finding tremendous value in exchange for a minimal investment of time.
To sign up for an "I am the Patient Experience" class, contact Catherine Harmer at harmerc@mlhs.org.