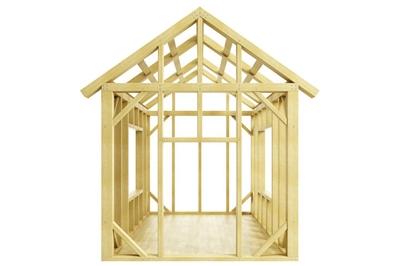 The health care industry is evolving more rapidly than ever, and we can certainly expect more changes in how and where we most appropriately care for patients, how we are reimbursed, and how much further patient expectations will evolve.
The challenge in this environment is to maintain optimal clinical care outcomes and patient experience while addressing the impact these changes will have on revenue and system margins. Last year, in our Strategic Plan 2016–2020, we specified what we need to do to be the health care provider of choice in this environment—including focusing on PIVOT, patient experience, culture of safety, quality, financial performance, and Diversity, Respect & Inclusion.
[The Baldrige framework] provides an organized approach to decision-making, communication and deployment of work with measurable outcomes in accordance with recognized principles of good management.
This year, we have launched the framework for how we can best manage the multiple priorities of a health system. Under the banner of Performance Excellence 2020 (PE2020), we are applying the highly structured Baldrige Performance Excellence Framework to help us connect and coordinate all our critical initiatives, apply standardized process improvement techniques, create efficiencies, and continuously improve patient experience and clinical outcomes.
Our intent and our expectation is that PE2020 will help eliminate preventable harm, increase focus on achieving top decile performance in our key metrics, lower our costs through more informed operational decisions, and improve the experience we create for our patients and colleagues. Our ultimate goal is to create a high reliability and high performing organization focused on safety and financial responsibility.
The Baldrige framework is a proven leadership model that other health systems have already benefited from. It provides an organized approach to decision-making, communication and deployment of work with measurable outcomes in accordance with recognized principles of good management (see accompanying PE2020 Standards) and the Institute of Medicine's STEEEP principles for health care (safe, timely, efficient, effective, equitable, patient-centered).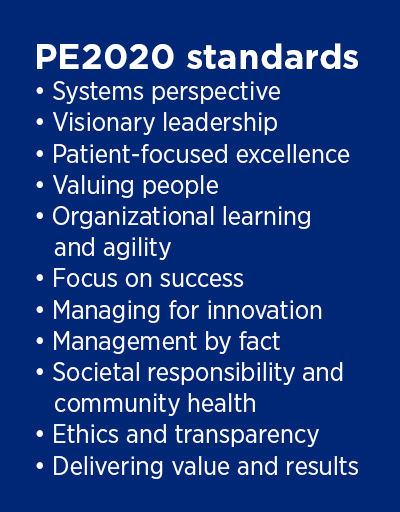 Ultimately, our vision is to deliver a STEEEP experience every time, everywhere, for everyone across Main Line Health. Baldrige provides a framework for making sound decisions. By studying our current practices in the context of our goals, we are able to identify opportunities to standardize around the best way to reach a goal and form a consistent and streamlined approach to our future work.
This framework will help ensure our processes, such as care coordination, are applied across our entire system, so the patient experience doesn't vary from campus to campus or individual to individual. It will also build a more efficient, data-driven environment that will help us improve financial performance by reducing inpatient risk-adjusted cost per case in a fixed-payment environment. The major drivers of cost per case are length of stay, unnecessary clinical utilization, and non-value-added clinical variation.
PE2020 will streamline and standardize work processes in every area of Main Line Health. Some of the ways physicians will see PE2020 in action include:
Standardizing best practices and clinical pathways. This has been shown to lead to better patient care, on average, than idiosyncratic care.
Engaging physicians at a more relevant level. Our enhanced metrics will provide more relevant data for the individual physician.
Consolidating vendors. Consolidation opens the door to greater discounts and operating efficiencies.
Identifying ways to better manage our clinical resources. Our clinical and administrative efforts do a lot for our community, but our resources do have limits. We will be finding ways to stretch our resources to deliver the most and the best care.
As executive sponsors, we are proud to be involved in setting direction for PE2020. Six work groups and a project management team (supported by our Navigant consulting partners) are leading the day-to-day work of aggregating and evaluating findings and recommendations, and developing implementation plans and approaches for specific focus areas.
Physicians engaged in the Clinical Environment Workgroups, clinical utilities (e.g., radiology, lab, pharmacy) and campus and service line leadership will be instrumental in implementing PE2020's Clinical Work Group, led by Bryn Mawr Hospital VPMA Ray Baraldi, MD (focusing on how we can best care for our patients), and the Physician Enterprise Work Group, led by Main Line HealthCare VP Michelle Delp (addressing the financial relationships Main Line Health has with physicians).
PE2020 sets the bar for what is expected of each of us at Main Line Health as caregivers, colleagues and ambassadors for wellness, in order to continue our mission of delivering excellence as the health care provider of choice for the communities we serve.
Jack Lynch, FACHE, is president and CEO of Main Line Health; Mike Buongiorno is executive vice president and chief financial officer; Andy Norton, MD, is senior vice president and chief medical officer; Donna Phillips is president, Bryn Mawr Rehab Hospital and executive sponsor of PIVOT; Barbara Wadsworth, DNP, RN, FAAN, is senior vice president and chief nursing officer; and Paul Yakulis is senior vice president of human resources.