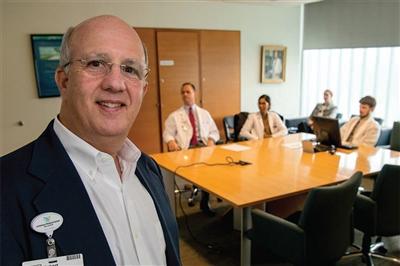 Main Line Health's focus on building a reliable culture of safety throughout the organization has improved outcomes, increased patient satisfaction, and enhanced the system's reputation. Establishing metrics, processes and recognition have been key steps in achieving a more than 80 percent reduction in harm. To become a true high reliability organization (HRO), there are other actions to be taken to get to the next level because, in general, health care is not highly reliable.
Take something as crucial to patient safety as hand hygiene. Data from across the country indicate only 50 percent compliance with that simple procedure. Is it a surprise, then, that a patient dies every five minutes in the US from a health care associated infection?
A reliable culture of safety means that all staff members are committed to ensuring that every patient has the same opportunity for the best outcome, even in complex, high-risk situations. When a particular approach is shown to achieve optimum results in almost all situations, it is reasonable—and advisable—to standardize it as a best practice.
So what does a high reliability organization (HRO) look like? There are five traits to look for—and work towards, and they apply in the administrative as well as clinical realm:
Be sensitive to operations – More than checking patient identity, vital signs, and medications, we need to work together to identify broader issues that can affect patient care, such as how long a person has been on duty, the availability of needed supplies, and potential distractions.
Be reluctant to simplify – Recognize the range of things that might go wrong and don't assume that failures and potential failures are the result of a single, simple cause.
Be preoccupied with failure – Focus on predicting and eliminating catastrophes rather than reacting to them.
Defer to experts – Defer to the person with the most knowledge relevant to the issue being confronted, not the most experienced person or the person highest in the organizational hierarchy.
Be resilient – Assume that, despite considerable safeguards, systems may fail in unanticipated ways. Build in plans to manage the unexpected in order to prevent harm.
These principles ensure that results include high operational efficiency as well as high reliability. We have already demonstrated high reliability in some clinical areas across Main Line Health:
Sepsis: To improve mortality rates in patients who arrived at our emergency departments with severe sepsis, we formed a multi-campus, multi-disciplinary team several years ago to evaluate best practices for surviving sepsis. The team created standard algorithms and clinical workflows in the information technology systems, standard work checklists, visual cues and reliable handoffs among the ED, hospitalists and critical care units. By integrating clinical sepsis bundles with reliably safe behaviors, we were able to reduce the number of deaths from severe sepsis by more than 50 percent at our four acute care hospitals (see graph).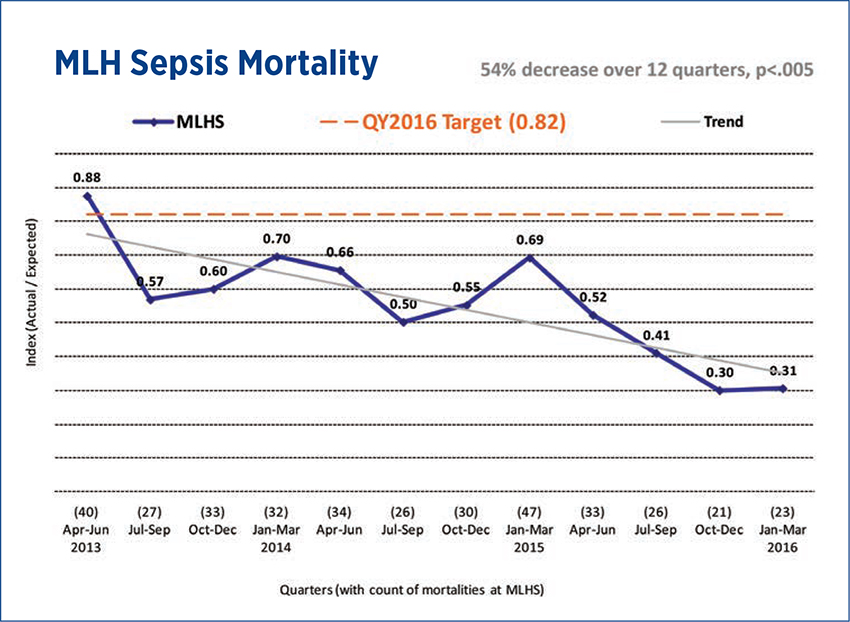 Obstetrics: Riddle Hospital was the first Main Line Health hospital to train Condition O obstetric response teams, using simulation drills, to handle serious adverse events during delivery. This training has spread across Main Line Health, at the direction of Main Line Health's Obstetrics Clinical Environment Workgroup (CEW), to ensure clarity of roles and approach among all obstetrics teams—vital for staff who may work at multiple Main Line Health hospitals.
Rapid response: Team training around procedural alerts is helping Rapid Response Team members across Main Line Health be clear about their own roles and actions—and those of their colleagues. Lankenau Medical Center's Vice President for Medical Affairs, Robert Benz, MD, and Anesthesiologist Robert Day, MD, have created a Rapid Response Team training program for staff and residents, using a simulation dummy "patient" to help team members see how they would function if a code were to occur in their area. Because each individual's role is clearly defined and they train together as a team, they can work together efficiently. Because they use evidence-based protocols, they can work together effectively, even when the situation takes unexpected turns.
While standardization contributes to reliability, it doesn't diminish the importance of critical thinking skills, especially for problem solving during an emergency. There are certainly many staff who naturally react swiftly, surely and calmly to the unexpected, whether in surgery, a clinical emergency, or in diagnosing a patient. Their expertise is invaluable in helping others during training as well as in actual situations. Resilience—being able to adjust to the unexpected—is not necessarily just an issue of clinical skills but more the ability to respond with composure to those human and environmental factors that conspire to throw us that curve ball.
What does high reliability look like in your space? With your team, look at your procedures and the equipment you depend on to get the outcome you're looking for. Then review how they rank against the five HRO traits.
Whether you're an individual practice or a multi-hospital health system, striving to become an HRO means better outcomes for our patients and health care teams. Let's keep the reputation of being one of the safest places in the country to receive care!
At Main Line Health, Denise Murphy, RN, BSN, MPH, CIC, FAAN, is former vice president of quality and patient safety and Sharon DiRienzo, RN, MSN, CPHRM, CPPS, is interim vice president of quality and patient safety.