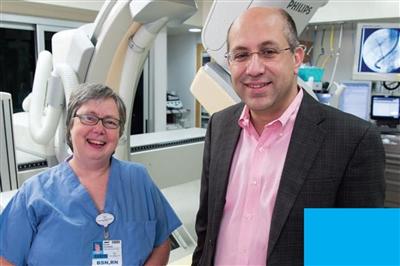 The field of endoscopy has exploded over the past decade, and Lankenau Medical Center is at the center of the surge in both technology and physician expertise.
An important ingredient in the growth of endoscopy has been the advancement of technology and the evolution of facilities designed specifically for endoscopic procedures, such as Lankenau's state-of-the-art Gastrointestinal Endoscopy Unit. In many cases, the capabilities found within Lankenau equal or exceed those of Philadelphia's academic medical centers.
Opened in 2010, our endoscopy suite has grown in the past five years with additional staff and cutting edge technology. As a result, we are not only able to perform routine colonoscopies and bronchoscopies but also support the work of our colleagues at Bryn Mawr, Paoli and Riddle hospitals by performing highly complex procedures such as pancreatobiliary and interventional endoscopic procedures.
Some of the most common medical conditions managed here include acid reflux, celiac disease, colorectal cancer, Crohn's disease, diverticulitis, inflammatory bowel disease, irritable bowel syndrome, pancreatic and biliary disease, and Barrett's esophagus.
Much of the endoscopic technology at Lankenau can be used for both diagnosis and treatment and is less invasive than previous methods that required laparoscopy or surgery. The most notable technologies and procedures offered at Lankenau include:
Cellvizio (confocal microscopy) – A miniature microscope that is threaded through the endoscope allowing physicians to view internal tissue on a cellular level. Cellvizio is an important tool in the diagnosis of Barrett's esophagus and dysplasia.
Spy Glass endoscopy – A "scope within a scope" with a fiber-optic probe attached to a camera that allows physicians to diagnose and treat bile and pancreatic duct abnormalities. Lankenau will be a beta site for new and improved Spy Glass technology.
A state-of-the-art fluoroscopy room that can offer 3D imaging of the biliary and pancreatic trees, something found at few hospitals.
Transoral incisionless fundoplication (TIF) – A minimally invasive procedure that is used to reconstruct the gastroesophageal valve and correct the anatomical defect that causes gastroesophageal reflux disease (GERD).
AXIOS stent system – The world's first "all-in-one" stent system used to drain and treat pancreatic pseudocysts non-surgically. This system reduces the time for treatment from hours to just 20 minutes.
The number of endoscopic procedures performed each year at Lankenau continues to grow—5,000 cases in 2015 alone—as does the staff and its capabilities. Services are available to patients throughout Main Line Health who require the complex, high-end procedures this unit offers. Any physician can refer to the Gastrointestinal Diagnostic Lab, where most requests are accommodated within 48 hours.
As the field of endoscopy continues to grow, Main Line Health will continue to advance along with it, providing patients with the highest quality care along with the personal touch and convenience they have come to expect from us.
Bob Etemad, MD, (pictured above, right) is system section chief of endoscopy at Main Line Health. Susan Trembeth, RN, BSN, CGRN, (above, left) is clinical coordinator of the Lankenau Medical Center Endoscopy Unit.