A closer look at Hassan C. Vakil, MD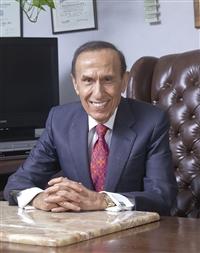 Hassan C. Vakil, MD, has an incredible devotion to Riddle Hospital, dating from his first day there approximately four decades ago. Bringing several firsts to Riddle, including laparoscopic intervention and peri-operative protocol for patient safety, he has performed over 37,000 surgical procedures at Riddle. His patient care advocacy, academic achievements, and philanthropic spirit are equally significant, as well as his leadership as chair of Riddle's department of surgery.
"As I reflect on my surgical career and 30 years' tenure as chair of the department of surgery at Riddle, I have always been impressed with the care provided by the physicians, nursing and supportive staff," said Dr. Vakil. "We have been blessed with a well-run operating room (OR) and other ancillary services at Riddle. In addition, Riddle Hospital's affiliation with Main Line Health over the past eight years has allowed for many improvements on our campus, including the emergency department."
Dr. Vakil's compassionate leadership has kept him at center stage on behalf of his colleagues and his community. He has chaired numerous committees to improve patient care and patient safety and, in 2005, he was elected to The Riddle HealthCare Foundation Board, which encourages philanthropic support to help guide Riddle Hospital's growth.
"When I first joined as a board member, I found myself collaborating with our community's most successful business people, who demonstrated a wonderful philanthropic spirit and tremendous business acumen," said Dr. Vakil. "That continues to this very day. We have a superb group of Board members, who understand the needs of the community in which Riddle operates."
Dr. Vakil is grateful for all that Riddle Hospital has provided to him and his family. In 2012, Riddle Hospital was expanding its emergency department; at the same time, The Riddle HealthCare Foundation was seeking philanthropic support from Riddle's physicians and the community. Dr. Vakil felt it was time for him to give back, to help the community with their urgent medical needs.
"We decided to make a generous pledge to the ED campaign to assist with the construction of the state-of-the-art facility, which is now benefiting the people of our community and our medical staff," said Dr. Vakil. The Emergency Department's Internal Disposition Area is named in honor of Dr. Vakil's generosity.
"It has been an honor serving in the department of surgery," said Dr. Vakil. "I have always enjoyed working in the OR immensely. Overall, Riddle is a wonderful hospital to provide care and receive care."