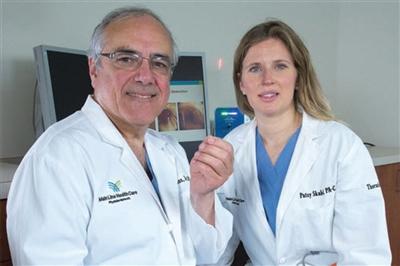 Photodynamic therapy (PDT) has been approved by the FDA since 1995 to treat patients with lung and esophageal cancer. However, at any given medical center, a physician sees only a few patients each year who would benefit from PDT, so the absence of clinical data regarding its efficacy has led to underutilization. Main Line Health is aiming to change that through a national PDT registry that will bring strong scientific data regarding this promising treatment to the forefront.
With my move to Main Line Health from Ohio State University Hospital in April 2015, the multicenter outcomes registry I created there has now found a new home at the Lankenau Institute of Medical Research (LIMR). It's an ideal fit at LIMR, an institution with a strong commitment to oncology research and an emphasis on clinical trials as well as minimally invasive options.
Photodynamic therapy (PDT) is a noninvasive treatment for esophageal and non-small cell lung cancer. It precisely targets cancer cells without damaging healthy cells, and can be used in conjunction with surgery, chemotherapy or radiation at any time during treatment. PDT uses a drug that is light-activated, known as a photosensitizer, in conjunction with light delivered by a laser. When the photosensitizer drug is exposed to a specific wavelength of light, the drug produces a form of oxygen that kills cancer cells in the tumor where the light has been targeted.
Since introducing PDT at Lankenau Medical Center and Bryn Mawr Hospital last October, we have treated five patients with this therapy. Through the multicenter registry, we'll be able to thoroughly evaluate patient outcomes on a much larger scale and provide critical data regarding the use of PDT as a valuable tool in managing cancer.
Launched in 2012, the PDT registry today includes data from 13 institutions—and more than 1,000 patients—from across the U.S. Another five institutions have expressed interest, and we expect to reach a total 25 institutions by year's end.
The ability to offer PDT at Main Line Health aligns perfectly with our strategic focus in the department of surgery on innovation and multidisciplinary programs, rather than on individual surgeons.
PDT has a potential role in thoracic surgery, thoracic oncology and gastroenterology surgery. Ideal candidates include patients with endoluminal disease of the tracheal bronchial tree or esophagus who need symptom control, palliative care or definitive curative therapy for early lesions. Of the 300,000 cases of lung, esophageal and metastatic cancers diagnosed annually, as many as 20,000 could qualify for PDT at some point in the timeline of their disease.
It is my hope that our multicenter outcomes registry will add tremendous weight to our understanding of PDT and encourage its utilization as an important treatment option for oncology patients everywhere.
Patrick Ross, Jr., MD, PhD, is chairman of the department of surgery at Main Line Health.