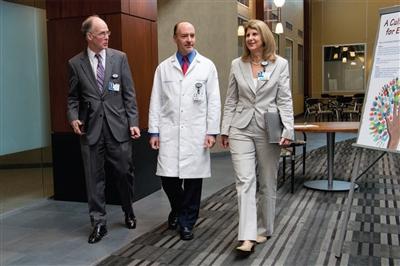 In the year 2013, there were 234,000 people over the age of 65 in the Main Line Health planning service area. By 2023, that number is expected to increase to 300,000.
Older people can face a number of health challenges, including multiple chronic conditions, functional limitations, and difficulties coordinating or navigating health care and social service resources. Trends such as increased longevity and changes in social determinants of health (e.g., economics and family structures) can impact a person's overall health and well being.
Each senior, of course, does not face all these issues. Each is an individual with a unique medical history, a set of care preferences, and a wide variety of outcome possibilities—all while facing unique availability of social, economic and mobility resources.
Ensuring that each senior receives coordinated care in the most appropriate setting across the entire continuum of care—and can access the specific resources needed—is the goal of the Main Line Health Senior Services program.
Formally launched last September, senior services is Main Line Health's first population health service line, committed to integrating high standards of geriatric care with coordination of care throughout the entire continuum of care—wellness programs; ambulatory and community services; inpatient acute care and post-acute care, including nursing homes and home care.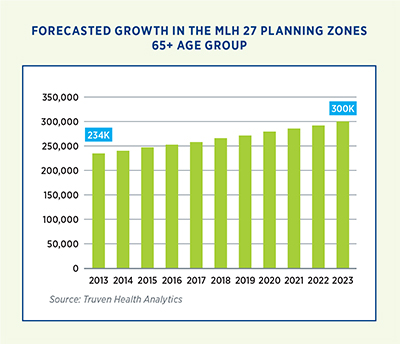 At Main Line Health, about 60 percent of our patients are 65+. The geriatric care principles we champion through patient care coordination initiatives seek to improve outcomes, reduce lengths of stay, discharge to the most appropriate setting, and reduce readmissions. Our geriatric practice includes a team approach to care that combines physicians, nurses, therapists and pharmacists, often led by a geriatrician. But that's only part of it. The person-centered care advocated by senior services also "connects the dots" between Main Line Health services and providers and facilities in the community, taking into consideration a patient's goals and preferences for care, history of care, and long-term care needs. In this way, we can help older people and their families navigate a continuum of care that includes the primary care physician, specialists, ED, hospital, rehab, assisted living, skilled nursing inpatient facility, home care, and hospice.
Senior services has already launched a variety of initiatives (see programs list below).
Future efforts will include the development and implementation of population health and discharge planning strategies, including operational procedures and leading practices to be utilized by Main Line Health hospitals, physician practices, home health, skilled nursing facilities, rehabilitation and community-based Main Line Health entities with a focus on the senior population.
Our 18 geriatric medicine-certified physicians (including 11 who are fellowship-trained) across all Main Line Health hospitals represent the largest such group in any health system in the Delaware Valley. These geriatricians are also heavily involved in office practices and as medical directors of local nursing homes, assisted living facilities and retirement communities. As a result, they can serve as a critical link with primary care physicians and are also in a position to strengthen continuity of care, promote care coordination, and help improve care initiatives at their facilities.
Through our systemwide approach, we can provide a superior experience for seniors and their families through a culture of geriatric care that's patient-centered and coordinated.
Main Line Health Senior Services programs
Illustrating the direction of the Main Line Health Senior Services program is the Senior Care Navigation Line pilot program, launched earlier this year for Riddle Hospital patients and staff as a key telephone resource for seniors, their families, friends and caregivers to help address questions and concerns. Our average conversation lasts 23 minutes; during that time our staff compassionately provides guidance in making care decisions in all areas of senior care, including medical needs, social and psychosocial concerns, functional support, community resources and care navigation—creating warm connections with people and becoming a powerful supportive resource.
Other, equally significant Main Line Health Senior Services initiatives in place today include:
A unique Quality Rating Program for more than 50 skilled nursing facility partners to develop data to benchmark quality improvement initiatives
Expanded education of emergency department and palliative care staff, as well as nursing facility partners, in POLST (Pennsylvania Orders for Life Sustaining Treatment) advance care planning and Main Line Health's supportive policy
NICHE designation (Nurses Improving Care for Healthsystem Elders) to date at Lankenau Medical Center, Bryn Mawr Hospital, Riddle Hospital and Bryn Mawr Rehabilitation Hospital
Community health education and therapy services
Gerontological Nursing Certification of 63 nurses at Riddle Hospital, to date
Background on the senior services team
Operationally, the leadership team expertise perfectly spans the key senior care areas.
Thomas Lawrence, MD, a primary care geriatrician, long term care specialist, medical director of five facilities, and on the American Board of Post Acute & Long Term Care Medicine.
Brian Duke, former Secretary of Pennsylvania's Department of Aging with experience as a health administrator and leader across the continuum of aging services.
Grace Wummer, MSN RN, with a background in patient care coordination at Main Line Health, with experience of care and leadership across the health care continuum.
Main Line Health Senior Services program was developed by a multidisciplinary team with a focus on acute care, outpatient services, post-acute care, and the community environment. The ongoing Senior Services program is overseen by a Senior Services Council of Main Line Health physicians and executives chaired by Riddle Hospital President Gary Perecko, executive sponsor of senior services.
At Main Line Health, Thomas Lawrence, MD, is system medical director of geriatric medicine and long term care, Brian Duke is system director of senior services, and Grace Wummer, RN, MSN, is clinical director of senior services.