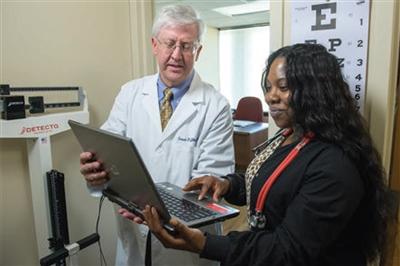 While today's health care environment may seem ever-shifting, primary care physicians (PCPs) are still the quarterbacks of their patients' care—the providers who are the point on which the rest of the medical team pivots. These days, the team members and equipment available offer many more possibilities.
Consider one of the biggest changes—the emergence of hospitalists. Beginning in the late 1990s, PCPs largely ceased making hospital rounds, and health insurers stopped paying for them. While some mourn the loss of these rounds, many others see the rise of hospitalists as a positive development, since the acuity level of many patients can be so tenuous that physicians—in this case, hospitalists—may need to be at their bedsides in a matter of minutes. PCPs never abdicated oversight of their hospitalized patients; instead, they now coordinate their care from a distance in partnership with hospitalists.
Several other health care professionals have also become integral parts of the PCP team over the past decade, including nurse practitioners and physician assistants. As patients become more focused on the timeliness of appointments, these "physician extenders" allow a practice to see patients more quickly and more efficiently. Future additions to the PCP team may include navigators (to help guide patients through the complex health care system) and scribes (to reduce the burden of documentation).
With more team members involved, open, frequent communication between PCPs, specialists, hospitalists and other health care professionals is critical, particularly with transitions in care and change of status. More than ever, technology has taken a leading role in how patients are managed and treated. For example, electronic medical records (EMRs) allow physicians to rapidly share consult letters, discharge summaries, lab work and imaging studies.
Unfortunately, most EMR portals to date have proven ineffective when it comes to provider-to-provider communication. Enhancing the ease and accuracy of such communications is to a great degree why Main Line Health is working to get as many providers as possible onto its new EPIC EMR system as part of our PIVOT (Promoting Innovation by Valuing Organizational Transformation) project.
Better communication and coordination of care is also a goal of Main Line Health Physician Partners (MLHPP), our recently formed clinically integrated network for both Main Line Health-employed physicians and independent physicians. Bringing together specialists and PCPs in a value-based health care model, Main Line Health Physician Partners will facilitate and improve chronic disease management, care episode management, quality reporting, and communication among primary care physicians, specialists and the case management team. I expect MLHPP, in conjunction with the Delaware Valley Accountable Care Organization (DVACO), to shape the future of how PCPs practice. This clinically integrated network will foster improved, more timely care and reduce redundancy in our health system.
Taken together, these changes are allowing PCPs to refocus their attention on what they've always done best—delivering the high-quality, well-coordinated care their patients depend upon. It's a play that everyone in health care can get behind.
Ernest Gillan, MD, is interim chair of family medicine for Main Line Health and chief of family medicine at Paoli Hospital, as well as chair of Main Line Health Physician Partners.