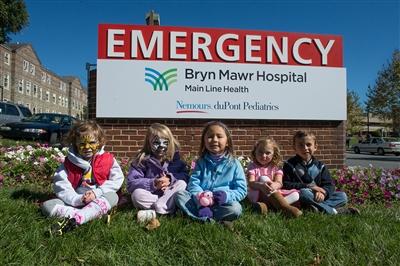 Providing quality care for children in an emergency requires special preparation—in training, equipment and resources. In a recent nationwide assessment conducted by the Emergency Services for Children's Pediatric Readiness Project, the emergency department (ED) at Bryn Mawr Hospital was ranked among the best in the country.
The assessment scored institutions on their preparedness to provide effective emergency care to children based on an examination of the following areas: administration and coordination; physicians, nurses and other ED staff; quality improvement/process improvement in the ED; pediatric patient safety; policies, procedures and protocols; and equipment, supplies and medication.
On a 100-point scale, Bryn Mawr Hospital scored 98—an enormous source of pride for all of us. The median score for pediatric readiness among all participating hospitals was 69.
Bryn Mawr Hospital is a premier destination for pediatric care—in our emergency department as well as across our extensive inpatient offerings. Through our close collaboration with Nemours Children's Health System, families in Chester, Delaware and Montgomery Counties have access to outstanding pediatric medical care right here in our community.
Among the highlights of our ED are dedicated, child-friendly treatment rooms that ensure a soothing environment; child-sized stethoscopes, blood pressure cuffs, tubes and catheters; lower dose X-rays based on age and weight; and medication dosing based on age and weight. There is also a separate waiting room just for families, with child-sized furniture and interactive toys.
All 61 of the registered nurses who staff the ED at Bryn Mawr Hospital are certified in Pediatric Advanced Life Support (PALS), and six have additional Emergency Nurse Pediatric Course (ENPC) certification. Because caring for children is vastly different than caring for adults, our team includes pediatric emergency department physicians, pediatric pharmacists and pediatric radiologists.
In the near future, our collaboration with Nemours will also give us access to Nemours CareConnect, enabling our team, when necessary, to consult with critical care and emergency medicine physicians at Alfred I. duPont Hospital for Children using real-time video. This is especially advantageous when treating critically ill patients who are unstable or may require emergency transportation. The CareConnect devices allow for direct interaction between the care provider, pediatric consultant, patient and family, whether in the emergency department, for inpatient care, or when patients are en route on a Nemours Kids Transport ambulance.
The pediatric readiness of our emergency department substantially elevates the level of our inpatient pediatric service, which also features Nemours physicians, well-trained pediatric nurses, identification bracelets with electronic sensors to enhance security, a playroom stocked with toys, a dedicated family room for lounging and overnight stays, and music and art therapy.
In every way, we are dedicated to providing the best possible care for our young patients.
Hazel Guinto-Ocampo, MD, is chief of the section of pediatrics in the department of emergency medicine, Nemours duPont Pediatrics at Bryn Mawr Hospital and interim chair of the Main Line Health Department of Pediatrics.