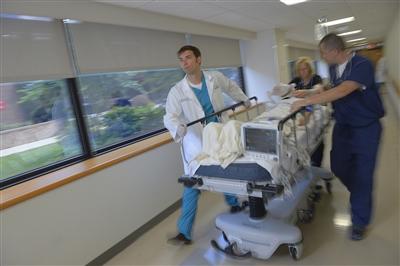 Every minute counts in the Golden Hour following a traumatic injury. Since opening five years ago, Paoli Hospital's Level II Regional Trauma Center—the only trauma center in Chester County—has enabled 7,766 patients to be treated more quickly, avoiding transport or airlift to hospitals in Philadelphia.
From horse-riding to handguns, highway accidents to household falls, the causes of traumatic injury in Chester County vary but the urgency is constant. Before we opened our trauma center doors in 2011, the amount of time before a patient in Chester County arrived at a trauma center was 75 minutes. Now it averages 35 minutes, and the number of trauma flights annually leaving the county from the scene of an accident have decreased from 500 to only 24 in 2015. Paoli Hospital received 11 of them. Most important is the fact that, since Paoli Hospital became a trauma center, my research shows death rates among traumatically injured patients in Chester County have been reduced by more than 30 percent. That is an extraordinary statistic.
Our trauma center represents a very close partnership with Thomas Jefferson University Hospital, where I serve as associate director of trauma. I am on site full-time at Paoli Hospital, as are several of my colleagues. On any given day at any time—day or night—we have three or four board-certified trauma surgeons on site, complemented by several members of the Paoli Hospital team who are top specialists in emergency medicine, neurosurgery, cardiology, orthopaedics and more. Our outcomes place Paoli Hospital among the top five level I and level II trauma centers in the state of Pennsylvania. This is a tremendous accomplishment for a new Center and a testament to our exceptional physicians, nurses and administrators.
Since Paoli Hospital became a trauma center, death rates among traumatically injured patients in Chester County have been reduced by more than 30 percent.
Beyond providing state-of-the-art clinical care to traumatically injured patients, we also recognize the importance of preventing injury through evidence-based strategies. To that end, we have built a robust injury prevention and outreach program (see program list below), collaborating closely with numerous community partners to deliver safety education.
We are honored to serve as such a valuable resource to the community, and remain dedicated to continuously improving upon the life-saving interventions, available technologies and protocols that make the difference between life and death for traumatically injured patients in Chester County and the surrounding region.
Paoli Hospital's prevention programs
911—what's your emergency – to educate children ages 6 to 12 about basic first aid skills and how to activate 911
Bike safety rodeo – teaching bike readiness to children ages 4 to 13
Learning safety through stories – a reading program for children ages three to six
Teen driver safety – to date, has delivered critical messages regarding impaired driving to more than 8,700 students
A Matter of Balance – aimed at reducing falls among older adults
Emergency medical services grand rounds – designed to educate EMS providers and ensure open lines of communication
Yellow Dot – a national program that utilizes an advance medical form to facilitate communication between EMS and unresponsive accident victims
Paoli Hospital Annual Trauma Symposium – attended by over 200 health care providers each year
Kris R. Kaulback, MD, is medical director of trauma services at Paoli Hospital.