A closer look at Joseph Vernace, MD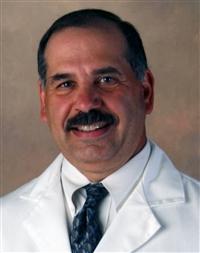 Joseph Vernace, MD, is taking his job seriously. "It's an important role, the President of the Bryn Mawr Hospital Medical Staff," said Dr. Vernace, who was elected by his colleagues in May 2015. "It is most important that I lead by example."
Which is why, Dr. Vernace says, he decided to make a leadership-level gift to the For Every Generation capital campaign, currently underway at Bryn Mawr Hospital.
"This project is a milestone endeavor," said Dr. Vernace. "The hospital will always have capital needs, but this campus modernization and new patient pavilion is an historic moment for Bryn Mawr Hospital, and I believe every physician on our staff should be invested."
Dr. Vernace is actively involved in asking his colleagues to support the campaign with multi-year pledges, knowing the far-extending ripple effect of physician endorsement. "Visible leadership-level support from the physician body is crucial in showing that Bryn Mawr Hospital—and, most notably, this project—are a worthy investment."
The role of president of the Bryn Mawr Hospital Medical Staff also comes with the responsibility of chairing the annual Physician Giving Campaign. "Sometimes, during a capital campaign, people forget about the critical need for sustaining annual fund support," said Dr. Vernace. "I'll be the first to admit that I haven't been the best at keeping my annual support up to date. But I understand how crucial it is to maintain that base level of philanthropy—and I want to encourage others to follow suit."
Last fall, Dr. Vernace embarked on a mission to grow the number of physicians in Bryn Mawr Hospital's Gerhard Society, which recognizes donors making contributions of $1,000 or more annually. He established a matching incentive that effectively doubles the recognition and benefits associated with a gift of $500, granting physician donors new membership in the Gerhard Society at a discount for fiscal year 2016.
"For almost 125 years, this community has looked to the medical staff of Bryn Mawr Hospital for guidance and a leadership example," Dr. Vernace reflected. "I firmly believe that to charitably support the Hospital is to send the strongest possible message to this community about the life-changing work that takes place here every day. And I believe the community will continue to respond in kind."
So far, 20 physicians have decided to participate in Dr. Vernace's "Gerhard Society New Member Match," while others have chosen to make outright Gerhard-level gifts.
"I hope every member of the staff will consider participating in the Physician Giving Campaign—at any level," said Dr. Vernace. "I want to see growth of that 'spirit of philanthropy' among our staff that is such an inspiration to others."
For more information on the Gerhard Society and/or the New Member Match, please contact the Bryn Mawr Hospital Foundation at 484.337.8176.