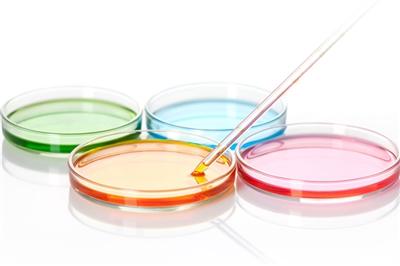 Before 2015, the oncology program at each individual Main Line Health hospital was just that: Individual. Strong, but individual.
Now, thanks to the ongoing integration of oncology services across Main Line Health and the resulting collaboration among physicians and hospitals, it's all about the strength of systemness.
Together, Lankenau Medical Center, Bryn Mawr Hospital, Paoli Hospital and Riddle Hospital treat more than 3,300 cancer patients each year, which makes us one of the busiest oncology providers in Montgomery, Delaware, Chester and Philadelphia counties.
Operating as a single team has clear benefits for our patients, our physicians and the program itself.
Since we established the Main Line Health Cancer Program in 2014, we have achieved several milestones:
Unified accreditation
Traditionally, each Main Line Health hospital was accredited separately by the Commission on Cancer (COC), with each campus separately defining goals, studies, and improvement projects to achieve COC standards.
Last year, Main Line Health applied to be accredited as an Integrated Network Cancer Program (INCP). INCPs are characterized by a single cancer committee, standardized registry operations, a uniform data repository, and coordinated service locations and practitioners.
Our cancer team now has defined common goals, improvement projects and studies across Main Line Health so we can achieve a higher level of standards together.
Confirmation of INCP status is expected after a site survey in late summer or early fall 2016.
Unified cancer registry an system work groups
Like accreditation, each Main Line Health hospital traditionally has had its own separate tumor registry team. The teams have now been combined into one Oncology Data Services (ODS) group, led by Louise Widmer.
Advantages of one team include the ability to ensure consistent data abstraction, to distribute manpower across the system, and to assess quality metrics—either combined or separately—to identify where we can improve our patient care.
In addition to combining the tumor registries, Main Line Health has also created systemwide, disease-specific tumor workgroups with a focus on quality, growth, system coordination, cost management, and physician alignment. The initial four workgroups—breast, lung, gastrointestinal (GI), and genitourinary (GU)—meet quarterly to discuss these priorities. They also conduct tumor boards several times a year to retrospectively review difficult cases and share lessons learned. Recently, the workgroups had developed a standardized survivorship care plan for patients and primary care physicians, using National Comprehensive Cancer Network guidelines as well as our own Main Line Health Cardio-Oncology guidelines to provide better information on the recommended follow-up care.
Lung cancer screening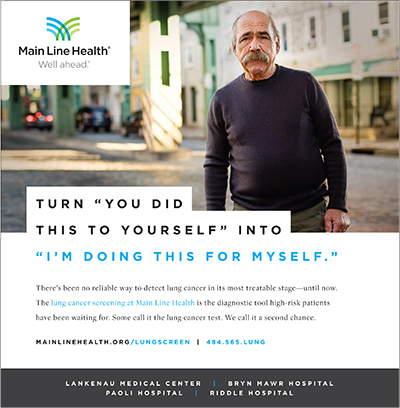 Screening for lung cancer using low-dose CT has been proven to have a 20 percent risk reduction in mortality from lung cancer. Within Main Line Health, a subset of the Lung Workgroup was formed to coordinate lung cancer screenings across the system. At the center of this program is a dedicated nurse navigator who helps coordinate care with referring physicians as well as patients throughout the process.
Lung nodule program
The Lung Nodule Program is now available across Main Line Health. The program's aim is to optimize care for patients with incidentally-discovered focal pulmonary lesions and to provide a formal management protocol. The program includes prompt assessment by a team of pulmonary specialists, a report with follow-up recommendations, and tracking and proactive outreach by a dedicated nurse navigator.
Clinical trials and research
Patient access to cancer clinical trials is a well-recognized hallmark of the best care in oncology. Building on its history as a successful member of the Community Clinical Oncology Program (CCOP), in 2015 Main Line Health completed its first year as part of the NCI's recently re-organized Community Oncology Research Program (NCORP) and finished in the Top 15 for accruals among 47 other programs. In addition to the NCORP clinical trials, Main Line Health provided access for 130 of its cancer patients to additional cutting-edge oncology trials in 2015. During this period, the impact of our ongoing work was recognized nationally in 11 publications appearing in leading journals in the field.
Cancer risk assessment and genetics
imilar to MLH ODS, Genetics is now unified into a single Main Line Health team. Today, the program is lead by a two physicians, Dr. Terri McHugh and Dr. Michael Dabrow, as well as administratively by Rachel Brandt, who is now Manager of the Genetics Team.
The team is ensuring genetic counseling appointments and testing are offered and applied consistently across the system.
Systemwide oncology marketing
For the first time, Main Line Health is taking a unified approach to marketing its oncology services. Advertisements for the lung cancer screenings rolled out in November on TV, on the web, at train stations and convenience stores, and most notably in a "wraparound" ad that appeared on the front page of the November 18 Philadelphia Inquirer.
The ads generated a flood of phone calls and appointments inquiring about the benefits and eligibility criteria of the screening.
Early this year, the Main Line Health physician liaison team will reach out to referring physicians with information on our specialized clinical team available to diagnose and treat lung cancer. Main Line Health is planning to similarly advertise for other tumor sites in the future.
Working together will enable us to enhance cancer care across our system and will bring many advantages, but the one that is most important is improving outcomes for our patients.
Michael Walker, MD, is medical director of Main Line Health's Cancer Program and a thoracic surgeon. Greg Kasmer is Main Line Health Cancer Program's administrative director.