Lankenau Heart Institute has become a primary point of referral for patients requiring surgical treatment of critical and complex disorders of the heart and great vessels. In 2015, Lankenau Heart Institute cardiac surgeons performed 958 operations spanning nearly every aspect of cardiac surgery, including beating-heart and robotic-assisted coronary artery bypass, minimally invasive valve repair and replacement, transcatheter aortic valve replacement (TAVR) and mitral valve repair, complex aortic aneurysm surgery and repair of aortic dissections, and treatment of arrhythmia.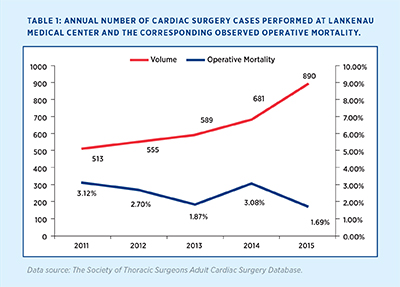 Lankenau Heart Institute is one of the top-performing cardiovascular surgical programs in the country with outstanding outcomes (Table 1), and one of the most comprehensive resources for minimally invasive heart surgery on the East Coast.
Nearly 85 perfect of all isolated valve surgeries (aortic and mitral valve repair or replacements) are performed via very small incisions utilizing minimally invasive techniques. These advanced procedures provide equal, and in many cases, better patient outcomes and are associated with less postoperative pain, reduced risk of stroke, avoidance of blood products, quicker return to daily activities, and improved quality of life. In 2015, our mortality rate for both minimally invasive aortic and mitral valve surgery was zero percent.
With one of the most experienced robotic heart surgeons in the country, we have performed more than 1,300 robotic-assisted CABG procedures with a single, 1.5-inch incision. Our operative mortality rates for standard and robotic CABG procedures are consistently lower than national averages.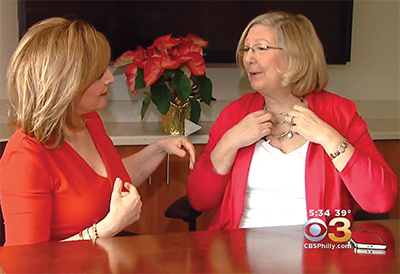 Our structural heart team offers minimally invasive transcatheter therapies for aortic and mitral valve disease for patients who are otherwise considered high-risk for traditional open heart procedures. Since September 2012, we have performed 350 transcatheter aortic valve replacement (TAVR) procedures with a mortality of 2.6 percent, which is one of the lowest in the nation. Also since early 2015, we've performed 29 transcatheter mitral valve repairs with a mortality of 3.5 percent.
The aortic disease management team has expertise in the use of the most advanced technology for evaluating aortic disease and offering advanced medical, surgical, and endovascular interventions. Since the program's establishment in 2014, we have performed 129 complex aortic surgical procedures involving the aortic root, ascending aorta, aortic arch, descending thoracic aorta, and thoracoabdominal aorta with observed mortality of 4.5 percent, which is considered among the lowest rates in the nation for these complex operations.
At Lankenau Heart Institute we have the ability to support patients in acute cardiopulmonary failure using extracorporeal membrane oxygenation (ECMO) therapy. This advanced technology essentially serves as a short-term substitute for the heart and lungs for patients who would not otherwise survive. Our survival rates are higher than the national average of 45 percent. We are developing a robust heart failure service, which involves the placement of life-saving, mechanical-assist devices while patients await a more permanent solution.
Our cardiovascular surgeons work closely with a dedicated team of cardiologists, cardiac imaging specialists, radiologists, anesthesiologists and clinical navigators across the System to provide our patients with the most advanced surgical care, with a distinctly patient- and family-centric experience.
Individually, these factors make Lankenau Heart Institute unique and, combined, make our cardiovascular program exceptional.
Konstadinos Plestis, MD, is system chief of cardiothoracic and vascular surgery for Main Line Health's Lankenau Heart Institute.
Lankenau Heart Institute brings together the clinical expertise at Main Line Health's acute care hospitals and community cardiology practices to ensure that patients receive a level of quality, service, and experience that is unprecedented in the region. Through systemwide coordination of patient care, Lankenau Heart Institute delivers preventive, diagnostic, therapeutic, and rehabilitative cardiovascular services at each of our locations, including Lankenau Medical Center, Bryn Mawr Hospital, Paoli Hospital, and Riddle Hospital.