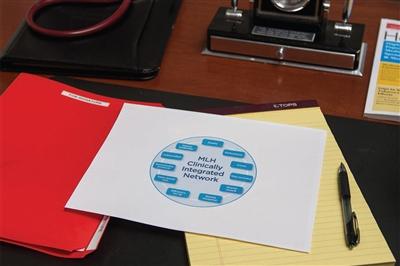 Main Line Health is committed to an open medical staff and being a good partner to independent and employed physicians alike, even as our health care environment continues to rapidly change. We now live in a world of value-based reimbursement and population health, electronic health information and advanced medical technologies, older and more diverse demographics, team-based care, and increased government regulation.
A promising opportunity for providers to participate in this new environment is a Clinically Integrated Network (CIN), in which independent/private practice physicians, employed physicians and a hospital or health system collaborate to develop clinical initiatives focused on quality, performance, efficiency and value.
In a CIN, independent and employed providers, supported by reliable data, can legally coordinate to improve outcomes and reduce waste, with protection from Stark and anti-kickback provisions in Federal statutes. The network is allowed to collectively negotiate fee-for-service and value-based contracts, and members are allowed to be financially rewarded for demonstrated performance.
Main Line Health is launching such a physician partnership in 2016. Our non-exclusive CIN will do more than just drive the Triple Aim (enhance patients' health, improve patients' experience and outcomes, and reduce per capita cost of care). Using common information technology and established protocols, it will deliver a differentiated health care product so that Main Line Health and physician participants could become preferred by consumers, payers and employers. It also will be the sole Main Line Health route for participation in the Delaware Valley Accountable Care Organization (DVACO).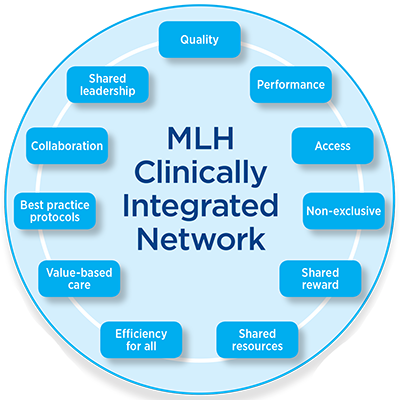 A 21-person Physician Advisory Group has been an integral part of this initiative, along with specific working groups identifying scope of work and membership criteria. The on-going leadership structure will consist of a Managing Committee comprised of 13 medical staff physicians (including nine independent and four employed by Main Line HealthCare) plus three Main Line Health executives.
The value to physician participants includes access to:
Participation in DVACO, including DVACO's contracts, Medicare Shared Savings Program and care management and practice transformation resources.
Shared savings financial payments through a contractual relationship between Main Line Health and our Main Line Health CIN to improve care and reduce costs for inpatients in our acute care hospitals.
Main Line Health resources, such as care coordination, case management, and EMR and clinical informatics support.
Main Line Health and DVACO contracts only available to Main Line Health's CIN members.
The composition of various committees, as well as additional education on the Main Line Health CIN, the opportunity in March to sign a letter of intent, and subsequent formalization of the participation agreement, will be communicated through the Main Line Health Clinician weekly e-newsletter and special Town Hall Meetings beginning in February.
I encourage all Main Line Health physicians to take advantage of these opportunities to learn more about this initiative to increase quality, reduce costs, maintain independence, and have a bigger role in managing utilization and population health.
Andy Norton, MD, is chief medical officer at Main Line Health.