A closer look at Sharon A. Marshall, MD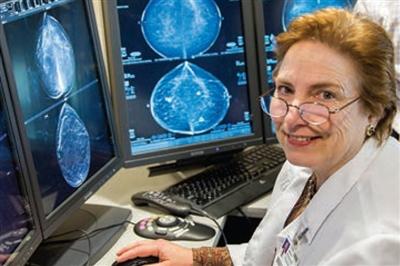 Sharon A. Marshall, MD, began her medical career as a Navy doctor at the Uniformed Services University of the Health Sciences in Bethesda, Maryland. As an active duty physician, she participated in numerous shipboard and field hospital exercises involving procurement, deployment, and management of departmental resources and assets during extensive mass casualty drills.
It wasn't until her residency that she found the specialty—radiology—that, for her, was a "perfect fit."
"The fascination of being a detective looking for disease by analyzing pictures was irresistible!" Dr. Marshall said. "I am an artist in my spare time, so evaluating the art created by X-rays, ultrasound, and CAT scans was just a perfect job."
Her accomplishments eventually led to her assignment to the Jacksonville (FL) Naval Hospital, where she led a complete overhaul of the Department of Radiology, and to the National Naval Hospital in Bethesda, MD, where she directed the planning and completion of a 13,000-square-foot, $3.1 million Breast Imaging Center.
After retiring from the Navy, Dr. Marshall held several civilian jobs, again looking for just the right position. Finally, in 2008, she found the perfect fit at Paoli.
"I've worked in many locations both in and out of the military," she said. "Paoli is one of the best hospitals I've ever worked at in terms of dedication of the staff, standards of care, and collegiality. I want to preserve what we have and help it grow."
Now a member of the Potter Society for Paoli Hospital donors above the $1,000 level, Dr. Marshall believes that "you should nurture the place that nurtures you! Who else understands so well what we need and what we could do if we had the means?"
She has a definite wish list. "For radiology, I'd like more tomosynthesis (3D mammography) units throughout the Main Line Health system," she notes, "and I want to obtain automated breast ultrasound for our patients, which will be a minimum of eight machines and accessories. We also need more funding for technologists and support staff if we are to support our patient base properly. Every specialty has a wish list, and it's because we want our patients to be well served."
With 230 fellow members of the Potter Society, Dr. Marshall sees that as another perfect fit, noting, "It's just nice to know that there are others who feel the same way about Paoli as I do."