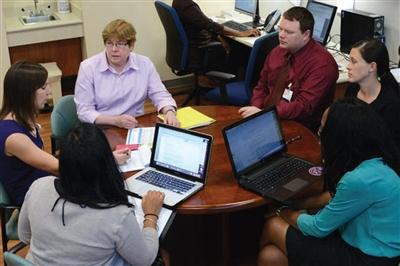 Three years ago, Lankenau Medical Center approached Philadelphia College of Osteopathic Medicine (PCOM) with an innovative idea—a collaboration that would address the complex social and economic issues faced by vulnerable patients as well as provide medical students with invaluable insights and experience that would help them to become better physicians.
In 2013, the Medical Student Advocate Program was launched at Lankenau Medical Associates (LMA), the internal medicine and subspecialty residency practice at Lankenau Medical Center. This reflected the deep commitment of LMA, a Level 3 NCQA Patient-Centered Medical Home (PCMH) designated practice, to address the complex health care needs of our patients. Today, the Medical Student Advocate Program is significantly improving health outcomes and fundamentally changing the way we think about medical education.
During the program, second year PCOM medical students dedicate five hours a week to connecting patients to needed resources (i.e., food access, transportation, childcare, utilities, employment, housing). The students serve as patient advocates and work collaboratively with LMA's PCMH team, an inter-professional team of nurses, physicians, social workers, medical assistants, and health educators, to recognize and address patients' non-medical needs and barriers to care.
The program challenges the PCOM students to leverage existing community resources to find solutions for a wide range of issues: access to care, health insurance, prescription coverage, transportation, utility assistance, health education, food assistance, child care, housing, personal care and social support needs. Among these resources is Lankenau's partnership with The Food Trust, which allows our staff members to provide patients with Philly Food Bucks to purchase fresh fruits and vegetables at farmer's markets sponsored by The Food Trust throughout Philadelphia.
Each medical student advocate works one-on-one with 15–20 patients over the course of the year, under the supervision of Sandra Ross, a licensed social worker. This format allows each cadre of students—now numbering 15 per year—to help 200 to 300 patients annually and address over 500 resource needs.
PCOM students who participate in the program are subsequently provided an opportunity to participate in the Main Line Health-PCOM Core Clinical Campus, during which time they complete their third-year core clerkships within the Main Line Health system. With the experience they gain as advocates, students begin this phase of their training better prepared and with substantially greater sensitivity to their patients' concerns. All students report increased empathy due to a greater understanding of the underlying issues faced by their patients and improved interpersonal skills that make it easier to engage in conversations with patients about their psychosocial needs. They learn that treating a patient effectively is about much more than addressing the disease or the condition, but also taking into consideration the barriers their patients may face in improving their health.
Based on success to date, plans are underway to expand the Medical Student Advocate Program into Bryn Mawr Family Practice residency as well as the Lankenau Medical Center Emergency Department. We are also in the process of developing a collaboration with a community health center in West Philadelphia, where our student advocate program could also have significant impact.
The Medical Student Advocate Program is a game changer. This program is a cost-effective and powerful way to address the complex issues surrounding transitions of medical care and hospital readmissions, while providing an unparalleled experience for medical students with the depth of insight and experience they need to produce better health outcomes for patients.
Chinwe Onyekere, MPH, is the associate administrator for Lankenau Medical Center. Sandra Ross, LSW, is the program administrator for the Medical Student Advocate Program at Lankenau Medical Center. Barry D. Mann, MD, is chief academic officer for Main Line Health.