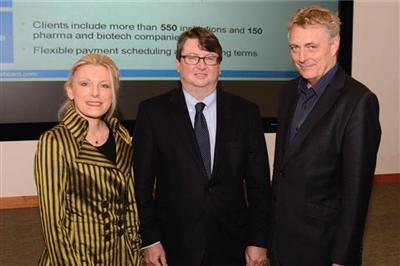 Tucked away at Lankenau Medical Center, just steps away from the main entrance, is one of Main Line Health's gems: the Lankenau Institute for Medical Research (LIMR). For years this hotbed of biomedical research activity has been well respected by scientists and clinicians with an interest in questions being studied at LIMR. But LIMR's work in immuno-oncology is drawing attention from major players in the field and bringing significant attention to LIMR.
"In 2004, our strategic vision for LIMR was to create a unique environment that fostors both academic research and biotech incubator entrepreneurship to better serve our mission of speeding delivery of promising new therapies and diagnostic technology to the clinic," said LIMR President George Prendergast, PhD. "I'm pleased to say we're exceeding even our own expectations of where we'd be in 2015, with several experimental tests and drugs developed in the LIMR laboratories now in patient trials."
A major theme of LIMR's work is the study of genes that strongly affect cancer susceptibility and treatment response and the development of new therapies targeting these genes. In this realm, LIMR has been a leader in research and discoveries related to the IDO (indoleamine 2,3-dioxygenase) enzyme pathway.
"This research began more than 10 years ago," said Dr. Prendergast. "We were studying how a gene naturally suppresses cancer in animals and discovered that it worked mainly by controlling IDO."
Dr. Prendergast and colleagues went on to discover that the IDO enzyme blocks T cell activation in cancer and is widely used by tumors to evade the immune system. Through further study, they found that IDO is essential for inflammation-driven cancers, not only to support immune escape but also to help attract a blood supply and metastasize. This seminal work at LIMR helped catapult IDO into clinical studies.
"We discovered the anticancer properties of an early drug-like inhibitor of the IDO pathway, called D-1MT (indoximod), and pioneered preclinical studies showing it triggers immune attacks on many types of cancer and greatly enhances the efficacy of chemotherapy," said Dr. Prendergast. Phase I and many Phase II clinical studies followed soon after. One of those clinical studies is open at Main Line Health to treat women with metastatic breast cancer.
IDO-related research continues to be a major focus at LIMR, particularly preclinical and clinical studies of a second IDO-related gene—IDO2—discovered at LIMR. Indeed, LIMR just received a large grant from the National Institutes of Health to study IDO2, the first major federal funding to focus on this new immune regulatory gene.
The IDO pathway has become a hot target in cancer immunotherapy, garnering significant attention at this year's meetings of the American Association for Cancer Research and American Society for Clinical Oncology. To the point, earlier in 2015, Bristol-Myers Squibb paid $800 million upfront to a small biotech firm for its preclinical IDO pathway inhibitor. The rapidly expanding interest in IDO inhibitor development for cancer treatment can be traced directly to the early proof-of-concept work from Dr. Prendergast and his colleague Alexander Muller, PhD, at LIMR.
Ironically, LIMR has been better known by physician-scientists across the globe than by physicians in the region. Years ago, LIMR's published discoveries about the IDO pathway caught the attention of two prominent researchers at Gustave Roussy Cancer Center in Paris—Guido Kroemer, MD, PhD, and Laurence Zitvogel, MD, PhD—prompting them to invite Dr. Prendergast to participate in the 1st International Conference on Immunochemotherapy.
This past April, the 4th International Conference on Immunochemotherapy was held at LIMR, with Drs. Prendergast, Kroemer and Zitvogel, as well as Jeffery Weber, MD, PhD, of the Moffitt Cancer Center, co-chairing the conference. Attendees included several of the world's leading cancer researchers.