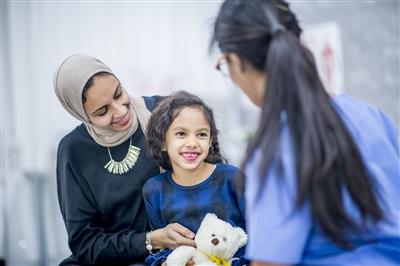 The care of our patients at Main Line Health is ranked among the best, as illustrated by many quality measures, awards and recognition given to each of the Main Line Health hospitals. The collaboration of our physicians and the other team members is a significant and contributory factor to assuring the highest quality care and outcomes for our patients. Based on these national and regional accolades, you might think our patients would rank us at the top in patient satisfaction surveys. Unfortunately, that is not true—yet.
Our scores in the two principal patient measures are certainly good, but they're just not at the high levels we—and our patients—expect.
Press Ganey, the vendor responsible for mailing all surveys—both paper and electronic—to our patients, provides us regular data and access to comments that we share with our staff to identify opportunities for improvement.
Hospital Consumer Assessment of Healthcare Providers (HCAHPS) is used to assess hospitals and is publicly reported. This survey includes specific questions related to doctor communication, discharge process, communication with nurses, etc. Anyone can compare any of our hospitals with others by accessing the Hospital Compare website at medicare.gov/hospitalcompare.
An important element of the care of the patient is the ability to communicate. Recently, a new language interpretation system known as STRATUS arrived at the Main Line Health hospitals. Stratus is a video interpreting service provided through an iPad on a stand that adjusts to provide face-to-face language interpretation and signing. This technology is available 24/7 and has already made a significant impact in the first 30 days. Our clinical teams have used Stratus in over 425 encounters totaling nearly 5,000 minutes of video interpretation for our patients.
Communicating with our patients and families is key to assuring a clear understanding of their care plans and demonstrating that we value the relationship with them. Imagine being ill and in a hospital where it was difficult or impossible to communicate with every person you encountered. I encourage you to ask the nurses to bring STRATUS to you to facilitate accurate, respectful communication with your patients. I assure you, this technology will impress you and is simple to use. Once you have the STRATUS iPad, select the icon, select the language, and within seconds a live person is introducing themselves to you and the patient.
As we strive for the top decile in patient satisfaction, it is imperative that we continue to build on our environment of excellence to create a superior patient experience in all settings across the continuum of care.
Barbara Wadsworth, DNP, RN, FAAN, is chief nursing officer at Main Line Health.