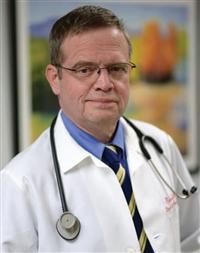 Whether caring for patients in the office, the hospital, or local nursing facilities, Michael Shank, DO, founding partner of Rose Tree Medical Associates in Media and campus chief of family medicine for Riddle Hospital, sees continuity of care as the best way to help patients get well and stay well. He reinforces this approach by making house calls. Dr. Shank does about 20 visits per week and has made more than 16,000 in his career!
Ensuring continuity of high quality care is important to Dr. Shank when his patients need emergency care, too. He wants to be sure they have the best resources available to them.
"Our patients have come to rely on Riddle's emergency department, and our community deserves to have a high quality facility—one that matches the quality of the doctors and nurses who provide the care there," he said.
That's why, as primary care physicians, Dr. Shank and his partners at Rose Tree Medical Associates wanted to take a leadership role in funding Riddle's emergency department expansion, and contributed $50,000 to support the campaign.
"We wanted to demonstrate to the rest of the medical staff that we consider the ED an invaluable resource to our patients and their families," he said. "The better the ED, the better the medical care that is provided to the overall community."
Dr. Shank agrees there are many worthy causes in the region to choose to support, but recognizes that Riddle Hospital benefits all members of the community.
"Most of the physicians and staff at our practice live within Riddle's service area," he said. "So, deciding to make a contribution to the expansion of the ED is an investment. My children have been seen there and so have my parents. I have personally used the ED as well. We felt that at this particular time and place, Riddle's new ED was a priority interest for us as parents, as physicians, and, of course, as sons and daughters, and it deserved our attention."
The expansion of Riddle Hospital's emergency department was a $15 million project supported by a capital campaign that could not have been possible without the philanthropic spirit of the community, which raised half the total cost. The physicians at Riddle Hospital were also a big part of that success, keeping the needs of their patients first and supporting the campaign with their own generous philanthropy, contributing a combined total of more than $1 million to the project.