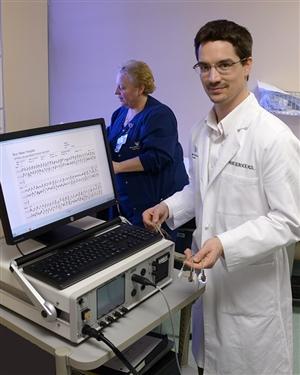 For decades, a common treatment for patients with depression was electroconvulsive therapy (ECT). Then, in 1975, "One Flew Over the Cuckoo's Nest" hit the movie theaters. The film's frightening portrayal of ECT, combined with already existing questions about its safety and the wide introduction of antidepressant medications, led to a significant decline in its use.
Now, 40 years later, ECT is still considered one of the most effective treatments for severe depression and is recognized by the American Psychiatric Association and the National Institutes of Mental Health as an important therapy to treat mental illness. This resurgence within the psychiatric community is based on two developments: scientific proof that ECT is remarkably effective in severely depressed patients, and the introduction of safer, more refined delivery techniques.
For these reasons, Bryn Mawr Hospital began offering Inpatient and Outpatient ECT treatment of severe depression in the summer of 2014. Bryn Mawr Hospital is home to Main Line Health's only inpatient psychiatric unit.
The case for ECT is compelling.
The remission rate for severely depressed patients who undergo this therapy is about 70 percent, compared to a 30 percent remission rate from antidepressants among this population.
Older patients respond particularly well to ECT, although it can be used on adults of any age.
ECT offers an effective alternative when medications are ineffective or trigger significant adverse effects.
While the ideal candidate has severe depression, ECT may also be used in treatment of psychosis and mania.
Today's improved, painless version of ECT is thanks to a better understanding of how to stimulate the brain, tailor the dosing, and minimize side effects.
During the procedure, the patient is sedated using general anesthesia. An electrical stimulus, lasting from one to eight seconds, is then delivered to the scalp to cause a seizure lasting 30 seconds to two minutes.
Although patients may experience some initial confusion upon waking, they are typically able to go home soon after the procedure.
Some patients see results in as little as only one treatment. Typically, though, patients undergo six to 12 sessions over a two- to four-week period.
It's not known why ECT works. One theory suggests that the seizure activity causes an alteration of the brain's neurotransmitters. Another theory proposes that ECT adjusts stress hormone regulation in the brain, which may affect energy, sleep, appetite and mood.
Bryn Mawr Hospital is one of only a handful of suburban Philadelphia hospitals to offer ECT, a procedure that is covered by most insurance plans. Its introduction means that the hospital, which houses an inpatient psychiatric unit, can offer a comprehensive psychiatric program ranging from activity therapy and creative/expressive therapy to medication management and aftercare planning.
To refer a patient for ECT evaluation or for more information about outpatient ECT services at Bryn Mawr Hospital, call 1.888.CARE.898. For more information on ECT, see mainlinehealth.org/conditions-and-treatments/treatments/electroconvulsive-therapy.
Marc Burock, MD, medical director of inpatient psychiatry, Bryn Mawr Hospital, displays ECT equipment while nurse Sherry Lyle completes preparations for treatment.