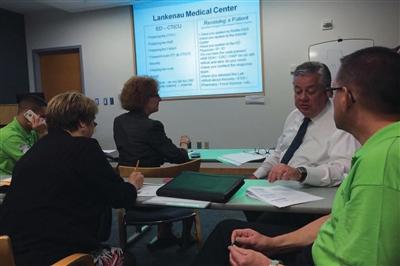 In March 2014, when the outbreak of Ebola in West Africa was first reported, U.S. health care facilities were not concerned that the disease would make its way here. In June, as the pandemic grew and health care workers lost their lives treating Ebola patients, the US began to pay attention. By August, although the Centers for Disease Control and Prevention (CDC) had not yet issued any recommendations, Main Line Health was developing a comprehensive plan that would protect our employees, medical staff, patients and visitors should the Ebola virus surface here.
Ensuring our preparedness for a pandemic of this magnitude (more than 23,000 cases and over 9,000 deaths since 2014) posed unprecedented challenges—and, equally significant, resulted in system-wide readiness for future crises.
Our initial actions, at the time, were above and beyond anything that the CDC had asked for, and far ahead of the curve. Our first steps were to:
Create a specific protocol, starting with an admissions questionnaire for every emergency room patient to complete upon arrival. The protocol, outlining the exact steps to take depending on the patient's answers, quickly expanded to every Main Line Health outpatient venue.
Formulate an initial response for isolation and establish intake procedures at our hospitals.
Designate Lankenau Medical Center as our health system's Ebola Treatment Center, while training and equipping all Main Line Health hospitals to keep an Ebola patient for 12–24 hours prior to transfer. (Once the CDC established regional Treatment Centers, including several in our area, our process changed to incorporate transfer to the designated Treatment Center).
Develop a secure transportation plan with the Riddle EMS team in case we needed to move an Ebola patient from any of our facilities to a regional treatment center.
The arrival in the U.S. of the first Ebola patient in September 2014 was a learning experience for U.S. health care workers, significantly magnifying our understanding of what was needed for patient care and staff protection. Issues ranged from identifying the appropriate personnel and entities to be notified of a potential case, to purchasing extensive (and expensive) protective and transport equipment, to training 1,200 health care team members across Main Line Health. It was an extraordinary undertaking.
With previous threats, such as SARS or H1N1, a sound infection prevention plan could readily be put into place and executed accordingly. However, Ebola was unlike anything we had seen before—one of complete evolution. The information we were receiving changed daily, so we were making modifications to our plan every day.
To expand our knowledge, we attended lectures presented by the physicians who directly treated Ebola patients in the U.S.
Within Main Line Health, we:
Brought together emergency medicine personnel, hospitalists, and staff from infectious disease and infection prevention, obstetrics, laboratory, EVS, emergency management and senior leadership, as well as community partners and other specialists to coordinate every aspect of care that might be involved.
Established Level One and Level Two alert protocols for patients suspected of having Ebola, and conducted intensive training sessions.
Created two educational videos for staff—one regarding proper protective equipment for personnel and one for the laboratory processing of specimens.
Held functional exercises at each of our Emergency Departments.
Main Line Health senior leadership team, led by President and CEO Jack Lynch, provided critical support—ranging from substantial investments in equipment and training to night shift visits at each of our hospital Emergency Departments by Chief Nursing Officer Barbara Wadsworth and Chief Medical Officer Andy Norton, MD—to ensure we were ready to manage any challenge we might face. In fact, across Main Line Health, nurses, physicians, security, environmental services, finance, communications and more came together magnificently to quickly prepare our organization and our staff. We were especially proud of how many nurses and physicians stepped up and volunteered to care for any Ebola patients we might see.
There was ongoing dialogue with the medical personnel and staff who provide direct care for patients, as well as frequent System-wide communications to ensure that Main Line Health's 10,000 employees were aware of the extensive steps being taken to ensure their safety.
The Ebola threat created an immense need for collaboration—both internally and externally—that led to powerful partnerships that will be valuable against any future threats of infectious disease.
Externally, a deep network of infectious disease physicians has been solidified across our region and throughout the U.S. to collectively share information. Our relationships and channels of communication with the state and county health departments are significantly strengthened.
Internally, our rigorous groundwork surrounding Ebola has resulted in an extensive preparedness program that will serve us well into the future. We have a highly functioning framework connecting emergency medicine, specialty departments, our communications team, infection preventionists, Emergency Management and more.
This sound infrastructure, with protocols and procedures marshaled for Ebola, is now ready to help us manage any other infectious diseases or bioterrorism threats that we may face.
Mark Ingerman, MD, is system division chief, Main Line Health Infectious Diseases and Preventive Medicine; Connie Cutler is director, Main Line Health Infection Prevention and Control; and Robert Feinberg is director, Main Line Health Emergency Management.