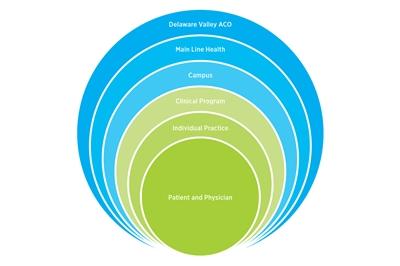 In the parlance of modern health care administration lingo, Main Line Health has essentiality in the Philadelphia health care market. That essentiality comes from our geography and market share, our patient-centered approach to health services delivery, the high quality in the outcomes we deliver, and the fact that we, as Main Line Health physicians and institutions, are sought out by patients throughout the region. In the years to come, we need to work together to retain our essentiality as we see market consolidation and, with it, increased competition. We are well positioned to rise to that challenge, but we will need to work together as a health system and its medical staff to retain our position in the market.
It's been almost three years since I had the privilege to join the leadership at Main Line Health. I have tried to understand our organization, the legacy of its fine individual institutions, the strengths of its medical staff, and the nature of our pluralistic physician model. What I have come to believe is that, as a system, we form a great organization with a great opportunity to care for and improve our community's health. To best take advantage of that opportunity, we need to learn to manage our unique matrix that involves the overlap that we have 1) as physicians and our own patients within our individual clinical practices, 2) the clinical programs those practices exist within, 3) the local campus we work in or near, and 4) the Main Line Health system, as a whole. Our unique matrix will also include regional collaborations such as through the Delaware Valley ACO.
As an example, a high priority for Main Line Health is to maintain our regional essentiality in cardiovascular services. That work will be directed by the Lankenau Heart Institute (LHI), which is not just the brand for our cardiovascular services, but an evolving collaboration between cardiovascular clinicians (both independent cardiovascular physicians as well as physicians employed by Main Line HealthCare) and the administrative leadership of Main Line Health. The system goals of the Lankenau Heart Institute are:
Grow the cardiovascular business for Main Line Health and its physician partners
Provide a comprehensive range of services, from consultation and diagnostic assessment to therapeutic intervention at appropriate sites of service
Evaluate the distribution of services to ensure that patient care is provided in the most appropriate environment to ensure consistent clinical outcomes and overall patient safety
Enhance overall satisfaction and accessibility with LHI program for patients, referring physicians, and participating providers
Provide care from a cost effective perspective to ensure continued fiscal viability
To accomplish its work of setting the highest standards in cardiovascular care in the region and to retain its regional essentiality, LHI has to manage the matrix between individual clinicians, cardiovascular programs within LHI, and coordination between system objectives and local operations. LHI has organized itself within Centers of Distinction where clinical experts can design and develop clinical programs that meet the needs of our communities, support our clinical practices and assure our essentiality in cardiovascular services throughout the Philadelphia region. The LHI Centers of Distinction include: Structural Heart Disease, Heart Failure/Pulmonary Hypertension, Cardiac Rhythm Management, Coronary Artery Disease Management, Aortic and Peripheral Vascular Disease Management, Cardiovascular Prevention/Wellness, and Women and Heart Disease.
One example of managing the matrix in cardiovascular services is designing systems to optimize the care of our patients with Congestive Heart Failure (CHF). An LHI team led by Chris Droogan, DO, working with Main Line Health administrative staff, is designing a coordinated system of care for our CHF patients that includes:
Standardized inpatient care bundles
Risk stratification for CHF patients to personalize outpatient management strategies
Outpatient management resources for managing CHF patients, including care navigation, outpatient treatment resources for weekends and after hours, and telehealth capabilities
Main Line Health is committed to developing organizational structures, such as the Lankenau Heart Institute, that allow collaboration with all of its clinical partners to develop systems of care to manage across the inpatient and outpatient environments. Main Line Health needs to be deliberate in developing systems of care to optimize the outcomes of such patients through collaborations across the inpatient and outpatient environments and with partners such as skilled nursing facilities, insurers, home care agencies, etc.
Organizational collaborations like the Lankenau Heart Institute and innovative treatment strategies for complex patients will be essential building blocks in retaining our competitive position within the local health environment. We are actively building new service line structures, such as the Main Line Health Cancer Program. Our partnership with the Delaware Valley ACO will offer new opportunities for collaboration and participation in Pay for Performance programs. We are exploring opportunities for collaborations within Main Line Health, such as a Clinically Integrated Network model. All of these are opportunities to work together to manage the unique matrix which is Main Line Health and its physician partnerships.
Maintaining essentiality of Main Line Health and its physician partners in the Philadelphia market is a priority. I hope you will work with Main Line Health and your medical staff colleagues in this collaborative work.
Andy Norton, MD, is chief medical officer for Main Line Health.