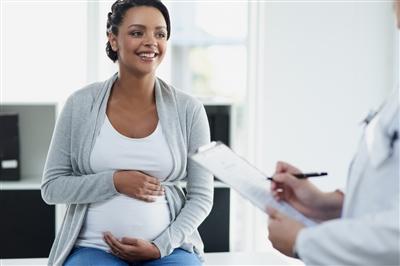 Research published in the past two to three years has confirmed that induced labor or cesarean births before 39 weeks are associated with higher rates of infant mortality, admissions to the Neonatal Intensive Care Unit, respiratory and developmental problems, and longer hospital stays for both mother and baby. While some providers and patients may prefer non-medically indicated early elective deliveries (37–39 weeks) for such non-medical reasons as convenience, relief of symptoms in the final stages of pregnancy and perceived liability concerns, Main Line Health's Department of OB/GYN has always recognized the importance of women reaching full term to achieve optimal outcomes.
Over the last two years, Main Line Health has enacted stringent guidelines in an effort to decrease the number of these early elective deliveries (EEDs). As a result, Main Line Health's EED rates have dropped from 4.4 percent to 1.3 percent, with some of our hospitals achieving zero percent.
MLH attributes its success to the following strategies:
A clearly defined policy – Non-medically indicated EEDs before 39 weeks (by induction or scheduled cesarean section) are not permitted at Main Line Health's four acute care hospitals.
Physician-driven effort – Adherence begins in the physician's office with patient education. If an expectant mother asks about early induction, her physician explains the importance of letting the baby reach full term for the best outcomes.
Documentation – Main Line Health's electronic medical record for labor and delivery, Centricity Perinatal Nursing (CPN) includes prompts for physicians to enter a reason for early elective deliveries, enabling accurate data collection and easier identificationof outliers.
Communication – Physicians and nurses discuss case management twice daily during board rounds, presenting the opportunity to address any early scheduled deliveries.
Empowerment – Labor and delivery nurses have the authority to question physicians about scheduled EEDs andto go up the chain of command to nurse managers or the department chief.
Transparency – EED data is included in the department's monthly dashboard. Additionally, as part of the Pennsylvania OB collaborative, Main Line Health submits monthly data on a standardized set of measures.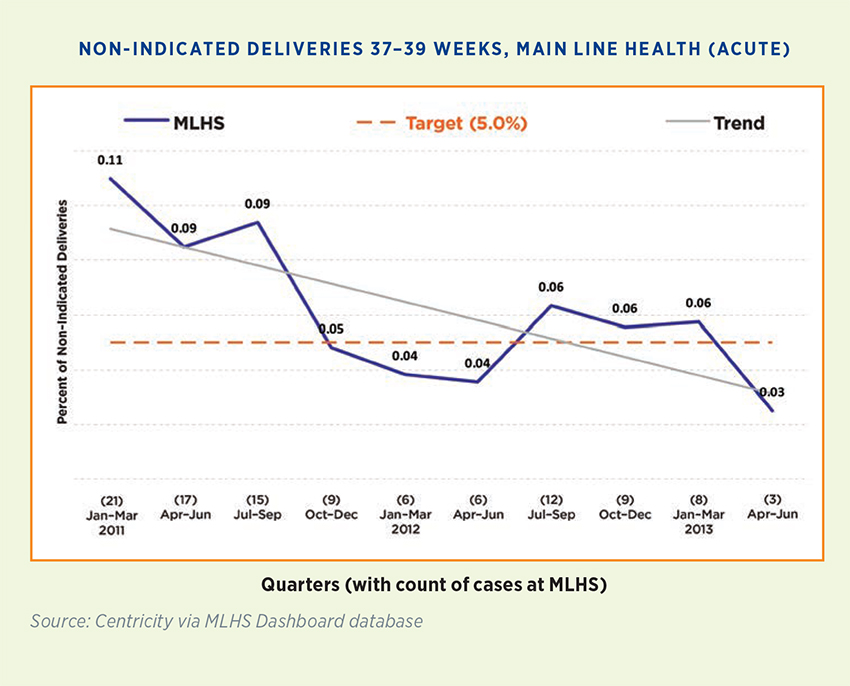 Main Line Health is a member of the Obstetric Adverse Events Collaborative, launched in May 2012 by the Pennsylvania Hospital Engagement Network (PA-HEN), an initiative of the Centers for Medicare and Medicaid Services.
The collaborative is led by The Health Care Improvement Foundation (HCIF) through the PA-HEN. One key goal has been to reduce the rate of non-medically indicated EEDs to less than five percent. From July 2012 to December 2013, the 30 participating hospitals have succeeded in reducing their EEDs by 78 percent to a rate of one percent. The 2013 national average was 4.6 percent.
Changing terminology
In 2013, the American College of Obstetricians and Gynecologists and the Society for Maternal-Fetal Medicine jointly proposed the following new definitions of term deliveries:
Early term: 37 weeks 0 days–38 weeks 6 days
Full term: 39 weeks 0 days–40 weeks 6 days
Late term: 41 weeks 0 days–41 weeks 6 days
Post term: 42 weeks 0 days and beyond
Helen Kuroki, MD, is vice president, Medical Affairs, Riddle Hospital; Nancy Roberts, MD, is system chair, department of OB/GYN, Main Line Health; Nancy Shields, MSN, RNC, is a clinical nurse educator, obstetrics, Bryn Mawr Hospital.