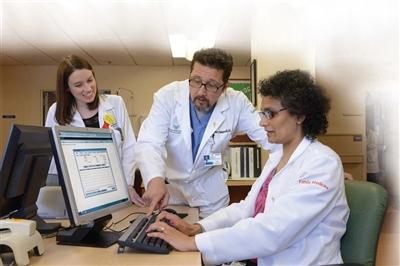 By the time the ambulance brought him from King of Prussia Mall to Paoli Hospital's emergency department, the stroke patient was unresponsive, so he couldn't tell anyone about his medical history. But before he was to be given intravenous TPA, the Paoli clinicians found out about his bout with gastrointestinal bleeding, not from his family in Glen Mills, but from his recent treatment at Riddle Hospital.
It used to be most patients brought to an emergency department or admitted to the hospital were virtually strangers. All you knew about them was what they remembered to tell you or what you could see for yourself. Researching medication conflicts and other medical history took valuable time away from diagnosis and treatment.
Now, with all Main Line Health acute hospitals standardized on the same electronic medical records (EMR) system, it is much easier for Main Line Health physicians and other clinicians to see information on patients who were previously seen and/or treated elsewhere across the health system. The result is faster diagnosis and treatment, as well as enhanced continuity of care for patients who cross campuses.
Main Line Health connected the last link in clinical system standardization this spring. At 12:01 am on Saturday, March 29, the Cerner clinical system that Riddle Hospital had used for nine years was turned off, starting a planned system downtime to load data on current inpatients and make the connection to Soarian SmartChart. Saturday morning, the SmartChart EMR platform was activated at each unit as the patient data was converted, along with other system enhancements. The result is a single medical data repository for patients across all four Main Line Health's acute hospitals.
For the past two years, a team that comprised physicians, nursing, operations, pharmacy, administration, Riddle and system IS staff, as well as staff from other clinical departments, had planned the conversion process. This included testing, piloting, hundreds of training sessions, and advance transition of years of data.
Now, as a result of clinical system standardization, physicians at all Main Line Health acute hospitals can access:
All medical records from visits and admissions to Main Line Health
All lab, radiology and other results, some dating back to the late 1990s
Notes, discharge summaries, ED visit reports, consults and progress notes from all Main Line Health sites
In addition, Main Line Health's patient portal, where patients can access their own data (lab results, radiology reports, discharge instructions etc.) is now available to Riddle patients as well.
The standardization, which will lead to simplified workflow, standardized clinical processes and practices, and significantly reduced software costs within Main Line Health, is crucial to successful ARRA Meaningful Use Stage 2 attestation as well as Main Line Health's Magnet® application for designation as a system. In addition, it makes life considerably simpler for physicians who transition between Main Line Health hospitals.
Robert Bulgarelli, DO, is a member of the Lankenau Heart Group.