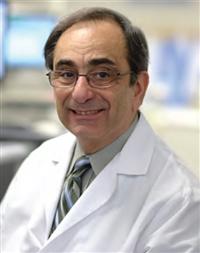 For Albert A. Keshgegian, MD, PhD, and his team of pathologists, medicine begins with molecules. As medical director of Main Line Health Clinical Labs, Dr. Keshgegian oversees all laboratory services from collection to processing and diagnosis. Their findings affect nearly every health care decision and patient in our hospitals.
"The nature of pathology crosses multiple clinical and administrative departments, so our goal is continuity of care," he said. "When a patient is admitted to one of the Main Line Health hospitals' emergency departments, our lab information is available through EMR, and the ED physicians and staff can see immediately the bigger picture of what is happening with their patient."
Within the lab, Dr. Keshgegian's focus is safety and standardization. "We have one lab with a site in each of our four acute care hospitals. We currently have several hundred different lab tests in use, and all of these procedures are performed and processed exactly the same way across each of our lab sites," he noted.
"Integrated laboratory services have strong advantages, especially with the trend and technical advancements towards personalized medicine," explained Dr. Keshgegian. As a researcher, he is excited about the growing use of immunohistochemistry and the emerging field of genetic testing. "We are now able to see patterns in tumors which allow for a more specific diagnosis and individualized treatment for our oncology patients."
To support his commitment to advancing pathology at Main Line Health, Dr. Keshgegian worked closely with the Development Offices to establish and raise money towards a Pathology Fund. Since the Fund's inception in 2000, nearly $40,000 has been raised to support staff education and conferences. "Gifts to the Pathology Fund have a direct impact on our pathology program and support activities across the System that are over and above our normal operating expenses."
Every year, Main Line Health pathologists support the Pathology Fund, as well as a range of other clinical priorities, with designated charitable gifts. In total, Main Line Health pathologists have contributed more than $100,000 to benefit the patient care mission.
Ila Peterson, MD, a pathologist at Paoli Hospital, explained: "I support Paoli with charitable donations to our Cancer Center, because I appreciate the work the medical oncologists are doing for their patients. I also support our nurses through the Nursing Excellence Fund, because they are dedicated to their patients and I admire their skill and compassion."
Dr. Keshgegian commends Dr. Peterson, and all the physicians who give. "As members of the Medical Staff, our involvement in philanthropy is especially crucial, as it sets an example for donors in our community and supports the work we do every day."