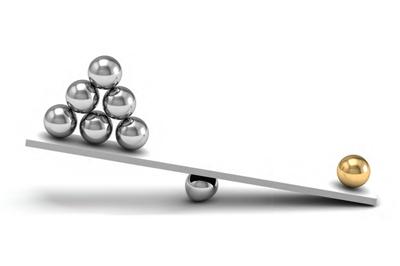 This past year has been transformational for America's health care delivery system, as we have begun to shift the fundamental principles of the industry from sickness to wellness and from volume to value, in response to our imperative to control health care spending and increase access to care for all. At Main Line Health, administrative and clinical leadership have been aggressively working to identify opportunities to enhance the health status of our population, reduce unnecessary spending and improve the patient experience and quality of care delivered. While we appreciate the depth, breadth and quality of services provided by our clinical staff and employees, we also recognize the significant opportunities for us to thrive under this new model if we work collaboratively and with common purpose.
The challenge before us is to embed—as we've done with our dedication to patient safety and quality—a commitment to leverage our collective system capabilities. In essence, make the whole greater than the sum of its parts by sharing best practices, reducing redundancy and delivering on the promise of the Main Line Health brand.
A successful integrated health care delivery system will:
Encourage innovation. We can't tweak; we must redesign new care delivery models, with new roles, responsibilities and relationships.
Have aligned physician partners in building service lines, controlling costs and advancing optimal outcomes. Success will be measured by physician network strength rather than just facility strength.
Exceed customer expectations. Patients will increasingly demand more access, speedier results and better coordinated care as they pay a higher share of the health care cost. Employers and payers will demand lower cost and higher quality.
Embrace the core business as the wellness and health, not hospital, business. This will require greater multi-disciplinary care and more coordination with new partners.
Standardize, where appropriate, best practices and centralization of core resources.
Encourage transparency and sharing of information, locally and globally. Believing that best results come from disclosure and translating data into information and then knowledge.
Our cancer service line offers a profound example of the potential power of operating from a system perspective. Currently, we organize and operate our cancer programs at the Hospital level, with little interaction between the campuses. The marketplace sees four discrete programs, yet—if we operated as 'one program at multiple sites'—Main Line Health would be the second largest in the region.
To capitalize on this potential to grow our cancer services further, earlier this year we established a system-wide Cancer planning process, which brought together clinicians and support staff from across the system to discuss how to further enhance breast cancer, lung cancer, gastrointestinal cancer, prostate/GU cancer, and other tumor-specific programs. The work groups proved to be incredibly productive and a general consensus quickly emerged that we must work more collaboratively, across the system, in order to enhance quality, reduce operating cost and extend our reach to patients across the region. While this is an ongoing process, participants are committed to evaluating what a single Cancer program, distributed at multiple sites, could achieve.
Main Line Health has already responded innovatively to many of the environmental pressures of health care reform, but change has only just begun. Our success moving forward depends on our ability to work collaboratively across the lines of organizational programs, locations, entities and individuals to better meet the health care needs of the communities we are here to serve.
Lydia Hammer is former senior vice president, marketing and business development, for Main Line Health.