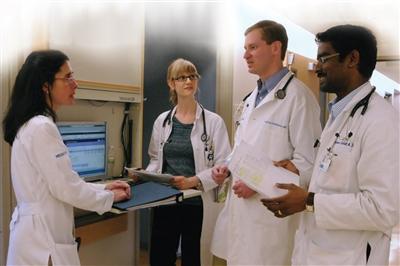 There's little argument that hospitalists have "come into their own" in recent years. In fact, almost every hospital in the Delaware Valley uses hospitalists in some capacity today.
Within Main Line Health, the Department of Hospital Medicine has grown to 90 full- and part-time hospitalists across four hospital campuses, making it one of the largest groups in the region. The hospitalists' responsibilities include patient admission, bedside care, managing consultations, communicating with specialists, ordering labs and procedures, and patient discharge.
Their work is having an impact. In fiscal year 2013, while Main Line Health's overall readmission rate was well below the Medicare standard, the rate for Main Line Health hospitalists was even lower. Similarly, mortality rates for the hospitalists are below the overall rate of Main Line Health hospitals as a whole.
There are several reasons for these successes.
Since hospitalists spend the majority of their time in the hospital, they develop a vested interest in how their facilities operate. As a result, many have become involved in hospital committees and in efforts to improve safety, reduce length of stay and improve patient flow. Most recently, William Surkis, MD, a hospitalist at Lankenau Medical Center, was recognized by the organization as the physician most devoted to quality and safety.
Main Line Health hospitalists comprise the only physician group in the system that is 100 percent electronic in the use of electronic progress notes.
Aiding the hospitalists in their quality efforts are quarterly report cards that score them on 10 measures, including their readmission rate and personal HCAHPS patient satisfaction score. The internally-generated report cards show the physicians where they stand individually and how they compare to the department as a whole. Not only are the cards good motivators, they also allow us to intervene and correct a problem if one is detected.
Campus directors, appointed at each hospital in 2012, are working closely with hospital leadership, nursing departments and specialists to further improve efficiency and provide leadership.
In the coming year, the department of hospital medicine will not only focus on improving HCAHPS scores but also concentrate on other areas, including peri-operative management and transitions of care—an important emphasis for both patient well-being and provider reimbursement. To create "warmer handoffs" when patients are discharged from the hospital, our plan includes calling the primary care physicians to talk with them about their patients and even scheduling timely follow-up "transition of care" appointments for patients before they leave the hospital.
The result should be improved care and even lower readmission rates.
Jonathan Stallkamp, MD, (third from left in photo) is system director of Hospital Medicine for Main Line Health.