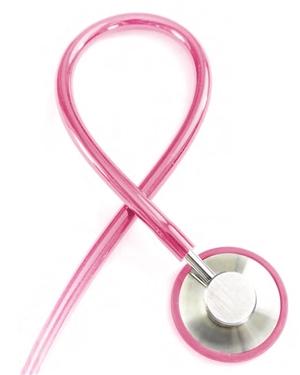 In the world of cancer care, innovative research is critical to enhancing a provider's ability to provide advanced cancer treatments and interventions. Just as important to patients concerned about breast health is a thoughtful response to their unique needs.
All are present at Main Line Health.
The Comprehensive Breast Centers across Main Line Health—at Lankenau Medical Center, Bryn Mawr Hospital, Paoli Hospital and Riddle Hospital—share the philosophy that women should have a single destination where they can access the complete range of breast health services. From screening, diagnosis and evidence-based treatment options to caring support and prevention advice, women should enjoy the full attention of a multi-disciplinary team who work collaboratively to ensure the highest level of care.
The following examples reflect Main Line Health's system-wide commitment to breast health and indicate continuing emphasis and growth in women's health services. While some features may vary by location, patients can expect the approach and the quality to be consistent across the system.
Screening and detection
The single biggest factor in successfully treating breast cancer is finding it in its earliest stage. Still, many women find it difficult to schedule an annual mammogram. Main Line Health solves the problem with convenience, from "Walk-in Wednesdays" at Riddle Hospital to no-appointment-needed-any-day at the Main Line Health Newtown Square. Digital mammography reduces the need for callbacks, and the addition of computer-aided detection software increases the cancer detection rate. "All major medical organizations recommend a screening mammogram beginning at the age of forty, every single year, and for as long as a woman is healthy enough to obtain one," said Tina Stein, MD, of the Riddle Hospital Comprehensive Breast Center.
When follow-up appointments are needed, Main Line Health services are designed to give women accurate and timely information to make informed decisions about their breast health. Radiology services by board-certified dedicated breast imagers include high-resolution ultrasound (with superior detail that improves the discovery of lesions) and sophisticated MRIs. Prompt imaging and testing when an abnormality is identified, including same-day diagnostic results, relieve patients from worrisome waits.
Treatment
At Lankenau Medical Center, Ned Carp, MD, and Jennifer Sabol, MD, have been key participants in a recently-completed national trial using cryoablation—a pioneering, minimally-invasive treatment approach that freezes and destroys tumors in the breast, and potentially creates an auto-vaccine. "Historically, Main Line Health has led the way in delivering truly advanced treatments," states Dr. Carp, director of Surgical Oncology at Lankenau. "Main Line Health offers every type of reconstruction available, including free flaps, and has been in the forefront of offering clinical trials to patients when applicable, so they truly can get the best treatment available."
Main Line Health hospitals have long been in the forefront, he adds. "Even dating back to the early '80s, the first immediate breast reconstruction in the area was performed by Thomas Frazier, MD, and David Rose, MD, at Bryn Mawr Hospital, and the second at Lankenau. We have the technology and the talent. If it exists anywhere, you can get it here." Dr. Carp was recently nominated to be vice-chair of the American College of Surgeons Commission on Cancer Quality Integration committee.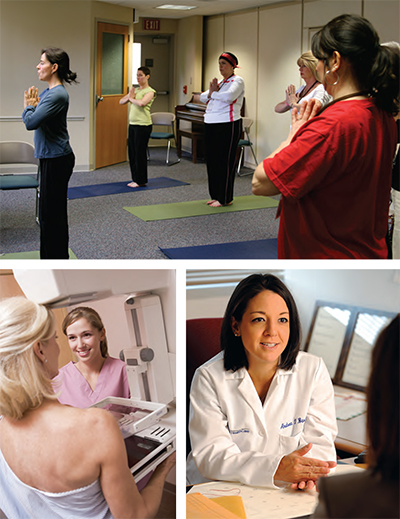 Healing
Away from the operating room, Paoli—under the direction of Robert Fried, MD—was the first hospital in the region to introduce the concept of holistic treatment—complementary therapies such as yoga, meditation, acupuncture, massage, Reiki and nutrition—in its Cancer Center to help alleviate the painful side effects of cancer treatment and promote healing. Through a partnership with the nonprofit organization Unite for HER, "Wellness Days" at Lankenau, Bryn Mawr, Paoli and Riddle several times a year treat attendees to a full day of learning, nutrition and holistic therapy—everyone receives vouchers to cover the cost of future treatments.
Prevention
Marisa C. Weiss, MD, director of breast health outreach and breast radiation oncology at Lankenau and president and founder of breastcancer.org, is focused on educating women about prevention.
"Ninety percent of breast cancers are mostly due to lifestyle, reproductive choices and environmental exposure," explains Dr. Weiss. "Breast cancer has become much more common in recent years—the result of such factors as women getting pregnant later in life, fewer women breastfeeding, the obesity epidemic, hormonal medications, chemicals in food and personal care products, and more."
Whether writing in Wall Street Journal, appearing on Good Morning America, or visiting schools, other community venues, and Main Line Health hospitals, Dr. Weiss educates women about how to reduce their risk. Her step-by-step guide, Think Pink, Live Green, produced with the support of Lankenau, shares invaluable information about prevention. It's available through Lankenau and breastcancer.org, which has become the leading online resource for breast health and breast cancer information and support.
Dr. Weiss is particularly excited about a new collaboration between the breast health and cardiology teams at Lankenau. The two groups have combined forces to create powerful messaging that makes preventive care as efficient as possible. And in 2014, the two will launch a major initiative to help women take care of their health by more actively sharing their lives with loved ones—scientifically shown to improve quality of life and lengthen life span.
Research and education
Main Line Health is also on the cutting edge when it comes to research, with a clinical oncology research program that allows participation in every national trial and conducts its own individual investigator-led trials.
At Bryn Mawr, for example, several studies are currently underway, including a trial conducted by Thomas Frazier, MD, involving radioactive iodine seed localization as an alternative to wire localization for patients with non-palpable breast cancer. Andrea Barrio, MD, is principal investigator on a study focused on the early detection and possible reversal of lymphedema—one of the most feared complications following breast surgery. Training two Society of Surgical Oncology-accredited breast surgery fellows each year at Bryn Mawr also helps the team stay on the forefront of research and education.
The Lankenau Institute for Medical Research (LIMR) remains dedicated to improving detection and treatment of breast cancer, to the rapid transfer of new technology to the clinic, and to training the next generation of scientists and physicians. LIMR researchers are currently developing breast cancer diagnostic tools to improve patient care and outcomes. One project involves identifying markers for early stage breast cancers that are thought to be curable through conventional avenues of treatment—but are not. Another test being developed will determine whether the toxicity from chemotherapy would be too severe for a patient before they need to be admitted to the hospital for chemotherapy complications.