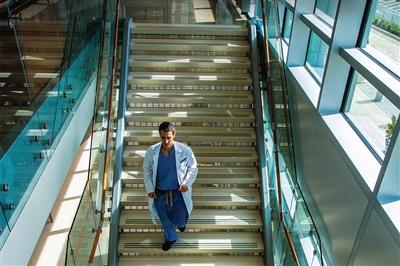 In late July 2013, hundreds of community leaders, government representatives and Main Line Health physicians and employees celebrated the Grand Opening of the five-story, 96-bed Heart Pavilion at Lankenau Medical Center. This is the capstone of a nearly half-billion-dollar Lankenau master facilities plan, the home to world-class cardiologists, cardiovascular surgeons and subspecialists, and a regional destination for advanced cardiovascular care.
With the opening of the Heart Pavilion, Lankenau is leading the revolution in how patient care is delivered. This state-of-the-art building will transform the way we manage and treat patients with heart disease by fostering collaboration among patients, families and providers. We've consolidated the practices of 50 cardiologists, five cardiac surgeons, and four vascular specialists into one space. Along with the advantages of having all of the outpatient practices geographically in the same location, the center optimizes patient flow and integrates the latest prevention, diagnostic, treatment, rehabilitation and chronic disease management services. Inpatient services such as cardiovascular surgery, interventional cardiology and electrophysiology are conveniently located in the adjacent main hospital.
The evolution of Lankenau's cardiovascular program began more than 50 years ago, built upon a solid foundation established by Drs. Dreifus, Kelly, Dupler, Mogadan, McVaugh, Kitchen, Pauletto, Michelson, and Sawin, and brought to its realization by the many excellent cardiologists and surgeons who practice here today.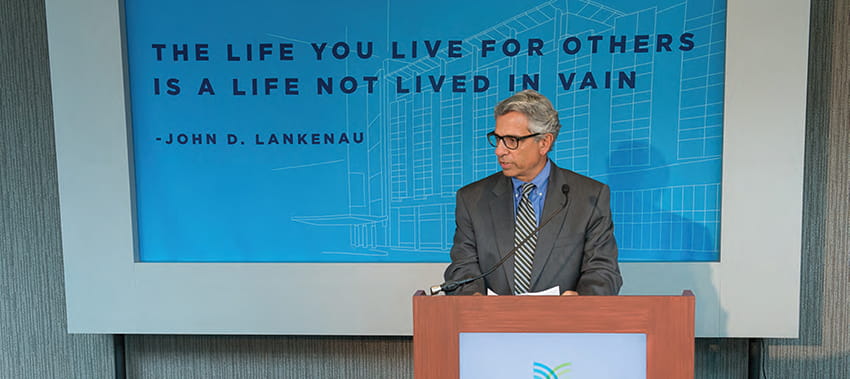 Lankenau has been recognized as a premier cardiovascular program by numerous national organizations—from U.S. News and World Report to Truven Health Analytics—and has received awards of distinction from payers including Blue Cross and Aetna. Notably, the Philadelphia Inquirer recently remarked that since the government began tabulating survival rates for major CV diagnoses in 2007, Lankenau has been a perennial standout in all categories, most importantly heart attack and heart failure.
We have also stood at the forefront of education and research in the Delaware Valley. Since 1974, and under the direction of James Burke, MD, we have trained 166 fellows in general cardiology, electrophysiology and interventional cardiology, and those individuals carry the standard of excellent patient care wherever they practice here and abroad.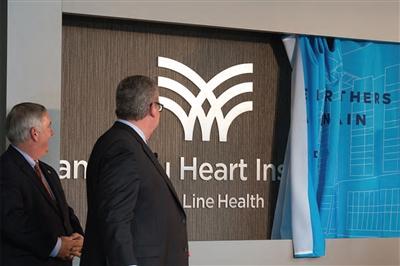 However, building high-tech buildings, achieving national recognition, and even sharing our knowledge with the world is not why we're here. They're the byproduct of our ability to find ways to take better care of our patients. Our heart program has evolved into a showcase for excellent patient care, with doctors and nurses who are terrifically motivated to help people heal their bodies and their souls. And we have done this through a wonderful and unique collaboration of medicine, surgery, radiology, physical medicine, emergency medicine and every subspecialty that is integral to the care of heart patients.
Bringing this diverse group of talented health care providers together in the Heart Pavilion at Lankenau Medical Center will revolutionize patient care, enabling easier coordination of each patient's care plan, more convenience for patients' visits and superior patient outcomes. We are setting a new standard.
Introducing the Lankenau Heart Institute
Main Line Health has a long-standing commitment to advancing cardiovascular health and providing outstanding care to the communities we serve. The establishment of the Lankenau Heart Institute as the unifying brand for the health system's cardiovascular services brings together the clinical expertise of Main Line Health's four acute care hospitals and community cardiology practices under a name that already has a national reputation in this field. The goal is to deliver a level of quality, service and convenience that is unprecedented in the region.
At the core of Lankenau Heart Institute is a networked team of experienced consultative and interventional cardiologists, electrophysiologists, cardiac surgeons, and specially trained nurses and technologists who work collaboratively to ensure that patients receive timely, appropriate cardiac care and interventions.
By tapping into Lankenau Heart Institute's regional network of outpatient cardiac specialist offices, primary care physicians gain a local, full-service cardiology resource and a partner in their patients' care. Close to their home and primary physician, patients can receive consultation and evaluation, noninvasive diagnostic testing, ambulatory monitoring, routine heart disease management and follow up, and disease prevention and wellness programs.
When more advanced interventions are indicated, Lankenau Heart Institute cardiologists can provide seamless coordination of care at the appropriate Main Line Health hospital, making it convenient for referring physicians to ensure that their patients receive the specialized heart care they need in a timely, efficient fashion.
Lankenau Heart Institute offers specialized programs in:
Interventional cardiology
Prevention and wellness
The depth and breadth of experience found within the Lankenau Heart Institute distinguishes it from other programs in the region. By pairing the latest preventive, diagnostic, therapeutic and surgical interventions with their passion for innovation, Lankenau Heart Institute physicians are delivering optimal outcomes and superior patient satisfaction.
More information on the Lankenau Heart Institute is available on the web at mainlinehealth.org/heart.
Peter Kowey, MD, is Main Line Health division chief of cardiovascular diseases and holds the William Wikoff Smith Chair in Cardiovascular Research.