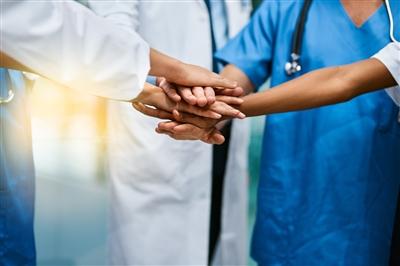 Transforming systems of care—that is the phrase we've been using to describe the transformations that will be necessary to achieve the superior patient experience in all the dimensions that we want for our patients at Main Line Health. The elements that will make up that superior patient experience are embodied in the Institute of Medicine Aims—delivering care that is safe, patient-centered, efficient, effective, timely and equitable.
To achieve these goals, we must all believe that, as clinicians, we are interdependent and must work as effective members of clinical teams. The foundation of that interdependence is built on the relationships between the key clinicians at the bedside: physicians, nurses, therapists, pharmacists, social workers, case managers, etc. We will speak more to the value of these clinical partnerships later in this article.
We recently partnered with our data analytics colleagues at Premier to look at why our observed/expected mortality rates were not meeting the targets set by the health system. Our target is for our observed/expected mortality rates to be in the top decile of performance, compared to peers. Not only have we not reached the top decile, we have shown no improvement in our observed/expected mortality rates across Main Line Health since 2011.
Through our consultation engagement, Premier interviewed clinical and administrative leaders from across the health system. Premier also reviewed our current efforts in sepsis care improvement, hospital acquired infections reduction, respiratory conditions, and end of life care. A strength highlighted was the culture of safety work that has permeated the entire system. However, there were four key areas for improvement, which included:
Creating systems, processes and leadership that assures accountability at all levels: individual clinician, clinical environments and across clinical programs.
Reducing the variability in the models of care across Main Line Health. Standardized care processes have not been implemented consistently across the system.
Improving the clarity, substance and empowerment of our physician leaders' roles. Nurse and physician leaders are not routinely partnered in an effective leadership structure.
Reducing the competitive culture among Main Line Health hospitals, necessary for building a high reliability culture across the system.

 
Recommendations included getting clarity on roles and responsibilities of clinical leadership, focusing work at the clinical microsystem level and being deliberate in assuring coordination between programs, entities and system. Clinical Microsystems are the small functional front-line units where patients and providers intersect. They are the essential building blocks of a health care system that can be no better than the services generated by the microsystems of which it is composed. Clinical Microsystems share certain characteristics:
A shared leadership model, typically a dyad of a medical director and nursing manager
Team-based standardized care, whenever possible
Performance measurement with variance management
Clinical and operational interdependence
Effective communication and engagement strategies
High-middle-low management model with performance accountability
Based on the consultative input from Premier and the input of senior clinical and administrative leadership, we will be embarking on an effort to emphasize many of these key characteristics at all levels throughout the organization: at the clinical program level, at the clinical environment level such as our ICUs, OR and inpatient units, and at the campus level. We'll be responding to these issues:
Is there a well-defined shared leadership model between physicians, nurses and other key clinical and administrative partners?
Do we have well-designed processes for communication and clinical interactions that ensure excellent team dynamics?
Do we have clinical analytics and reports that effectively measure our performance against the Institute of Medicine aims—in other words, a STEEEP report: programs measured in safety, patient centered care, efficiency, effectiveness, timeliness and equitability?
Do we have a process that holds everyone accountable to the highest standards?
We hope that all of our physicians and nurses will enthusiastically participate and work together to find ways to create effective clinical interdependence that assures patients a superior experience at all of our institutions, in all of our programs, every day and in every encounter.
Andy Norton, MD, is chief medical officer for Main Line Health. Barbara Wadsworth is chief nursing officer for Main Line Health.