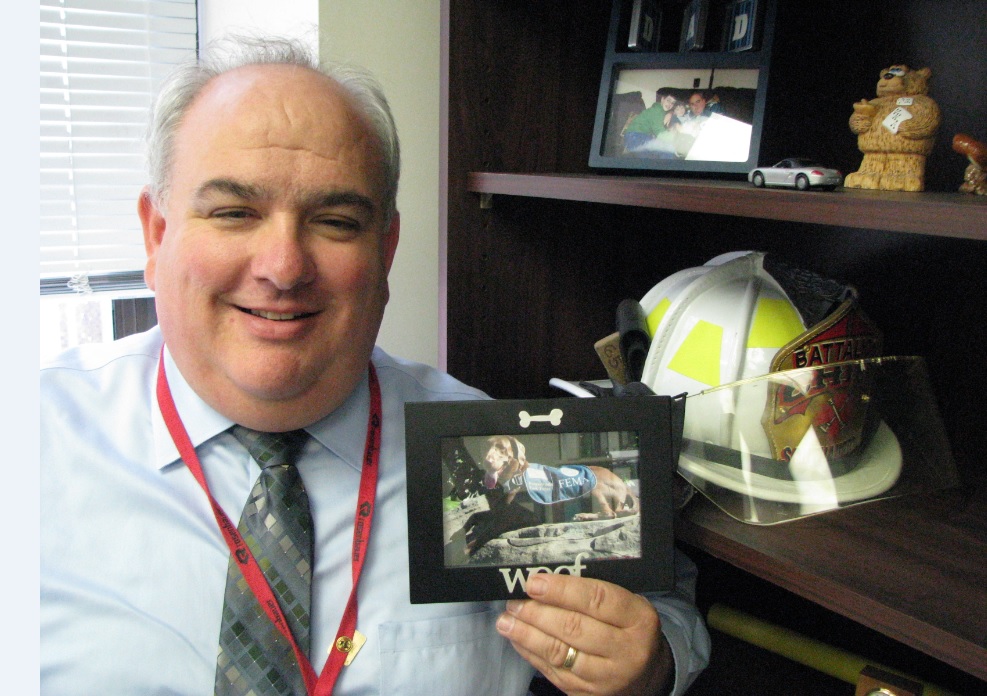 When the Salvation Army building collapsed at 22nd and Market streets in Philadelphia in June, most people were glued to their computers, televisions and smart phones following the story. Not Tom Brown. The FEMA Canine Search Specialist and his four-legged companion, Phoenix, were on the scene within an hour of receiving a phone call from the Philadelphia Fire Department asking for assistance.
"I had heard on the news what was going on," says Brown, who was on his way from Center City to Radnor when he got the call. "But I didn't realize the extent of situation until I was on the scene."
Although the scene was chaotic it was nothing new for Phoenix, a chocolate Labrador retriever and trained rescue dog who had previously been involved in disaster relief efforts across the country and close to home, including trips to New Jersey and New York for Hurricanes Irene and Sandy. Trained to follow her nose and detect trapped, live humans, Phoenix got to work immediately when she and Tom arrived at the scene.
"Phoenix did exactly what she was supposed to do. She doesn't know any different. For her, she likes climbing across rubble and getting her reward at the end," says Brown.
Between 5:30 and 6:00 pm, about three hours after they arrived, Phoenix identified a woman in the basement of the building whose cries for help had not yet been heard by emergency responders. Once she identified the woman, Phoenix alerted rescue crews by barking continuously until they were able to find her. It was another six or seven hours until the woman was pulled from the rubble but, thanks in large part to the efforts of Phoenix and onsite rescue crews, she was pulled out alive after being trapped for almost 13 hours.
Brown, who splits his time between serving as Main Line Health HomeCare & Hospice's home infusion director and volunteering with FEMA, has been in emergency services for 34 years. A volunteer with the Southampton Fire Company, Brown now serves as Volunteer Fire Chief and has been involved with Canine Search and Rescue for nearly 10 years, after witnessing the work of canine search specialists during his time as an Urban Search and Rescue Specialist with Pennsylvania Task Force 1.
"I really enjoy dogs and after seeing canine search specialists at work, it piqued my interest. I knew it would be the next step for me in the rescue world," he says of his decision to pursue the specialty.
Now, as a part of the FEMA team, Brown and his fellow volunteers can be dispatched to anywhere in the country for their relief efforts. He remains prepared by undergoing training on specialized rescue, particularly as it pertains to collapsed buildings, attending FEMA training, and remaining proficient in all rescue skills. On top of that, he's in charge of keeping Phoenix on her toes—or paws—every night with a specialized game.
"Phoenix's training is based on play. Basically, it's a game of hide-and-seek. She has to identify a live human scent in order for her to get her reward, a Frisbee," says Brown of their nightly routine, which they began when Phoenix was only 12 weeks old.
Since becoming a canine search specialist, Tom and Phoenix have traveled everywhere from Phoenix to Martha's Vineyard, but Brown says the satisfaction he gets from helping is irreplaceable.
"I'm happy to be able to help people and provide a service to them when they need it the most," he says. "I'm getting to do what I enjoy and help people in the process."