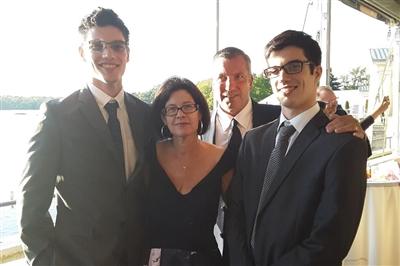 It was 2:00 am in the early morning hours of Mother's Day 2019. Susan McCorry Tobin knew something was not quite right. She awoke feeling "off," although she could not put her finger on exactly why. She headed downstairs to wake her husband, Ron, who had fallen asleep in the basement watching football.

"I told Ron we needed to go to the ER," recalls Susan. "I didn't have any specific symptoms, but I knew something was wrong. I wasn't sure how I was even going to explain it when we got to the ER. But I knew I had to go."

Ron helped Susan to the car and they quickly drove to the Emergency Department (ED) at Paoli Hospital, part of Main Line Health. The next thing Susan remembers clearly is hearing the words "full code." She was staring up at a bright white light, surrounded by healthcare providers connecting her to various medical equipment. She was having a heart attack.

"My first thought was, that's not possible," says Susan. "I was just laying mulch in my backyard today, without any aches or pains. I'm only 56 years old. I'm healthy. I never even have to go to the doctor."

Then came the questions from the medical team. How long have you been diabetic? How long have you been hypertensive?

"Who are they talking to," Susan wondered. "I don't have any of those things."

But she did. When she arrived at the ED, Susan was found to be in diabetic ketoacidosis ― a potentially life-threatening complication when the body produces too much acid, known as ketones. This condition occurs when your body cannot produce enough insulin to treat the presence of high blood sugar over a prolonged period of time. Susan was also suffering a myocardial infarction caused by a blockage in her left anterior descending (LAD) artery ― the main artery that supplies blood to the left ventricle, on the front side of the heart. 

Susan had lost her father to a heart attack when he was only 47 years old. And she lost her brother to a stroke when he was just 50. High blood pressure and high cholesterol ran in the family. But she simply never thought it would happen to her.

She was admitted to Paoli Hospital's Intensive Care Unit (ICU), where the medical team worked to stabilize her. Interventional cardiologist Richard P. Tucci, MD, performed a cardiac catheterization ― a minimally invasive diagnostic procedure through the wrist that allows your doctor to see how well your heart is working. Dr. Tucci determined that Susan would need surgery to open up blockages in her heart.

"I recommended a hybrid approach," explains Dr. Tucci. "This involves a combination of robotic-assisted coronary artery bypass graft (CABG) surgery to circumvent the main artery, preceded or followed by a percutaneous coronary intervention (PCI) procedure to insert stents, which act like scaffolding to keep other blocked vessels open. This approach is much less invasive than open heart surgery, which involves a large incision through the breastbone. It's ideal for younger patients like Susan, who was fortunate to be receiving care within a health system that offers this advanced alternative. The majority of institutions across the country don't have this capability."

Paoli Hospital and its cardiac team are part of Main Line Health's Lankenau Heart Institute, which is among the top-performing cardiovascular medicine and surgery programs in the country. Once Susan was stable, Dr. Tucci collaborated with his colleague, Francis P. Sutter, DO, FACS ― the most experienced minimally invasive robotic heart bypass surgeon in the country. Susan was transferred to Lankenau Medical Center where she would first undergo a PCI procedure to insert three stents. The very next day, Dr. Sutter performed her CABG surgery, placing a graft to bypass the blockage in Susan's LAD artery.

Approximately 40 percent of all robotic-assisted CABG surgeries performed at Lankenau employ this hybrid approach. Benefits include less post-operative pain, a reduced risk of stroke, the avoidance of blood transfusions, a quicker return to daily activities and an improved quality of life.
Approximately 40 percent of all robotic-assisted CABG surgeries performed at Lankenau employ a hybrid approach. Benefits include less post-operative pain, a reduced risk of stroke, the avoidance of blood transfusions, a quicker return to daily activities and an improved quality of life.


After an initial recovery period in the ICU, Susan was released to continue healing at home. She would be monitored by her new cardiologist, Donald V. Ferarri, DO, during regular office visits to Main Line Health Exton Square. It was in September that Susan was experiencing shortness of breath with activity. She consulted with Dr. Ferarri.

"People with diabetes tend to have a lot of generalized disease throughout the heart," says Dr. Ferrari. "It's common for these patients to eventually need additional stents. I ordered another cardiac catherization to evaluate Susan's heart."

Susan returned for a scheduled visit to Paoli Hospital, where Dr. Tucci performed a second PCI, inserting two additional stents to open up other blocked vessels.

"Susan has what we refer to as diffuse disease, which is spread out as opposed to being in one focal area of the heart," said Dr. Tucci. "People with diffuse disease often need multiple stenting procedures. This is a much more preferable approach than performing major open heart surgery, especially for someone as young as Susan."

Since her second PCI, Susan continues to do well. Dr. Ferarri encourages her to exercise on a daily basis. She maintains a healthy diet, takes insulin to control her diabetes, and additional medications to lower her cholesterol and blood pressure. She sees her primary care physician and endocrinologist regularly, and now visits with Dr. Ferarri just every six months.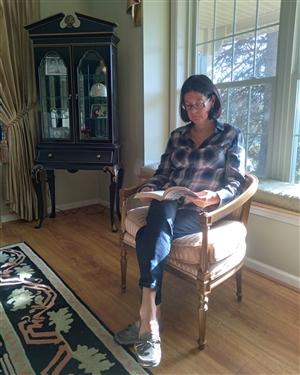 "Susan is doing great," reports Dr. Ferarri. "Thankfully, she listened to her body and came into the ED when she did. Without proper care, this could have been a catastrophic event. Susan was fortunate to have a great outcome."  

Heart disease is the number one cause of death in the United States. There are several factors that increase your risk for heart disease, such as family history, age, and health conditions including high blood pressure, high cholesterol and diabetes. Additional risk factors include obesity, physical inactivity, smoking and excessive alcohol use.

While certain factors cannot be controlled, such as family history or age, there are numerous steps you can take to lower your risk by changing the factors that are within your control. Begin by understanding if heart disease, diabetes, cholesterol or hypertension run in your family. Know your own numbers and talk to your doctor about your treatment options.

"In hindsight," says Susan, "I realize how foolish I was not to take better care of myself. It's not like I'm running a marathon or eating tofu now, but I'm going to do everything my doctors tell me to do. I feel like I've been given a second chance."

Main Line Health serves patients at hospitals and health centers throughout the western suburbs of Philadelphia. To schedule an appointment with a specialist at Main Line Health, call 1.866.CALL.MLH (225.5654) or use our secure online appointment request form.