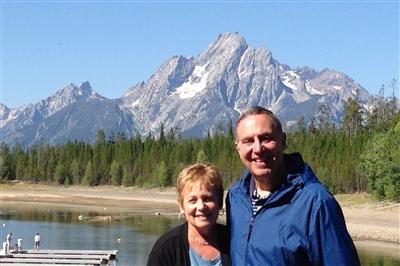 For Rochelle and Steve Leibowitz, hip and knee surgeries with David N. Vegari, MD, at Lankenau Medical Center are something of a family affair. Rochelle has had a hip and knee replacement and Steve has had both hips replaced. "We're a titanium family," jokes Rochelle, who saw Dr. Vegari first after hip and knee arthritis became unbearable. She was having trouble walking, sleeping, and just getting comfortable in general. On top of that, her fibromyalgia was making everything worse.
Rochelle's back surgeon had recommended Dr. Vegari who explained to her that she would know when the time was right for knee and hip replacement. Eventually, the pain got so bad it was prohibiting her from doing even the most basic things comfortably, she recalls, "I just couldn't take it anymore, so I got in touch with him and said, 'This is it!'"
Rochelle had no concerns about her surgery. She just knew she was in good hands and was ready for a new lease on life. For both procedures she was in the hospital for two days. Her recovery involved getting up and walking on the same day as surgery. "With the hip I noticed the difference almost immediately," she says of her pain improvement. After that she recovered at home, walking as Dr. Vegari had instructed for hip replacement recovery, and going to a rehab close to home for her knee, which is still healing.
Rochelle's surgeries went so well, Steve decided to go ahead with his own treatment. He got both hips replaced about a year and a half apart. "Dr. Vegari is a wonderful human being and a great doctor," he says. "Even though we're an hour away from Lankenau, we're willing to travel. It's always been a great hospital, and it's even better now."
Adds Rochelle, "We both went to Dr. Vegari knowing that everything would be alright. He's an excellent surgeon and he knows what he's doing."
Register for an upcoming hip and knee pain seminar to learn more about treatment options.
Main Line Health serves patients at hospitals and health centers throughout the western suburbs of Philadelphia. To schedule an appointment with a specialist at Main Line Health, call 1.866.CALL.MLH (225.5654) or use our secure online appointment request form.