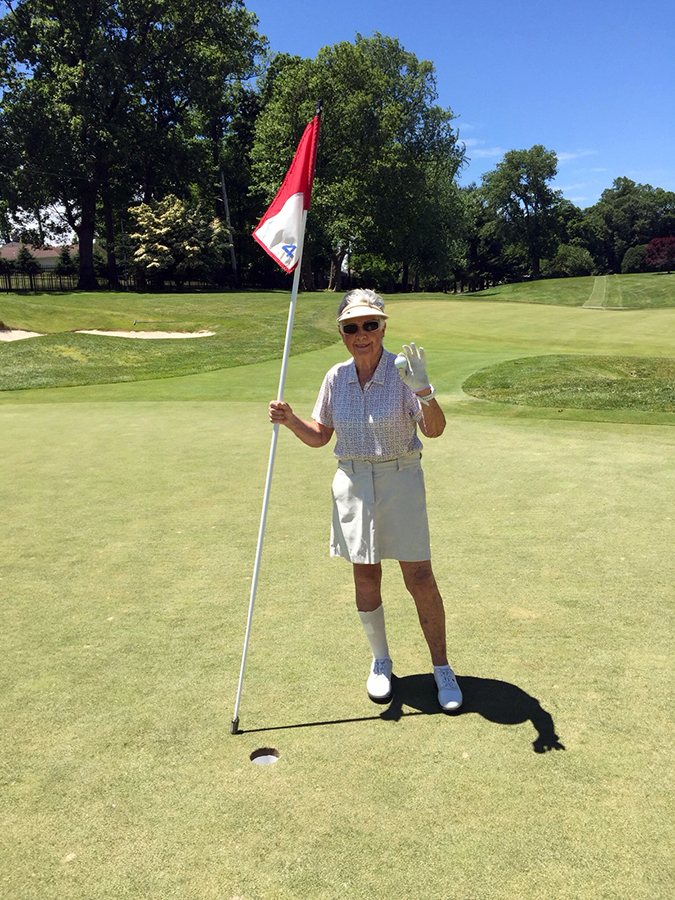 It was Tuesday, June 14 and Nancy Brophy had hit the links at Llanerch Country Club with her friends. Off to a great round of golf after three holes, Brophy stepped onto the fourth tee feeling good about her game. After approaching the ball and setting her stance, Brophy made solid contact with the ball, sending it straight down the 173-yard fairway. Searching the bunkers, the rough, and out-of-bounds, Brophy could not find her ball until a friend looked in the hole. Anne 'Nancy' Brophy had hit a hole-in-one!
At age 86, Brophy became the oldest member to ace a hole of the golf course at Llanerch Country Club. Even more remarkable, Brophy was in the midst of receiving wound care treatment on her leg at Lankenau Medical Center, part of Main Line Health.
Eighty days earlier, Brophy was on another course in Florida, golfing with friends over the Easter weekend. She had stepped behind her cart to pull her pitching wedge from her bag when she was struck by another golf cart, pinching her right leg between the vehicles. Brophy's leg swelled to twice its size and she was immediately rushed to the emergency department of the nearest community hospital.
In the ED, x-rays were taken of Brophy's leg, confirming that no bones had been broken. Instead, they discovered internal bleeding; the clotted blood had pooled under the surface of her skin and hardened, forming hematomas on each side of her lower right leg. The attending physicians' assistants administered 11 stitches to Brophy's leg to help prevent infection.
Brophy knew this was a serious injury that would require immediate attention when she returned from Florida. Her friend contacted Dr. Julia Mayberry, a hand specialist at Lankenau Medical Center, who she knew for being skilled at bringing the right solution to complex care cases. Dr. Mayberry immediately recommended Dr. Randall Russell, a wound care specialist at Lankenau Medical Center. Brophy consulted her primary care physician, Dr. Linda Bullock, who confirmed Dr. Mayberry's recommendation.
"Dr. Russell is our go-to guy for wound care," says Dr. Bullock. "When Ms. Brophy described her injury, I knew immediately that Dr. Russell was the right person to treat her."
Brophy quickly scheduled an appointment with Dr. Russell, who assessed her injury as severe and drained her hematomas. The removal of the hematomas left indentations on Brophy's leg, roughly the size of a tennis ball.
"The wound was so large," says Brophy. "I thought, 'How is that ever going to heal?'"
After caring for the hematomas, Dr. Russell recommended negative wound pressure therapy. The negative pressure treatment required weekly office visits where Dr. Russell would assess Brophy's wounds and adjust his treatment to speed up her healing process.
In between her office visits, Brophy kept her feet up and remained primarily immobile. Main Line Health HomeCare nurses made twice-weekly house calls to change her wound dressings and a wound vac, commonly used to accelerate the healing process of deep wounds, helped reduce her healing time by half.
"Ms. Brophy healed remarkably well," says Dr. Russell regarding her treatment. "Considering how large her injury was when she first came to my office, Ms. Brophy is one of my best healing patients; she's one of the fortunate ones."
In early June, Dr. Russell recommended that she continue her treatment through the end of the month. However, he cleared Brophy for light activity and to play golf once again. At her office visit on June 13, Brophy had already played two rounds of golf and was feeling great about how she was healing. The following day, Ladies' Day at Llanerch Country Club, Brophy hit her hole in one.
"Dr. Russell is a miracle worker," says Brophy. "The care I received at Lankenau was absolutely fantastic; everyone could not have been nicer."
Brophy has since healed from her injury and completed her wound care treatment with Dr. Russell. She continues to golf at Llanerch and, thanks to the Wound Healing Center at Lankenau, she back to doing what she loves, playing golf and–if she's lucky–hitting holes-in-one.
The Wound Healing and Hyperbaric Centers of Main Line Health specialize in treatments for slow-healing and chronic wounds. As a comprehensive wound center, we provide a full assessment, tailored treatment, advanced wound therapies, patient education and support. Our goal is to heal the wound as quickly and efficiently as possible and to eliminate wound-related symptoms and complications. Visit our website for more information about our Wound Healing Program.