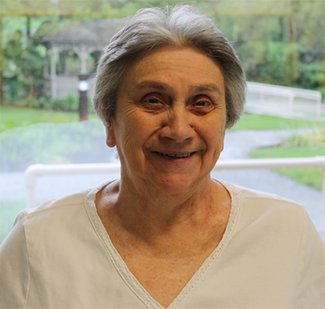 It wasn't news to Margaret Segner that the cartilage in her knees was breaking down. For years, doctors had told her that was the case. But when she experienced pain in her knee walking down the stairs last fall, she knew it was time to do something.
"I was going down the stairs and all of a sudden, I saw stars," she recalls. "That's when I thought: OK, it's time to do something."
When it came time to find an orthopaedic specialist who would help treat her pain, Segner knew exactly who to turn to. Paoli Hospital orthopaedic surgeon Andrew Frankel, MD, had performed a hip fracture repair on Segner's mother-in-law, who was 100 years old at the time of the surgery. Impressed by his willingness to take on the case, Segner had always vowed that if she needed an orthopaedic procedure, she would see Dr. Frankel.
And so she did. Under the care of Dr. Frankel, she began taking anti-inflammatory medications and steroid shots to relieve the pain. Although they were helpful, Segner was concerned with whether or not they would be the right long-term solution. In May 2014, during a visit with Dr. Frankel, she explained her concerns.
"They were working, but I knew I could only keep the pain away for so long, and then we would have to find a new way to resolve it. I didn't want to have to keep trying new things," she says.
Finding relief from knee pain
Segner underwent a knee replacement in early June 2014, only a few weeks after her appointment with Dr. Frankel, who understood Segner's hesitation and had agreed that a replacement would be the best solution. Only 48 hours after her surgery was complete, she was ready to begin physical rehabilitation with Bryn Mawr Rehabilitation Hospital's Orthopaedic Day Program, a week-long outpatient program that immediately follows joint replacement surgery.
Although her physical therapy team kept her busy with exercises like ankle pumps, knee compressions, and balancing exercises, she calls the program 'wonderful' and understood that the physical challenges she was being faced with would help her build strength in her new knee.
Now, nearly a month out from surgery, Segner is happy to report that both she and her knee are feeling good. Though Segner, who hails from Exton, doesn't typically visit Paoli, she had only the best things to say about her care.
"He's [Dr. Frankel] a great knee and hip guy, and I knew I wanted him from the start. I would recommend him in a heartbeat," she says. "The care I received was wonderful."