Like mother like daughter. For years, Layna Parker gained and lost weight the same way her mother did.
"I have struggled with my weight my whole life, following my mother's patterns. We did the same diets, we'd lose the weight, gain it back, lose it again, gain it again. Or I'd go to the gym and do all those things, then one day I'd treat myself and gain five pounds. It didn't matter how perfect I tried to be; it just wasn't going to work for me."
Fifteen years ago, Layna's mom had gastric bypass surgery, a type of weight loss surgery or bariatric surgery. She kept the weight off, only fluctuating by 20 to 30 pounds over the years. Layna saw the improvement in her mom's life after bariatric surgery but never pursued it for herself.
Along comes baby—and bariatric surgery
Layna and her husband welcomed a baby girl into the world in September 2019. Throughout her pregnancy, Layna had said to her husband that she would give herself until the baby was one year old. If she couldn't lose the weight on her own by then, and keep it off, she was going to do the bariatric surgery.
"I can't keep being the fat one," Layna remembers the feeling of frustration, "of not being able to find clothes that fit, of being uncomfortable, having pain in my back, pain here, pain there. I can't be the mom I want to be for her… If she says, 'Mommy, I want to go to the park,' and I can't even do this with her. I'm just going to have to follow my mom's lead with the gastric bypass."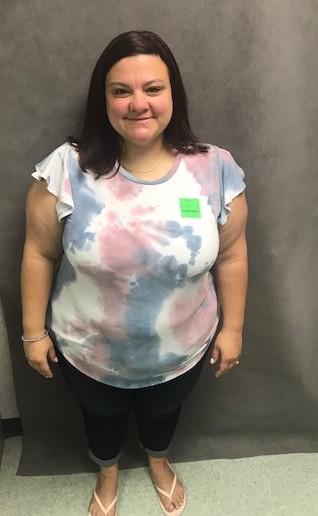 Before gastric bypass surgery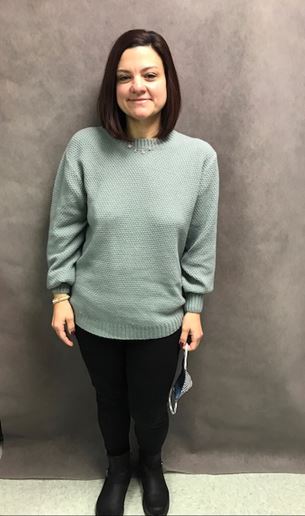 After gastric bypass surgery
By the time her little girl turned one year old, Layna had already had her first bariatric consultation with Richard D. Ing, MD, a bariatric surgeon and medical director of the Bariatric Surgery Program at Bryn Mawr Hospital, part of Main Line Health.
Together they determined gastric bypass was the best bariatric surgery option for Layna, just like her mom.
Gastric bypass, also known as laparoscopic Roux-en-Y gastric bypass, is a minimally invasive surgery in which the entire procedure is performed through several small cuts in the abdomen. The bariatric surgeon creates a small "new" stomach that connects to part of the small intestine, bypassing the normal digestive process. This part of the procedure resembles the letter "Y" and follows the name of the surgeon Roux who first developed the technique.
"My daughter was the final push to do this for myself, to do this for my family," says Layna. "I wanted to be the mom I wanted to be—for all of us."
Layna's surgery was scheduled for November 11. Not only would she be on three weeks of a liquid diet (the protocol at that time), she would also be on a liquid diet during one of the most high-caloric intake times of the year.
"My birthday is November 7 and we always had a little party for Halloween with pizza and everything so I was on a liquid diet but I didn't care—whatever! I was gonna make it through Halloween, my birthday, Thanksgiving and Christmas and not have anything. I'm sure I may have said it, but never once did I think to call and change my surgery date so I could have that one last holiday. Once I was in, I was in, and that was it."
It was the first time she never "cheated," not even once, on her liquid diet. Layna was so committed to having the surgery, she was determined not to let anything ruin her chances of success.
"I wasn't going to go through all this and do something wrong and have to change the surgery date," says Layna. "I sure wasn't going to mess it up for myself, it would have to be the universe's fault, not mine!"
Bariatric surgery team—for life
Layna can't say enough about Dr. Ing and Vicki, the bariatric nurse practitioner who guided her throughout her weight loss journey.
Layna describes her bariatric team as knowledgeable and trustworthy. She also appreciates how down-to-earth and compassionate Dr. Ing is, and how well he explains things to his patients.
"Every bariatric procedure we perform is done minimally invasively through tiny incisions," says Dr. Ing. "This means less pain and shorter recovery time for patients like Layna, and a quicker return to normal everyday activities."
Adds Layna, "You know you're in good hands with Dr. Ing when he starts talking to you about the surgery. He's so calm, cool and collected about it, you trust him right away. It's just an everyday thing for him, but he also makes it personal."
Layna says she'll never forget the morning of surgery with the flurry of people coming in and out of her room having her sign papers. Dr. Ing asked her some routine questions, such as "What are we doing today?"
When he asked what type of music she liked, she I told him she liked country music. He asked her what artist and she told him she liked Jason Aldean.
"The last thing I remember is a Jason Aldean song playing in the OR as I went in for surgery. How cool are you to have a Jason Aldean song playing for me in the OR before I went in for surgery? Dr. Ing is a genuinely nice person—caring for the patient and the person—treating me like Layna, not just a patient."
Ing points to the comprehensive approach to lifelong weight loss as another distinguishing feature of the bariatric program at Main Line Health.
"We have a deep understanding of the complexities and numerous factors that affect a person's weight, from genetic and lifestyle influences to psychological and emotional well-being. The bariatric team at Main Line Health includes not just your surgeon but bariatric nurses with expertise in surgical weight loss as well as bariatric nutritionists, exercise physiologists and behavioral health experts who specialize in providing whole-person support throughout the bariatric journey."
Vicki, the nurse practitioner, has also been a great support. Layna can send messages to her or Dr. Ing in a private portal or in the closed Facebook group with questions or concerns.
"I need them even today. I will be doing this for the rest of my life, and I will always need them and reach out to them as long as they are still practicing."
Layna's follow-up visits included an appointment just after surgery, then at two weeks, six weeks, six months, then a year, and now annually with Dr. Ing and Vicki as well as the nutritionist and exercise physiologist.
"From the very first time we see a patient, they know we're going to be with them for the long term," says Vicki McKenna. "I enjoy seeing the physical transformation but just as importantly the personal growth and development patients often go through as they become more healthy and energized while losing weight. Around the one-year mark, patients often have a 'glow' about them. It's that increased self-confidence that I love to see!"
Layna in ONEderland: Weighing less than 200 pounds
By the time Layna went in for weight loss surgery, she had already lost 20 pounds on her own with the liquid diet. She is now at a net 130-pound weight loss since her first consultation, approximately 107 pounds total since surgery.
"When you get under 200 pounds, they call it ONEderland," she explains. "Seeing the numbers keep going down and keep going down. It's kind of weird, like I'm gonna go to sleep at night thinking I'll wake up in the morning and it's all gonna be back. I like where I am now; I'm comfortable. I don't need to lose anything else."
During the first few months of weight loss, Layna would put her daughter to bed and start going through all the clothes she had in her closet. Just about everything piled on the bed was too big for her and needed to be donated.
She had recently gone from working in scrub pants in doctors' offices to wearing professional clothing in corporate offices. Now she had all these new clothes but couldn't wear them.
"I remember having to do a shift, screening for COVID when patients come in. I had to run out and buy new pants and a shirt to wear."
Now she's down to wearing a shirt in Small or Medium whereas before she always wore a 2X or 3X.
"If I order something that's the wrong size and have to send it back, I have these weird thoughts, like when I was a 2X it was just 2X and everything fit!" she laughs.
What changes about life after gastric bypass surgery?
When you lose 130 pounds people notice. Especially when you post photos of yourself on Facebook.
"Sometimes it does get uncomfortable when you see people you haven't seen in forever," Layna explains. When people shower her with compliments, it leaves her wondering how she must have looked to them before.
There are also people who admire Layna's courage when they didn't have it themselves. She's received messages from others who wanted to get bariatric surgery or had interest in it but backed out of it or had hesitations. Others are so inspired by Layna's experience they're going forward with surgery for themselves.
"I'm so excited for them," Layna says. "It's been great for me and my family and for people in my life I've been able to help go through it."
Fortunately, she's had plenty of support herself.
A few months after Layna's surgery, her husband also had gastric bypass surgery. Together, they're creating a long-term, healthy lifestyle, supported by people around them.
Friends have been accommodating, especially in the beginning when Layna's food options were so limited and her stomach was still healing.
"Instead of going out for dinner and being pressured to choose off the menu, we'd go to someone's house instead." In the early months, she couldn't eat things like raw vegetables, for example, so even a salad was off-limits.
Trying to decide if bariatric surgery is the right option for you? Learn more about this solution from the comfort of your home by registering for an upcoming webinar.
Main Line Health bariatric surgery patients also benefit from participation in a monthly virtual support group led by bariatric program specialists. A private Facebook group also allows patients to interact with the bariatric team as well as other patients to share tips and information, ideas, food, recipes, easy exercises for moms on the run, and how to feed a family healthier choices.
"Layna has done extremely well and has been very supportive to other patients as well," adds Vicki.
Life after bariatric surgery is hard, but worth it
Layna's physical transformation and healthy new way of life makes it look so easy, but she says having gastric bypass surgery is the hardest thing she's ever done for herself—yet also the most rewarding.
"There are days when you want to eat this whole entire meal but just can't," she says. "And just because my stomach is small and I lost all this weight, I could sit down any day and eat all the wrong things and my stomach could stretch out and continue and continue… In an instant I could lose myself and go back to 300 pounds again."
Carbs present a challenge because they're easier on the stomach so you want to remember to eat good carbs, Layna advises, not the bad ones, like a handful of pretzels.
"It's a struggle to stay on the program. You have to be mindful every single day and always stay on task."
Carbonation is another culprit that stretches the stomach, so Layna does her best to avoid carbonated drinks.
What keeps her on track?
"I just remember that I don't want to be FAT again. I'm finally feeling good with myself. It's probably my biggest fear, to gain all the weight back that I've worked too hard and too much to lose, so I tell myself, 'You don't wanna be back there. You don't wanna be back there.' Basically, don't disappoint yourself. It's not worth it."
Main Line Health serves patients at hospitals and health centers throughout the western suburbs of Philadelphia. For more information or to schedule a consultation, call 484.476.6230. Or to see if bariatric surgery is right for you, find out more in an upcoming information session.
Curious about other weight management options at Main Line Health? Begin with our Comprehensive Weight and Wellness Program.