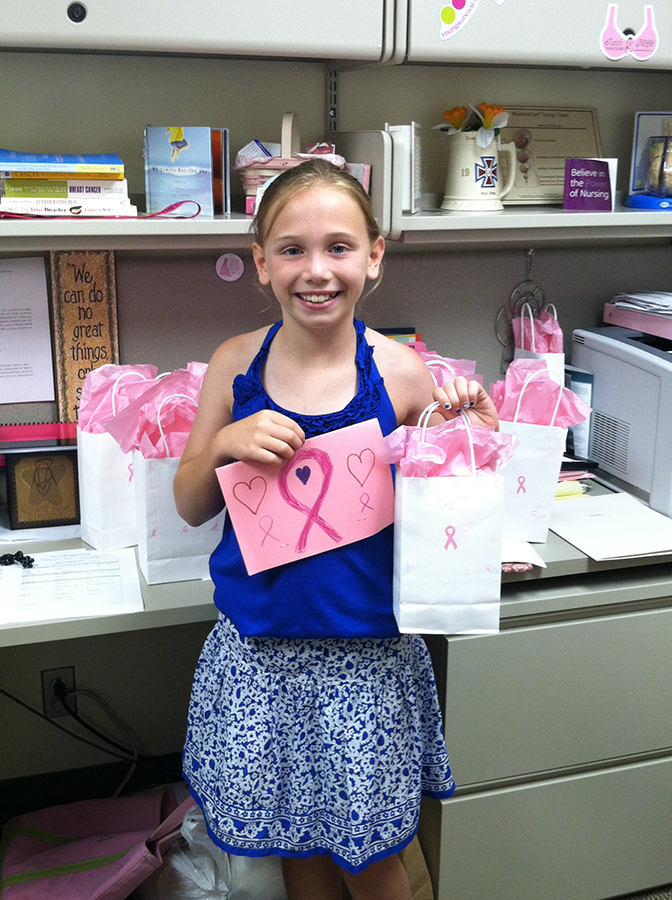 For Katie, pink isn't just her favorite color, it's her favorite cause. After losing her maternal grandmother and great-grandmother to breast cancer before she was born and her paternal grandmother's recent diagnosis, she has decided to take a stand against breast cancer. It's an ambitious goal, but Katie has always been one for big dreams.
"She's wanted to be a doctor since she was two years old," says her mother, Donna. "She knows where she wants to go to school and she knows she wants to help women overcome breast cancer when she's done."
Ten-year-old Katie's passion for pink comes, unfortunately, from a strong family history of breast cancer. And although Katie has dealt with breast cancer's effect on her family, she knows that you don't have to have lost someone to the disease to understand its impact.
"Even if you or your family don't have breast cancer, usually someone you know does, and it's still really sad even if you aren't related to them," she says.
It was with that in mind that student council member Katie decided to talk to her school principal about having a 'Pink Out' day at school, when the student body would forego their usual uniforms for pink t-shirts and accessories. In October 2011, during Breast Cancer Awareness month, Katie's idea came to fruition, as the hallways at St. Denis turned into a sea of pink.
Although she wasn't able to collect donations for the cause, she passed out pink ribbon stickers and students from kindergarten through fifth grade made cards to distribute to breast cancer patients at Bryn Mawr Hospital once they had been diagnosed. The cards, decorated with rainbows, ribbons and smiling stick figures all have the same message: we are praying for you and know you can get through it.
But Katie didn't stop there. In the summer of 2012, Katie began putting together care packages for Bryn Mawr Hospital breast cancer patients. The bags, filled with pink tissue paper and decorated with breast cancer ribbon stickers and words of encouragement like 'Hope' and 'Faith' etched in pink crayon, are distributed to patients during their stay at the hospital or in the days following their surgery. According to Sara Ashworth, a high-risk nurse at the Comprehensive Breast Center, the bags have been a hit.
"People love the bags. They're so excited to be getting something because sometimes they need that little smile or boost of hope during their breast cancer journey," she says.
Inside the bag, patients can find pink or breast cancer-themed tissues, a stress ball, hard candies, socks, chapstick and a poem and pin. Ashworth says the chapstick is especially popular for patients, as anesthesia can often dry out their lips.
"It's just something to cheer them up and to make them a little bit happier after surgery," says Katie.
This year, following her breast cancer care package project and the steps she's taken to raise awareness in her school community, Katie was presented with a certificate of recognition at Bryn Mawr's annual Cancer Survivors' Day.
"When I got the award at Cancer Survivors' Day, my mom cried and my aunt cried," Katie says. "They were really proud of me."
And rightfully so; Katie's most recent project, in addition to continuing her care package project, is working with her older brother, Kevin, to create and sell pink bracelets and keychains to raise money for the Susan G. Komen breast cancer three-day walk in October. So far, the two have raised close to $100. On top of that, she's already trying to plan another 'Pink Out' for the upcoming school year.
She's a busy girl, but that's not going to stop her. And thank goodness for that, because her actions have already begun to inspire those around her, including her teachers and family friends, who've already thanked Katie for the work she's doing.
"Katie wants to turn the world pink," says Ashworth.
And she might just do it.