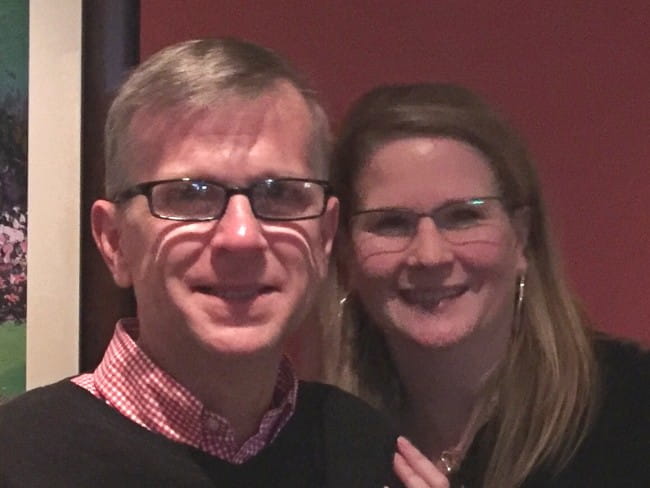 John McKenzie wasn't expecting that his back pain could even possibly be a heart attack. For weeks, it had kept him up at night. Finally, in the midst of another pain episode, McKenzie visited the emergency department, eager to find an answer.
"I thought it was stress, anxiety maybe…but not my heart. When the nurse told me we were going up to the cardiac catheterization lab, I was shocked," he recalls.
McKenzie was suffering from an acute myocardial infarction, a classic heart attack, but failed to recognize it because he wasn't experiencing its classic signs—like crushing chest pain, lightheadedness, and sweating.
Led by Dr. Richard Tucci, the interventional cardiology team--part of the Lankenau Heart Institute at Paoli Hospital--worked quickly to repair McKenzie's blockages, placing a stent in his LAD artery and inserting a balloon pump into his leg to support his heart function.
McKenzie remembers waking up after the procedure, but only for a short amount of time.
"After the procedure, I remember being restless, but I couldn't figure out why. At that point is when I coded. After I coded, they shocked me, but that was the last thing I remember. I woke up 37 days later."
Despite the quick actions of the Paoli Hospital emergency department and cardiology teams, much of the damage to McKenzie's heart had already been done.
"Mr. McKenzie's body was basically in a state of shock," explains Elena Casanova-Ghosh, nurse practitioner for the Main Line Health ECMO Program.
Dr. Konstadinos Plestis, System Chief of Cardiothoracic and Vascular Surgery at Lankenau Heart Institute, arrived at Paoli Hospital to place McKenzie on one of the hospital's extracorporeal membrane oxygenation (ECMO) machines. In the hours following, he was transferred to Lankenau Medical Center for day-to-day care on ECMO.
Life-saving treatment in a tiny package
ECMO is used across Main Line Health to provide respiratory and cardiac support for critically ill patients, like McKenzie. The device combines a mechanical blood pump and artificial oxygenator to support the heart or lungs when they cannot function on their own as a result of a disease or surgical procedure.
"Mr. McKenzie's heart was so weakened as a result of his heart attack that the ECMO assumed the role of his heart until it was able to resume normal function," explains Dr. Plestis. "The machine gives patients' bodies the time they need to recover and regain strength."
In McKenzie's case, that time was almost one month. His heart attack led to pulmonary complications, as well, which meant that McKenzie didn't just need one round of ECMO—he needed two.
"As his heart gained strength, we were able to transition Mr. McKenzie to a less-complicated cardiac system, but he needed additional ECMO treatment to support his lungs," explains Dr. Plestis.
As he lay recovering in the cardiothoracic intensive care unit, his family gathered.
"The night I was transported from Paoli to Lankenau, everyone held vigil. My oldest daughter had just left for Italy, and she had to come home. My sister was looking for my living will. My family was worried," says McKenzie.
Finally, in late September, McKenzie awoke.
"I remember waking up during the week of the Pope's visit, and everyone filling me in on what had happened to me," says McKenzie. "I felt weak, but I knew the worst was behind me."
Life after ECMO
After 77 days in the hospital, McKenzie was able to return home, but his time at Lankenau wasn't over yet. In the weeks following his treatment, McKenzie visited the hospital for cardiac rehab, wound care, and follow-up cardiology appointments with cardiologist Steven Domsky, MD, also part of the Lankenau Heart Institute.
As a precaution, McKenzie wears a defibrillator vest to protect him from arrhythmia. Should he begin experiencing abnormal heart rhythm, the vest delivers a shock treatment to restore his heart to normal rhythm. But, all things considered, McKenzie says he is feeling 'great.'
In March, he celebrated his 48th birthday. He admits he had a little more to celebrate this year, and he thanks the Lankenau Heart Institute and Paoli Hospital Emergency Department team, including Dr. Plestis, Casanova-Ghosh, and Dr. Domsky, for helping him get there.
"I didn't know anything about the ECMO machine until it saved my life," he says. "The amount of clinical expertise and compassion it took to manage the heart attack of a young man who wasn't expecting it was incredible. I got the highest standard of care wherever I went, from the Paoli Hospital emergency department to every person who cared for me at Lankenau."
And, though he was impressed by clinical expertise, what impressed McKenzie most was how he, and his family, found a second family in the Main Line Health staff.
"Elena (Casanova-Ghosh) was by my side during both of my sessions on ECMO. My family became so close with her, and it made such an impression," says McKenzie. "The treatment across Main Line Health was so personalized and family-oriented, and I appreciated that."
With four hospitals and many community cardiology sites throughout the region, Lankenau Heart Institute's team of cardiologists, cardiovascular surgeons and sub-specialists seamlessly integrate prevention, diagnostics, treatment, rehabilitation and disease management into one uncompromising service. Visit our website to learn more about the Lankenau Heart Institute and ECMO.