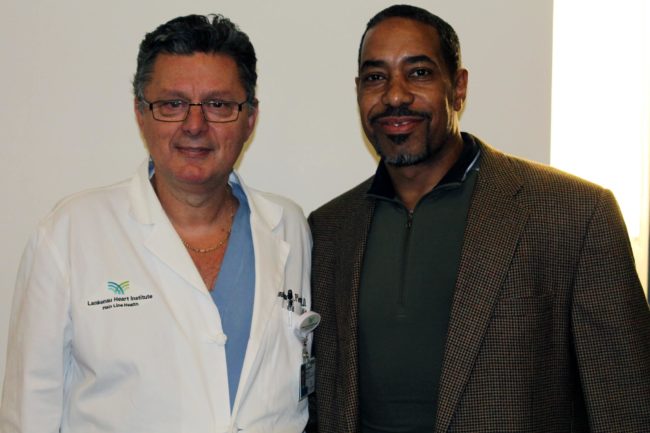 Derrick Howie, a personal trainer, was on his way to meet a client for an early afternoon training session in Gladwyne. He had eaten Chinese food for lunch, eager to get out the door, and was starting to feel odd.
"I kept feeling like I had indigestion, like I had to burp, but I couldn't," he recalls. "I figured it was what I had eaten."
Thinking nothing of it, Howie continued his afternoon. But, midway through the training session, his indigestion became so painful that he had to take a seat. Howie's client, also a longtime friend, knew something wasn't right.
"He said, 'In all the years I've known you, you've never had to sit down mid-session'," says Howie. "He suggested it might be more than indigestion."
Reluctantly, Howie agreed to call an ambulance. When the EMS staff arrived, they transported Howie, who was reporting symptoms of bloating, dizziness, and moderate chest pain, to the Lankenau Medical Center emergency department.
A careful eye for cardiac complications
Howie was immediately taken for testing, including an electrocardiogram and CT scan. Throughout his testing, Howie says he didn't look or feel as serious as the hurried activity around him indicated. His EKG and CT scan results, however, told another story.
The emergency department team quickly recognized that Howie was suffering from Type A acute aortic dissection—a cardiac condition marked by a major tear in the aorta that can be life-threatening if left untreated. Only hours after Howie's symptoms had begun, he was headed to the operating room.
"Once they said OR, I got a little bit nervous. Well, I got a lot nervous," jokes Howie.
Still, he understood the Lankenau team had to act fast. Dr. Konstadinos Plestis, System Chief of Cardiothoracic and Vascular Surgery at Lankenau Heart Institute, explains:
"Although aortic dissection is a relatively uncommon condition, it is very dangerous. For patients with Type A acute aortic dissection, in particular, like Mr. Howie, immediate treatment is crucial," explains Dr. Plestis. "Repairing the aortic tear quickly prevents further complications, like stroke, internal bleeding, or additional damage to the heart or internal organs."
And so, just hours after he had begun exhibiting symptoms, Howie underwent complex aortic surgery to save his life. During the more than seven-hour procedure, Dr. Plestis replaced Howie's damaged aorta with a plastic tube attached to an endovascular graft that supplied blood flow to the brain and upper limbs, and re-attached Howie's coronary arteries to enable blood flow to the heart.
Two days after his surgery was complete, Howie woke up in Lankenau's Cardiothoracic Intensive Care Unit (CTICU). Although concerned friends and family had gathered at his bedside and been waiting for him to wake up, Howie had no idea how much time had passed. But, as his clinical team started to share the story of his surgery, he began to understand the severity of his condition.
"Doctors started coming in and explaining what had happened. I didn't get it, because I wasn't feeling like I had almost died," says Howie. "Intellectually, I understood it but physically, I didn't feel like it."
The road to recovery
Though Howie knew he needed time to allow his body to recover, the 53-year-old was eager to return to his four daughters, his personal training business, and his active lifestyle.
Although Dr. Plestis assured him he would be able to return to the activities he had always enjoyed, there was one caveat.
Weight training, a significant risk factor for aortic dissection, was not an option for Howie's exercise routine. Howie would no longer be allowed to weight train at the same level he had before, as it put him at significant risk for a spike in blood pressure and recurring aortic complications. Though Howie was disappointed to leave an activity he loved behind, he knew his health—and his life—were more important.
In response, Howie adapted his routine to include more cardiovascular exercise, and was surprised at how good it felt.
"My cardio felt better than it did before the operation. I'm looking forward to doing more mountain bike riding, hiking, and visiting the park with my daughters," says Howie.
In March 2016, just a month and half after he was admitted to the hospital, Howie was able to return to work. For Howie, returning to his "office" helped him feel like everything was back to normal.
"Had I not come to Lankenau, I wouldn't have been able to do any of this," says Howie. "They're not just saving lives at Lankenau; they're giving back lives. I had excellent care. Lankenau has my heart. Dr. Plestis will be taking care of my heart until the end."
With four hospitals and many community cardiology sites throughout the region, Lankenau Heart Institute's team of cardiologists, cardiovascular surgeons and sub-specialists seamlessly integrate prevention, diagnostics, treatment, rehabilitation and disease management into one uncompromising service.
Learn more about the Lankenau Heart Institute's Aortic Wellness Center