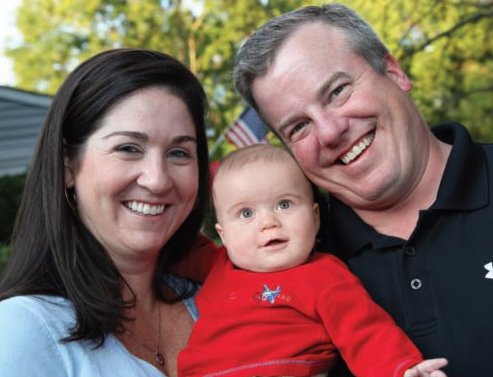 The night before St. Patrick's Day 2011 will remain etched in Christy and Bryan Parthemore's memories forever. When Christy's water broke and she started to experience contractions, both she and her husband thought, can this be happening? Now? Is it just a set of contractions? Is it time to go to the hospital?
"We were home when it happened, and we called my doctor, who instructed us to gather our things and head to the maternity unit," said Christy, who had been seeing her doctor and planned to deliver at Paoli Hospital. "The nurses ran some tests and said I was in labor. We were shocked because our baby was on his way...five weeks early."
Little Tyler was born the following day, March 17, 2011.
The birth of our baby was the most intense, proud, and happiest day of our lives," said Christy.
Describing her gratitude for the help she received from the nurses and caregivers at the maternity unit, Christy breaks into a big smile.
"The nursing staff was fantastic. They did everything for us; from taking Tyler to the nursery so I could get some rest, to answering all of my questions as a first time mother. Our nurses made us feel very special."
Proud father Bryan adds, "When we see this little baby with his arms reaching towards us, wanting to give us big kisses, it is magical. When we see how happy he is, we feel such gratitude for the help that was given to us by the maternity team at Paoli. We are so lucky to have this resource right here in our community."
Like many young families in the area, Christy and Bryan of Phoenixville live busy lives.
"Raising a child and having busy professional careers is not an easy thing," said Bryan. "You adjust quickly though. Thinking about Tyler being born and the whole experience – I am speechless –and at the same time so proud of my wife - we started a family together."
When asked why they chose Paoli, Christy points out that many of their friends and co-workers had their babies there.
"Everyone we talk to raves about the care they received, so the decision for us to come to Paoli was easy."
As more families continue to choose Paoli for maternity care, the hospital recently expanded its maternity unit and nursery, providing the latest amenities which include more private space in the hospital's Neonatal Intensive Care Unit for breastfeeding, medical consultation and patient education, as well as a larger nursery available for newborns while new moms rest.
"I think the expansion is a good thing for the community," said Christy. "I know of one expectant mom, who lives more than 30 minutes away and is planning on having her baby at Paoli. The reputation the hospital has is outstanding."