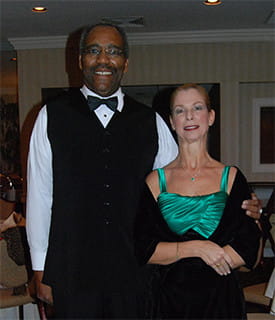 It was meant as a lighthearted joke. Little did Dr. Bruce Hart realize at the time how deadly accurate his quip would turn out to be.
"I went to get something out of the refrigerator and I left the door open," says Dr. Hart, a West Chester resident who works as an emergency medicine physician in Philadelphia. "When my wife, Susan, noticed, I jokingly told her, 'Maybe I'm having a stroke.' "
In reality, that's exactly what was happening.
"I didn't realize it at the time but my left hand, which is the one I use to close the refrigerator with, wasn't working. You would think I would have noticed that, but when you're having a stroke your mind doesn't necessarily work right."
Still oblivious to his condition, Dr. Hart went upstairs and took a shower. It wasn't until he went to get dressed that he realized he couldn't put on his pants.
"It finally dawned on me what was happening as I slid off the bed and onto the floor," he says. "I yelled to my wife that I was having a stroke and to call 911."
Dr. Hart was rushed to the local hospital where a CT scan of his brain confirmed a right intracranial hemorrhage – a burst vessel was leaking blood into the right part of his brain. He was transferred to the Thomas Jefferson University Hospital Stroke Center where he was given medications to stop the bleeding. After a week in the hospital, Dr. Hart was stable enough to be transferred to a rehabilitation center where he would begin his next stage of recovery.
"At that point, I was mentally OK except for ignoring my left side and everything on my left. My speech was OK but my entire left side – my hand, arm and leg, back and abdomen, and hip – was paralyzed," he says. "My wife and I had always heard good things about Bryn Mawr Rehabilitation Hospital so that's where we decided I should go."
Located in Malvern, Pa., and a member of Main Line Health, Bryn Mawr Rehab Hospital is a 148-bed, fully accredited facility that offers patients individualized, intensive recovery programs and access to the latest treatments and technologies. Patients are cared for by a team of experts in rehabilitative medicine, nursing, and occupational, cognitive, physical and speech therapy.
Once at Bryn Mawr Rehab Hospital, Dr. Hart began the difficult job of recovery.
"The therapists get you going there…they're good taskmasters," he says laughing. "It's very easy to feel sorry for yourself when you're in that type of situation, but they don't give you time for that and they don't accept no for an answer."
Because his speech and cognitive function were largely intact, most of Dr. Hart's therapy focused on regaining his physical skills.
"I remember the first time I moved my left big toe…that was amazing," he says. "Then I moved my knee and later I flexed my hip. My hand and arm took longer to come back but everything generally went on schedule.
"A big milestone for me was when I climbed a little set of practice stairs. I'm 6' 4" but my therapist was with me the whole time, helping me. When we reached the top of the stairs she asked me how I felt and I said 'Awesome!' "
In addition to walking and climbing stairs, Dr. Hart had another goal in mind while he was an inpatient. He wanted to dance again.
Prior to his stroke, Dr. Hart and his wife were competitive ballroom dancers. The couple, who practiced several times a week at a local studio, had reached the "Bronze" level of competition and that's the level to which Dr. Hart was determined to return.
"On our iPad we showed the therapists a video of us dancing," he says. "I said, 'See this…I want to get back to doing this again.' The therapists made sure that I worked extra hard on my balance and my core and trunk muscles so I could achieve my goal."
Following a month and a half as an inpatient, Dr. Hart was discharged. He continued to receive outpatient therapy at Bryn Mawr Rehab Hospital for four months. Soon after that, he slowly returned to work in the ER (he's now back to working full time) and he also began dancing again.
"I wasn't very good at the dancing when I first started, but now I'm 99 percent back to where I used to be," he says. "My wife and I practice three to four times a week now for 40 minutes at a time."
And what about his goal to get back to the "Bronze" level of competition? The Harts have surpassed that and have now climbed to the "Silver" level. Just over a year after Dr. Hart's stroke, the couple attended a holiday party at the hospital and danced three showcase dances as a thank you to Bruce's rehabilitation team.
"My wife and I drive past Bryn Mawr Rehab Hospital every time we go to our dance studio," says Dr. Hart. "About a month before my stroke, I looked over at the hospital and wondered aloud what it was like in there…what they do in there.
"Now I know. They do great work."